American Constellation @ American Cruse LInes
American Cruise Line
Small ship cruises on America's rivers and byways
With more than a dozen vessels and a variety of themed voyages, there's many ways to discover more of America with American Cruise Lines.  ACL's boutique coastal ships and river boats, with an all-American crew and sporting a simple sophistication, visit half of the 50 states on over 35 itineraries ranging from five to 22 days.
American Cruise Lines protects the environment through socially responsible and eco-friendly practices with a "green" forward approach, with continual conservation efforts through emissions reduction, sustainable sourcing with farm to table initiatives, use of biodegradable products and onboard recycling, advanced wastewater treatment systems, and strategies to reduce energy consumption.
About American Cruise Lines
About ACL
Whether you choose a river cruise or an ocean coastal cruise, American Cruise Line will bring you closer to discovering more of America. The vessels hold from 100 - 190 guests, and feature among the largest staterooms and bathrooms on the US rivers. Gratuities are included on all programs as is a pre-cruise hotel package on select itineraries eight days or longer. WiFi is provided.
The ACL fleet
American Cruise Line's fleet of ships feature large staterooms and private balconies. Evenings begin with a complimentary cocktails (available at all times), followed by open-seating dining featuring regionally-inspired and locally sourced cuisine with complimentary wine and beers (at lunch and dinner) and nightly entertainment.
Theme Cruises
A variety of theme cruises and enrichment talks further enhance the rich destinations visited as you discover more of our American culture, whether on history of the Civil War, Lewis and Clark, or Mark Twain; music in Nashville and New Orleans; culinary, whether food and wine, lobster bake or crab fests; holiday voyages, fall foliage, or annual Tulip Festival in Puget Sound.
Shoreside enrichment
Ashore, guests can enjoy complimentary guided excursions, with additional premium and signature excursion choices offered for an additional cost. With over 160 shore excursions available, guests can choose activities that match their interest. Onboard naturalists, historians, and musicians enrich your visits.
Our recommendation
Not all river boats have elevators between decks like American Cruise Line does, an important consideration for some travelers. Private balconies feature sliding glass doors and offer a finer experience. American Cruise Line pricing is nearly fully inclusive.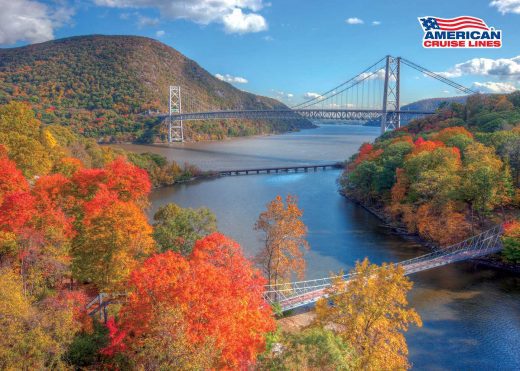 Why book with us?
Cruise Price Guarantee
We will match or beat a price when you provide us with a competitor's quote prior to purchase, if it is lower and available.
Bonus Gift
Enjoy a complimentary bottle of wine, courtesy of TravelStore.
Cruise Price Monitoring
With our proprietary Cruise Track program, we can instantly monitor and take advantage of price and itinerary changes that occur.
Vacation Assurance
We've got you covered with our best-in-class service and support-- from booking till after you return home.
Online Access
With our direct connection to ACL's inventory, you can Click Here to search available American Cruise Line trips and our added amenities.
ACL Styles
Coastal Ocean Cruising
American Cruise Line's coastal cruises include Alaska's Inside Passage, New England cruises, the Intracoastal Waterway, Southeast and Chesapeake Bay Cruises, Puget Sound and San Juan Islands cruises. See current itineraries below.
River Cruising
American Cruise Line' offers two type of river cruises: nostalgic modern paddlewheelers or more contemporary-styled river boats. Itineraries include cruises on the Mississippi River, Columbia and Snake Rivers and Hudson River. See current itineraries below.
Our Cruise Experts
Our cruise experts will arrange your American Cruise Line adventure and customize your travel arrangements the way you want it. We'll help tailor your experience, arrange pre- or post-cruise hotel stays, your best airfare options, and more.
View More Cruise Experts
Let's plan your American cruise vacation:
Call: 800-850-3224