Sundeck @ Uniworld Cruises
Uniworld Boutique River Cruise Collection
All-inclusive luxury river cruises
Voted among the "World's Top 10 Small Ship Cruise Lines" by Condé Nast Traveler readers and a double-Zagat award winner, Uniworld River Cruises has been escorting guests for over 35 years along the great rivers and waterways of  the world.
Uniworld has been working with TreadRight and The Travel Foundation to become carbon neutral by 2030 or sooner and ensure that at least 50% of electricity used is renewable by 2025.. Uniworld's accomplishments include reducing biodegradable waste, decreasing chemical waste by 80%; planting one tree for every e-doc issued, and a promise to become single-use plastic free by 2022.
About Uniworld Cruises
Uniworld Cruises partners with Red Carnation Hotels, a family-owned, world-class hotel company renowned for its eye for design and luxury touch, to provide unmatched accommodations and style on your river cruise. Uniworld's European river cruise ships are the most luxurious. Each ship is custom designed with its own theme, featuring luxurious furnishings and original artwork, and accommodate no more than 130 guests.
Where Uniworld goes
Uniworld's Boutique River Cruise Collection offers itineraries in Western Europe, as well as on  Russian river cruises, Mekong River cruises in SE Asia, Nile River cruises in Egypt, Yangtze River cruises in China, and cruises on the Ganges River in India.
Onboard enrichment
Enjoy the inviting and comfortable hand-crafted Savoir hotel-styled beds are draped in soft 100% Egyptian combed-cotton sheets, European-styled comforters and duvets, and choice of pillows. The same care put into the ship's decor applies to the cuisine and service. Acknowledged by Zagat for "Top Dining," the cuisine is excellent, prepared daily with an emphasis on the finest local ingredients, and complemented by fine wines, usually from the local area you are visiting.
Enrichment ashore
Expertly-planned itineraries and the complimentary custom-crafted shore excursions, led by English-speaking, knowledgeable guides and personalized to your tastes from "active" to "gentle", have been designed to showcase the culture, history, and everyday life of each destination—from its monumental wonders to its small surprises. Uniworld also offers "Do as the Locals do" excursions to provide immersive experiences. Or perhaps you'll grab a bike onboard and enjoy a leisurely afternoon pedaling along the river or through local villages.
Onboard wellness
When it comes to fitness and wellness, Uniworld spas onboard include Thai and Japanses Bamboo massages, reflexology and TRX weight suspension systems. Stretch and yoga classes are offered, and complimentary Nordic walking sticks are available for hikers and hikers. Bicycles are also available for use in port.
Our recommendation
There are very good river cruise companies, and one can suggest that each does something a bit differently to differentiate itself. We have a special place in our hearts for Uniworld: it is one of the most luxurious river cruise companies -- its ships are stunningly decorated, the service and cuisine top notch. The Savoir beds onboard are incredibly comfortable -- we never slept so well. The marble bathrooms with heated floors make life onboard all the more enjoyable.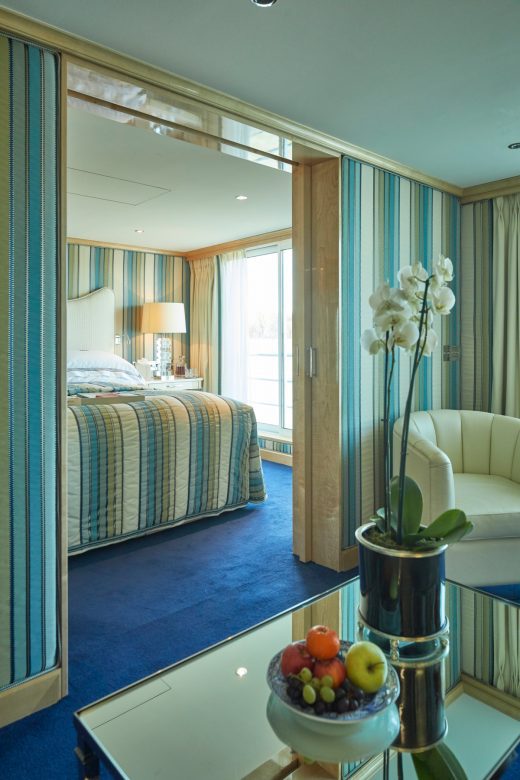 Why book with us?
Bonus Savings
$300 in onboard spending allowance on any departure.
Cruise Price Guarantee
We will match or beat a price when you provide us with a competitor's quote prior to purchase, if it is lower and available.
Cruise Price Monitoring
With our proprietary Cruise Track program, we can instantly monitor and take advantage of price and itinerary changes that occur.
Vacation Assurance
We've got you covered with our best-in-class service and support-- from booking till after you return home.
Online Access
With our direct connection Click Here to search available Uniworld cruises and our added amenities.
Our River Cruise Experts
Our luxury river experts will arrange your best Uniworld cruise and customize your travel arrangements the way you want it. We'll help tailor your experience with customized shore excursions and special requests onboard, arrange pre- or post-cruise hotel stays, your best airfare options, and more.
View More Cruise Experts
Uniworld's culinary staff sources a bio-degradable plastic made from potatoes that's suitable for wrapping and cooking food in a sous vide machine.
Let's plan your Uniworld river cruise:
Call: 800-850-3224