Chilean Fjords @ Azamara Cruises
Azamara Cruises
Boutique deluxe cruising with overnight calls
What distinguishes Azamara cruises from other lines is the number of overnight and late night port calls. You can enjoy destinations not just by day, but by night, when so many cities come alive, allowing you to experience the world in more depth than on most other cruise lines. And then there's the AzAmazing Evening…
About Azamara Cruises
On each Azamara cruise a special AzAmazing event is offered -- complimentary. The value of an Azamara cruise continues with select open bar, with spirits, wine, beer, water and soft drinks; included gratuities to room and dining staff; complimentary shuttle service to and from ports where available; and reduced rates on pre-purchased shore excursions.
What is a boutique cruise?
Don't let Azamara's smaller ship size fool you. Whether on board Azamara Quest, Azamara Journey or Azamara Pursuit, you will enjoy a host of amenities, including opportunities for sampling delicious wines and experiencing delectable culinary creations designed by world-renowned chefs. Entertainment includes a seven-piece orchestra, a casino, and an excellent AquaSpa featuring acupuncture and ayurvedic treatments.
Small touches that count
To further ensure your comfort, onboard the Azamara Journey, Azamara Pursuit and Azamara Quest ships, you'll enjoy fresh-cut flowers, fresh fruit, Elemis toiletries, Frette bathrobes, a pillow choice menu, flat screen televisions, complimentary tote bag, and wireless internet service. Butler service and concierge-style amenities are included if you book one of the high in demand spacious suites.
More than just cruises
Azamara offers the cruise industry's greatest assortment of pre- and post-voyage land excursions to complement your Azamara cruise, with excursions available in over 40 nations. There are also AzAmazing Journeys, which are small group programs that last from three to six days and are led by an expert; Stay Local opportunities, which allow cruisers to explore the city of disembarkation or embarkation; and Overnight Experiences, which are overnight excursions offered during the course of a cruise.
Our recommendation
The ships are nicely renovated though (like Oceania's small ships), the bathrooms are quite small except in higher stateroom categories (which we'd recommend). What Azamara has going for it is a premium boutique cruise experience, almost yacht-like, featuring late night or overnight visits in ports of call, and an outstanding special event exclusively arranged for guests on each voyage. Very good value.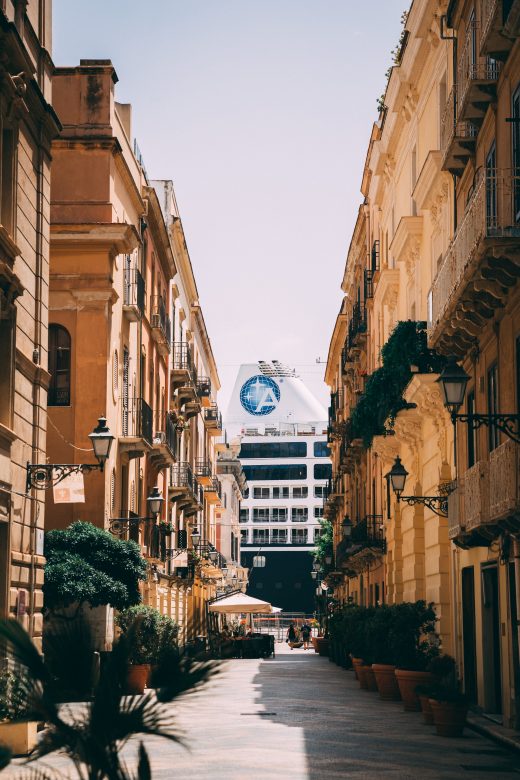 Why book with us?
Bonus Savings
On select sailings, enjoy a pre-arranged complimentary sightseeing itinerary with a Private Car & Guide to explore the selected destination highlights or a $250 Shipboard Credit.
Vacation Assurance
We've got you covered with our best-in-class service and support-- from booking till after you return home.
Cruise Price Guarantee
We will match or beat a price when you provide us with a competitor's quote prior to purchase, if it is lower and available.
Cruise Price Monitoring
With our proprietary Cruise Track program, we can instantly monitor and take advantage of price and itinerary changes that occur.
Online Access
With our direct connection to Azamara's inventory, you can Click Here to search available Azamara cruises and see our bonus amenities.
Our Cruise Experts
Our cruise experts will arrange your best Azamara Cruise and customize your travel arrangements the way you want it. We'll help tailor your experience with customized shore excursions and special requests, arrange pre- or post-cruise hotel stays, your best airfare options, and more.
View all cruise experts
Let's plan your Azamara cruise vacation:
Call: 800-850-3224