Rooftop on Celebrity Edge
Celebrity Cruises
a top rated premium line with stylish ships
The word "celebrity" calls to mind the finer things in life personal fame brings: VIP treatment and a lifestyle devoid of little worries thanks to fame and fortune. Celebrity Cruises can't do much to make you famous, but they can roll out the red carpet and make you feel as though the world revolves around you. Enjoy "modern luxury" and the new "Always Included" benefits. For an even more exclusive and private experience, request Retreat class!
"Like Edge, Apex is highlighted by the Magic Carpet, the moving platform that can move guests up and down the ship's exterior whether it is to enjoy the view or to head to tender. It will also include 29 dining venues, Infinite Verandah staterooms, and outdoor plunge pools." (Telemarket Report)
Celebrity's Save The Waves® program focuses on reducing, reusing and recycling waste and practicing pollution prevention, resulting in a 30% reduction in CO2. It is testing exhaust gas scrubbing technologies to remove sulfur oxide from emissions and reducing water usage, using steam desalination or reverse osmosis to convert sea water into fresh potable water. You can review RCI's sustainability program here.
About Celebrity Cruises
With every Celebrity cruise, you'll now enjoy unlimited complimentary WiFi, included onboard gratuities and unlimited Classic drink package (cocktails, wines by the glass, beers and sodas).  For a $30 or $60 upcharge, we'll upgrade you to a Premium Drinks Package and an additional bonus of from $100 to $400 per person in shore excursion credits!  Now that's value!
A Winning Choice
From the AquaSpa facilities to concierge-class staterooms to the Magic Carpet, Celebrity Cruises consistently ranks in Conde Nast's Traveler's Reader's poll as "Best Cruise Ships" in their class. Celebrity Cruises features well-designed, cutting-edge large cruise ships; in the Galapagos, the cruise line offers luxury boutique-style cruise adventures befitting the destination onboard the outstanding Celebrity Flora.
Celebrity lifestyle
Taking care of you onboard starts with the Celebrity Life programs, a series of intellectually- and life-enhancing programs designed to provide you with the most unique and sophisticated onboard experience in premium cruising, with a focus on Savor (food), Discover (special enrichment programs), and Renew (well-being). It's all part of its modern luxury cruise experience.
Celebrity ships
Hundreds of leading architects, designers, and engineers have been involved in taking this award-winning fleet to the edge with new design concepts inspired by the ship that started it all, Celebrity Edge®. On Solstice-class ships, Celebrity Cruises features the Lawn Club on the top deck of most ships, 13 stories above the sea. Three-times larger than New York's Rockefeller Center's ice skating rink, this unique grass oasis at sea allows you to sink your feet into a beautifully manicured lawn. Enjoy a picnic, play bocce ball, croquet, or practice your putting. When it comes to dining, you'll savor Celebrity's noteworthy creations in the main dining room, as well as the alternative dining venues specializing in Italian and Asian fare.
What's the Retreat?
Celebrity has designed a comprehensive area onboard for a more luxurious level of service inclusive of private verandas, personal pool and lounge area, personal butler service, eXhale bedding with Cashmere(SM) mattress, dining options exclusive to Retreat guests, reserved theater seating, complimentary laundry service, priority luggage delivery and more!
In the Galapagos
Celebrity Cruises offers all-inclusive award-winning Galapagos cruises on its boutique expedition cruise ship: the luxurious 100-passenger Celebrity Flora. Not only does Celebrity offer an exceptional Galapagos experience, but your vacation includes 5-star accommodations in Quito, luxury airport transfers, and shore excursions with naturalist-guides. Packages from seven to 15 nights are available.
Our recommendation
In the premium large-ship category Celebrity has been one of our favorite lines because of its take on modern decor, tasteful art, good cuisine and cutting edge features, from cocktails to exterior platforms. In the Galapagos Celebrity Flora is a luxury, environmentally-friendly ship that is a stunner. Celebrity's new "Always Included" package add terrific value, while the Retreat provides a higher bar experience when it comes to service and luxury onboard.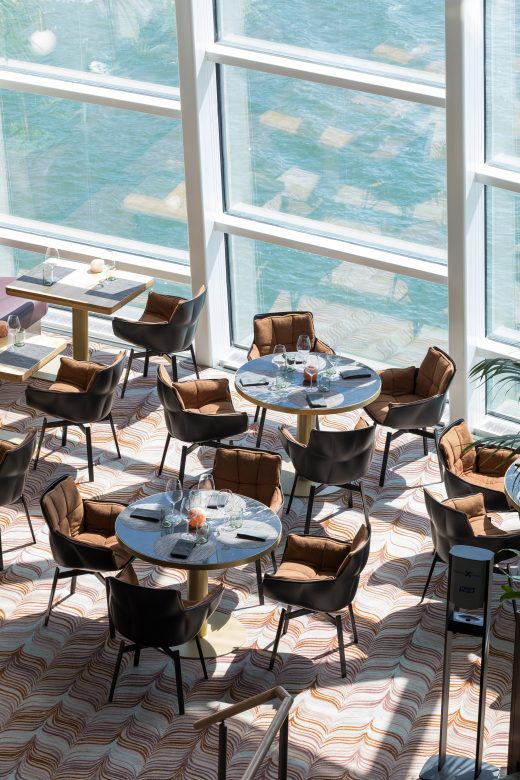 Why book with us?
Bonus Savings
Up to $100 off discount on select voyages, combinable with the "Always Included" amenities.
Cruise Price Guarantee
We will match or beat a price when you provide us with a competitor's quote prior to purchase, if it is lower and available.
Cruise Price Monitoring
With our proprietary program, we can instantly monitor and take advantage of price and itinerary changes that occur.
Top Producer
We are proud to be an award-winning Celebrity Elite agency; you can book with confidence.
Vacation Assurance
We've got you covered with our best-in-class service and support-- from booking till after you return home.
Online Access
With our direct connection to Celebrity's inventory, you can Click Here to search available Celebrity cruises and see our added amenities.
Our Cruise Experts
Our cruise experts will arrange your best Celebrity cruise and customize your travel arrangements the way you want it. We'll help tailor your experience with customized shore excursions, arrange pre- or post-cruise hotel stays, your best airfare options, and more.
View More Cruise Experts
Let's plan your Celebrity cruise:
Call: 800-850-3224