Expedition Cruises
Adventure cruises to remote destinations
With the advent of jet travel, discovering the planet has been made so much easier. Distances that used to take explorers months of hard-core adventure travel on the world's oceans and rivers can today be crossed in a matter of days or weeks. Even more so, today's curious traveler can visit the planet's most remote locations in far more comfort and style than our forebears, in the company of experts. Let us arrange your adventure.
Get closer to Earth's more remote places.
Expedition cruises appeal to travelers who want to experience the more remote places, often wilderness areas, and savor the knowledge and insights imparted by experts in their field.
Many of these places are best reached by ship, too. It's the combination of traveling with experts and a sense of adventure that make expedition cruises a unique type of vacation.
The most popular destinations for expedition ocean cruises are the Polar Regions of Antarctica, The Arctic, Iceland and Greenland, as well as The Galapagos Islands. On expedition river cruises the Upper Amazon is a most popular destination.
Not your usual cruise
Whether to the colder regions of Antarctica or The Arctic Circle, or exploring the tropical Amazon, the expedition cruise traveler is, in some cases, willing to give up a bit of the convenience of a typical ocean cruise or river cruise in order to personally experience the unique and wonderful, from landscapes to wildlife, and to travel with specialists in their field to enrich their experience.
Ocean vs Expedition
What's similar with traditional ocean cruises and expedition cruises is the comfort and amenities in your stateroom, the onboard service and the cuisine.

What's different? On ocean ships there are perhaps a dozen or more entertainers doing evening shows on stage for guests onboard. On expedition ships, entertainment staff is replaced by scientists in a variety of fields who give talks and enrich the experience of the expedition itinerary. Expedition cruises will more likely have shoreside experiences reached by zodiacs rather than tenders, and offer more nature-oriented and adventurous experiences, depending on the destination. On Polar cruises, ships are also equipped to provide guests boots and jackets as may be required.
Pocket Travel on the go
We'll also provide you our Pocket Travel app so you'll have your itinerary and flights available on your smart phone or other devices, along with additional destination information and a way to stay in touch if needed.
(Read more about our Pocket Travel app>>)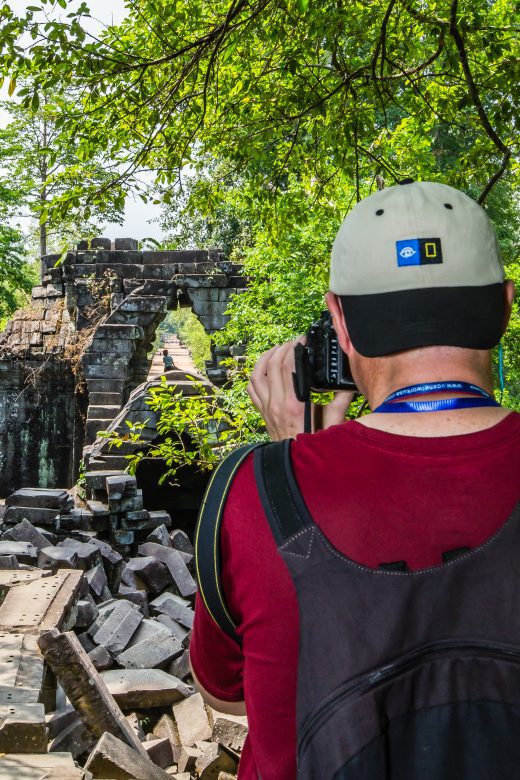 Expedition Cruise Experts
Our online expedition cruise experts will customize your adventure cruise. Enjoy The TravelStore Difference. Learn more about how we work.>>
Howe we work
More on Expedition Cruises
What's different about expedition cruises?
Today's travelers often want a different type of experience than found on a typical ocean cruise. Typical ocean cruises are about the ship serving as a floating resort, while visiting ports of call — usually cities or popular stops — in destinations around the world,  On a modern expedition cruise, the ships are generally very comfortable and can be luxurious, but are less fancy resorts than a comfortable means to enrich the traveler's experience exploring remote parts of the globe, often where ports of call are not cities but remote wilderness areas, with naturalists and others on board specialists in the field, there to enhance the experience.
Do expedition cruises only appeal to experienced cruisers?
About half the travelers taking expedition cruises have never been on a cruise vacation before. What attracts travelers to expedition cruises is the destination they will experience, and the enrichment provided by the onboard specialists. As expedition ships are usually smaller than many of today's mega-size cruise ships, the experience onboard is usually more personal and more intimate.
Is an expedition cruise make a good family vacation?
Absolutely. Many parents want to introduce their children to nature in all its glory, and to wildlife — it's often far more compelling to children to experience than cathedrals, museums and historic sites on a more typical tour of Europe or Asia. An expedition cruise is also as much a learning environment for children as any other type of travel experience.
How good are expedition cruise ship?
Expedition cruises have been around for quite a long time. In the early days many of these ships were not as comfortable, have as good a dining experience, or generally provided as luxurious an experience as today's ships do. Today's new ships are also far more sustainable and more friendly to the environment in which they cruise.
Read More
Plan Your Expedition Cruise
Let our experts arrange yours.