Morocco
THE MAGIC, MYSTERY, AND SPICE OF the EXOTIC old world.
Morocco
experience its cuisine, street markets and warm hospitality.
Morocco
Experience sunrise over the sahara desert
Morocco
From the high atlas mountains to perfect beaches, Morocco serves up incredible experiences.
Morocco
Uncover the mystery and beauty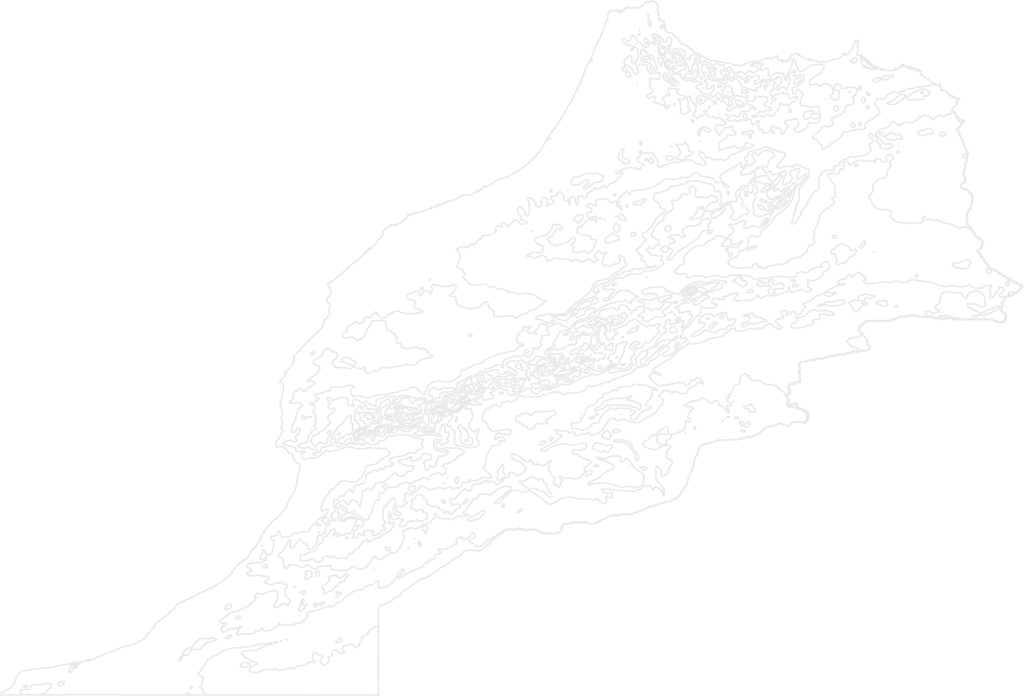 From camelback ventures through the Sahara Desert at sunset to visits to UNESCO World Heritage sites, a Morocco vacation is to discover the amalgamation of rich heritage and cultural fusion in this enchanting and exotic country bound by Mediterranean views and filled with European, Arab-Muslim, and African influence.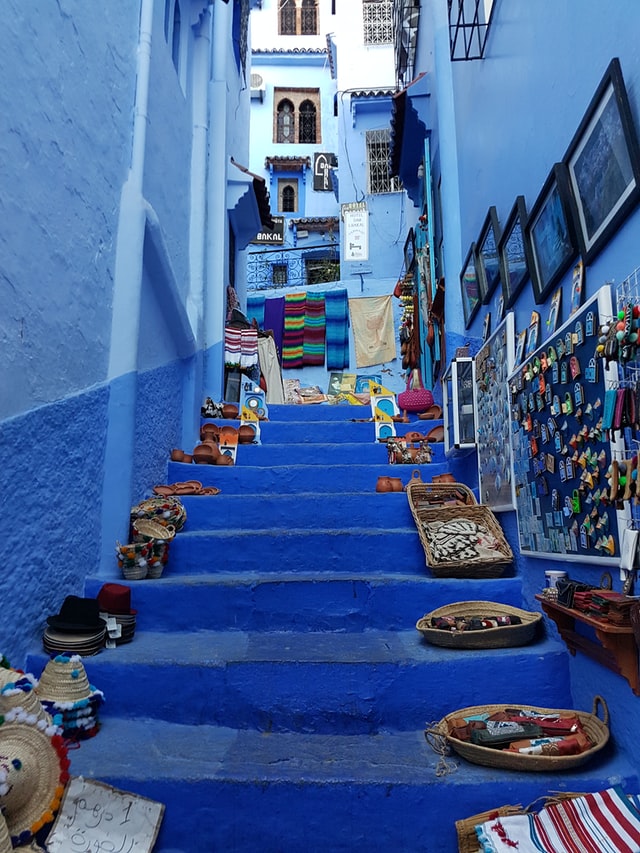 Introduction
In the imperial cities of Casablanca, Meknes, Marrakech, Tangier and Fez, a trip to Morocco conjures images of exotic and medieval days, with their high walls and grand gates; while from the rooftop terraces of the medinas you can watch the bustling city street life below. Some top quality Morocco resorts are even housed in former palaces, extending a true opportunity to experience the splendor that Morocco has to offer its guests. (see more below)
Weather and Climate
Morocco's weather experiences extremes. In the summer months, the coastline may swell with cool breezes and seaside temperatures, while central cities including Marrakech, Fes, and Meknes are sweltering and uncomfortable for outdoor travel. Winter, too, is exceptional. If you're traveling to Morocco to trek through the mountainous regions, it is particularly important that you avoid winter and early spring seasons, given their cold nights and flash flooding from melting snow and rainfall that can prove to be quite hazardous. Spring is widely considered to be the best time to visit the country in terms of the Morocco weather you'll find. While central and southern Morocco may experience sunny, albeit chilly days through winter, from the end March through May, the country warms to a delightful, temperate climate, which is perfect for travel.
Transportation
Many Moroccan cities are served by a public transport rail network that links popular destinations in the north, along the coast, and all the way to Marrakesh. Throughout the country, you will also find an abundance of buses and taxis that are customarily shared by multiple passengers. While travel options are pretty good throughout the country, some visitors prefer to rent a car, or a car with driver guide, to gain access to smaller local villages that aren't as easily accessible by public transportation. Of course, TravelStore can arrange your trip to Morocco in advance, as part of your unique trip arrangements.
Moroccan cuisine
Being a North African country with Berber culture and influences from other countries, Morocco has its unique twist on dishes and should be an intrinsic part of your trip to Morocco. The national dish would be a tangine, which is the name of the clay pot in which the food is prepared, and can include meats, seafood, vegetables and couscous. Mechoui is slow-roasted lamb traditionally cooked whole over a coal fire pit. A variety of soups are common; Dchicha is made of barley and milk; harira is made with chickpeas and lentils with tomatoes as its base; bissara is made with broad or fava beans, wqter and garlic, with olive oil and cumin. Loubia is a white bean stew made with tomatoes, garlic and spices. Zaalouk is roasted eggplant with seasonings like paprika, ginger, garlic, coriander, cumin and olive oil. Tk'touka is a cold salad of roasted peppers and roasted tomatoes with cumin, coriander, and lemon. Batata Hlouwa is Morocco's take on potato salad made with sweet potato mixed with honey, raisins and cinnamon. You might also try the camel burger and not to be missed is have a B'stilla.
Suggested reading
The Last Storytellers-Tales from the Heart of Morocco (R. Hamilton), The Sand Child (T. Jelloun), The Spider's House and Letter from Tangier & A View from Tangier (P.Bowles), The Secret Son (L. Lalami), In Morocco (E. Wharton), A House in Fez (S. Clarke), Morocco That Was (W. Harris), The Voices of Marrakesh: A Record of a Visit (E. Canetti), Sex and Lies (L. Slimani).
Suggested viewing
Casablanca, Lawrence of Arabia, The Source, Babel, Hideous Kinky, Morocco: Love in Times of War, Prince of Persia: The Sands of TimeMuch Loved, , American Sniper, Wind and the Lion, Legionnaire , Mission Impossible – Rogue Nation.
Morocco Travel Experts
Whether you set off on a Morocco honeymoon or travel to Morocco on a historical quest, our team is ready and willing to enhance your trip to Morocco.
Morocco Hotels and Resorts
Morocco has an abundance of accommodations for every budget throughout its country. Even in the desert, you can find luxury campsites that extend comfort into the Sahara. At many of our Morocco resorts and carefully chosen hotels, we extend special amenities to travelers at the best options, like these in Marrakech:
La Mamounia
An icon of Marrakech, La Mamounia is the incarnation of Moroccan identity and a true jewel among international hotels.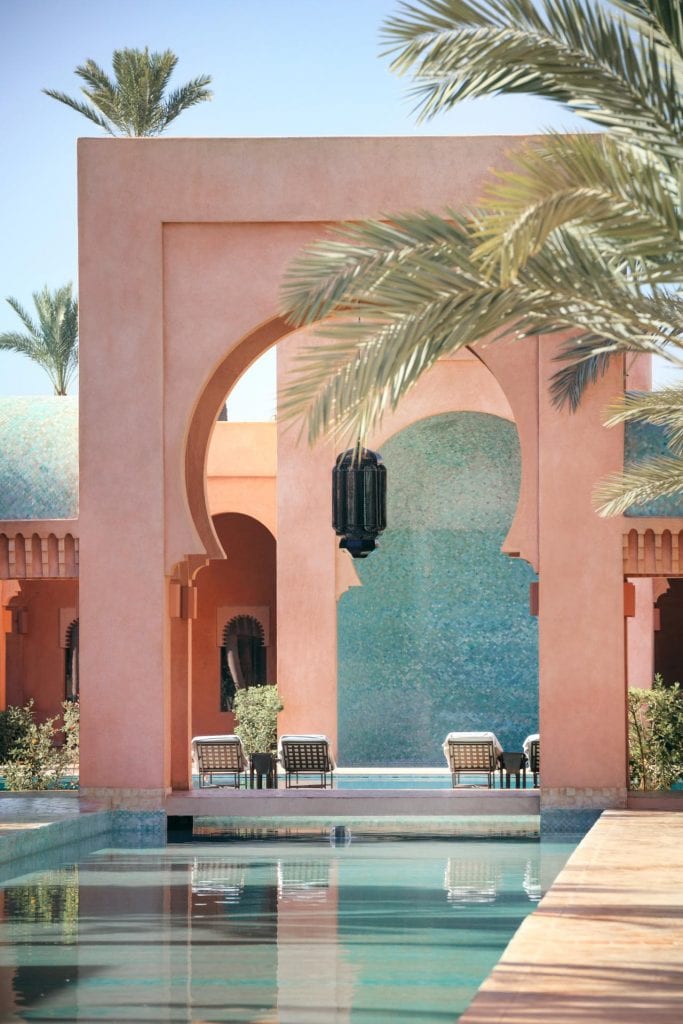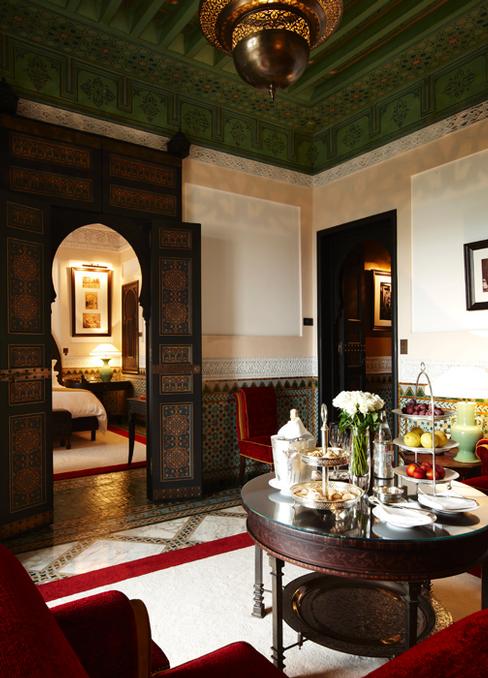 Did you know?
Morocco was the first to recognize the USA as an independent nation -- the longest unbroken relationship in US history.
The earliest representation of the human form was found in Morocco in 1999 and is between 300,000 and 500,000 years old.
Morocco's population of about 33 million people have 44 million active cell phones.
During America's Revolutionary War, Morocco's sultan protected American merchant ships from Barbary pirates.
By 2015, 23 Moroccan beaches had achieved a "Blue Flag" rating for water quality and wastewater management.
More About Travel to Morocco
Things to See and Do
To fully experience all that a Morocco vacation has to offer, there are a few major cities you won't want to miss. Wander labyrinthine passages through the medinas of imperial Tangier before bartering with locals at the bazaars for colorful wares and fabrics. Embark on a Morocco honeymoon expedition to Old Hollywood's sweetheart, Casablanca, or set off to the Atlas Mountain foothills to find Marrakesh, the heart of Morocco, where you'll find open-air markets and street performers in abundance. Take a fun ride on a sand board in the desert and visit a Berber kasbah. Regardless of which destination and experience you choose, be sure to make one of these and allow time to visit smaller villages along the way; you never know what ancient marvel you may come across.

If you travel to Morocco, venture off the beaten path to Merzouga to begin an unforgettable journey through the Sahara desert. Here, Mohayut guides will lead you by camel into the vast desert expanse to soak up rich Berber culture of music, cuisine, and local humor. If you're ready to travel by camel, make this part of your Morocco vacation.
Spend time in Menkes, a city that blurs the lines between contemporary culture and historic heritage. Follow the Bab Mansour (a beautifully preserved 9th-century gate), peruse the Dar Jamai Museum (home to a wealth of captivating exhibits), or absorb Moroccan culture inside the Ryad Bahia.
If you're interested in things to do in Morocco that incorporate Arab-Muslim culture and architecture, don't miss the UNESCO World Heritage site in Fez. As one of the world's most complicated mazes, not to mention the world's most sizable car-free area in a city, this mecca of ancient culture is not to be missed.
Read More
Let's Plan Your Trip!
Our professional travel experts look forward to tailoring an exceptional vacation for you.