©StudioPONANT/Morgane Monneret
Ponant Cruises
Deluxe boutique worldwide voyages and expeditions
Explore remote corners of the globe with a French touch on a Compagnie du Ponant expedition cruise, cultural theme cruise or a Smithsonian Journey. Designed for exotic travel and polar cruises, the environmentally-friendly Ponant ships explore with daily immersive experiences on zodiac outings and shore landings in the company of naturalist guides.
While not as well-known a cruise brand in the US, the French-based Ponant Cultural Cruises & Expeditions has been behind the scenes for many years, as esteemed companies like Tauck and Abercrombie & Kent charter their vessels on exotic cruises around the globe. The company's French background translates to fine food and wine, catered by Alain Ducasse's Ducasse Conseil.
Established in 2018, the PONANT Foundation works to conserve the oceans and poles and to promote exchanges between populations by committing to support innovative initiatives led by researchers, NGOs, start-ups or businesses working to preserve oceans, building scientific knowledge about the polar regions and interacting with indigenous populations.
About Ponant Cruises
Boutique size ships
Compagnie du Ponant has built newer luxury boutique ships that cater to intrepid travelers on expedition cruises to destinations like Antarctica, The Arctic, the northern reaches of Australia, and the Amazon, while maintaining a respect for the indigenous populations and pristine nature of the remote location. Ponant's ships are limited in size to 92, 122 or 132 staterooms, or fewer than 250 guests on any voyage. The smaller ships enable visits to more remote ports of call, while providing a more intimate level of service onboard.
Environmentally-friendly
Ponant's environmental sensitivity is underscored by its participation in Le Cercle Polaire, a think tank focused on preserving polar environments; IAATO, an industry group setting the highest tourism standards for sound travel to Antarctica; AECO, dedicated to responsible tourism in the Arctic, and has been awarded the "Clean Ship" label by Bureau Veritas for environmental compliance.
Onboard Enrichment
Ponant's business is exploring remote parts of the planet in the total comfort afforded by its luxury vessels, with onboard service from a bi-lingual French crew, and providing guests with destination enrichment through its international team of onboard professionals that bring cultural, environmental and historical value. Expedition outings are included in the cruise price, while optional excursions are available at regular ports of call. If combing travel and classical music intrigues you, then we point you to Ponant's Musical Odysseys at Sea program, select voyages that feature guest virtuosi and several concerts in the course of the voyage.
Blue Eye
A unique Ponant cruise highlight onboard is the Blue Eye, defined as a multi-sensorial underwater lounge, with two large windows, where guests will be able to view as well as listen to the sea outside via hydrophones, while enjoying cocktails. Underwater cameras can also film sea life that's projected on screen in the lounge.
Our recommendation
Ponant is in major expansion mode. The French crew and dining staff add a different cultural twist onboard. We don't consider Ponant on par with top luxury ships, but the smaller size environmentally-friendly ships have a lot going for them, providing a more boutique feel onboard. The Blue Eye is a very cool feature.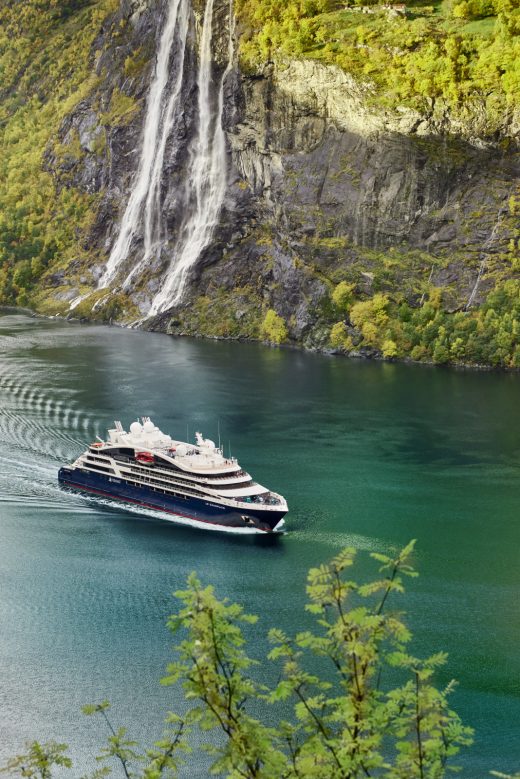 Why book with us?
Bonus Savings
$500 per couple in onboard credit towards shore excursions, spa treatments and more.
Cruise Price Monitoring
With our proprietary Cruise Track program, we can instantly monitor and take advantage of price and itinerary changes that occur.
Cruise Price Monitoring
With our proprietary program, we can instantly monitor and take advantage of price and itinerary changes that occur.
Vacation Assurance
We've got you covered with our best-in-class service and support-- from booking till after you return home.
Online Access
With our direct connection to Ponant's inventory, you can Click Here to search available Ponant cruises and our added amenities.
Our Cruise Experts
Our luxury cruise experts will arrange your best Ponant Cruise and customize your travel arrangements the way you want it. We'll help tailor your experience with customized shore excursions and special requests onboard, arrange pre- or post-cruise hotel stays, your best airfare options, and more.
View More Cruise Experts
Let's plan your Ponant cruise:
Call: 800-850-3224