Mississippi Viking river cruise
Viking
River, Ocean & Expedition Cruises Worldwide
In the first century AD, the Vikings, world-class navigators, explored the oceans, reaching the British Isles and even the North American continent. Perhaps in the tradition of the Vikings, and 20 centuries later, Viking River Cruises established its U.S. headquarters and instantly became a major cruising force.
Through rapid expansion and an unheard of pace in building new Viking Longships, far more comfortable than those of its namesake, the company has grown to become the world's largest river cruise line, with over 65 ships, cruising in Europe and Asia, with even Mississippi River cruises!
Designed with the environment in mind, Viking's ships feature energy-efficient hybrid engines, hydro-dynamically optimized streamlined hull and bow for maximum fuel efficiency and equipment that minimizes exhaust pollution and meets the strictest environmental regulations.
About Viking
Appealing to travelers looking for culturally immersive experiences and well-priced value, Viking's river cruises offer a quality mid-range product.  The all-inclusive pricing, typical of river cruise vacations, includes comfortable accommodations, intimate ships, good cuisine featuring regional specialties and sourced locally, wine, beer, and soft drinks at lunch and dinner, and daily guided shore excursions.
Shoreside enrichment
Included excursions ashore include use of a Quietvox audio system so you can hear the local guide. Or, if you prefer, the concierge can help organize optional tours, a shore-side restaurant reservation, theater tickets, or private car and driver. Each itinerary offers an optional Privileged Access experience, such as behind-the-scenes access tour. Onboard enrichment talks, classes, and performances are part of Viking's Culture Curriculum program.
Expedition enrichment
Viking has forged relationships with a number of scientific organizations: the University of Cambridge's Scott Polar Research Institute, the Cornell Lab of Ornithology, and the National Oceanic and Atmospheric Administration. Guests will see them onboard, have the opportunity to learn about the science that Viking supports and the research being conducted on the ship.
Our recommendations
We can't but marvel that Viking has carefully looked at the best in quality of today's ocean cruise ships and added some of its own unique touches, including the cantilevered glass-backed infinity pool. The ocean cruises offer great value (keep in mind there's no casino and no children). Dining appears better on the ocean cruises. River cruises are well managed and service is good; dining is also good but not superior from a foodie standpoint. Space is optimized with more guests onboard than on higher-quality ships. Very good value.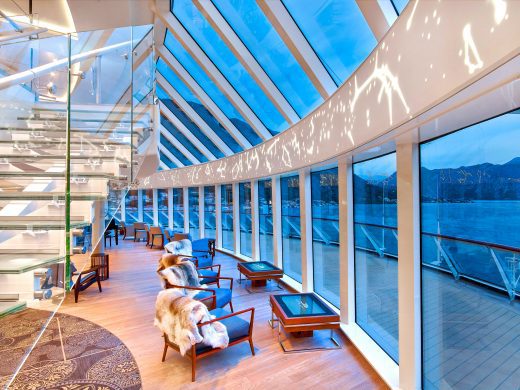 Why book with us?
Bonus Savings
$350 onboard spending allowance per couple (on select sailings).
Cruise Price Guarantee
We will match or beat a price when you provide us with a competitor's quote prior to purchase, if it is lower and available.
Cruise Price Monitoring
With our proprietary Cruise Track program, we can instantly monitor and take advantage of price and itinerary changes that occur.
Top Producer
We are proud to be one of the nation's top producing Viking Cruises agencies you can book with us in confidence.
Vacation Assurance
We've got you covered with our best-in-class service and support-- from booking till after you return home.
Online Access
With our direct connection to Viking's inventory, you can Click Here to search available Viking cruises and our added amenities.
Viking Cruise Styles
Viking Ocean
Very well designed smaller ships with plenty of bells and whistles including Scandinavian-style spa with  snow room! The cruise price is inclusive of beverages at lunch and dinner, there's free wi-fi access, and select shore excursions are complimentary. (Premium shore excursions are optionally available.) Average time spent in ports of call are 12 hours or more. The all-balcony, spacious Scandinavian-designed staterooms and large bathrooms provide contemporary and comfortable pleasing accommodations at a spacious 270 square feet, with 42-inch TVs with movies on demand. In the evening, the dining room can offer open air dining or indoor dining. Alternative dining venues offer a variety of additional complimentary choices. There are two pools, one with a retractable roof for use in less than perfect weather, and the other an infinity pool.
Viking River
Viking's river destinations include cruises along the rivers of Europe, Russia, Ukraine, China, Southeast Asia, Egypt and the USA. Discover the Far East with a fascinating cruise tour along the Yangtze River, or Mekong River. Take in the European countryside along the Danube, Rhine, Seine, Elbe, or Douro. Cruise the Mississippi. Staterooms include comfortable beds with European duvets and linens; bottled water, bathrobes, and slippers; TVs with CNN, CNBC, and ESPN; and wireless internet. Select from accommodations with a picture window, a French balcony with sliding glass door, or a suite with your own veranda.
Viking Expedition
The delights of  a Viking voyage meets the thrills of taking the road less traveled on Viking Expedition cruises to the Great Lakes, Antarctica and the Arctic.  You'll find these based on destinations you wish to cruise. There is more than just research on Viking's expedition cruise ships. There's an auditorium, terrace, infinity pool, spa, fitness center, and regional and international cuisine. Staterooms have a Nordic balcony that feature floor-to-ceiling glass. Ranging in size from 222 square feet to 1,223 square feet, staterooms also have a drying closet to dry expedition gear and clothes. Expedition equipment includes a Zodiac fleet, Arctic-tested kayaks, convertible Rigid Inflatable Boats, and submarines. Gear, such as boots, waterproof pants, binoculars, snowshoes, and skis, is provided to guests.
Trip was fantastic. I feel Viking was over the top as to attention to detail. Felt pampered for the whole trip. Meals on board were fantastic and plentiful with great selection. Thanks for all your amazing help.
Our Cruise Experts
Our cruise experts will arrange your best Viking cruise and customize your travel arrangements the way you want it. We'll help tailor your experience with customized shore excursions and special requests onboard, arrange pre- or post-cruise hotel stays, your best airfare options, and more.
View More Cruise Experts
Let's plan your Viking cruise vacation:
Call: 800-850-3224