Aria Amazon is the @ Aqua Expeditions
Aqua Expeditions
luxury boutique river and yacht expeditions
Aqua Expeditions launched the first luxury boutique expedition vessel offering quintessential Amazon River cruises from Iquitos, Peru. Today it operates itineraries on the Amazon, Mekong River, and in the Indonesian archipelago on its luxury yacht. Be transported to where few have yet ventured.
Aqua Expeditions achieves sustainability goals by practicing environmentally-sensitive operational practices, supporting environmental conservation, supporting wildlife preservation and encouraging local community health and economic development. Ships' engines are fuel efficient and virtually smoke free and a wet exhaust system minimizes the emission of CO2, while their presence discourages illegal fishing and poaching.
About Aqua Expeditions
There's a lot more to cruising the Amazon than meets the eye. Especially with the Pacaya-Samiria National Reserve's many different habitat types and microclimates, no two wildlife excursions are the same. Fishing, kayaking, and canoeing are part of the experience, along with local village and market visits. The boutique Aria Amazon offers just 16 spacious and air-conditioned Design Suites. All suites are 250 square feet with large outward-facing panoramic picture windows and en-suite sitting areas. Each has a California king bed or twin beds, plus a sofa which can accommodate a third guest. Children seven years or older are welcome. A crew of 27 includes a cruise director, a paramedic, and four English-speaking naturalist guides.
Aqua Mekong cruises
The 40-passenger Aqua Mekong features an outdoor infinity-edge plunge pool, spa, library, and screening room.
The Aqua Mekong staterooms are spacious at over 300 square feet, and feature floor to ceiling windows looking over the Mekong River, as well as complimentary wi-fi. Cultural experiences include Khmer, Lao, Thai, and Vietnamese, from visiting with Buddhist monks in remote villages, discovering backwater canals in Vietnam, or the amazing temples of Angkor Wat. Four ten-passenger skiffs onboard enable guests to get ashore and navigate Mekong tributaries. Onboard enjoy daily briefings and talks on culture and history.
Indonesian cruises
Presenting a brand-new cruise experience in the pristine East Indonesian Archipelago, Aqua Blu is a long-range explorer yacht sailing the region's most prized destinations, including Komodo National Park, Spice Islands. Unforgettable seven- and 12-night itineraries. explore the most biodiverse marine area on the globe, named the Coral Triangle, which includes the famed Raja Ampat archipelago. In this region there are over 600 coral species and 1,500 marine fish species. With 15 suites among four decks, the ship offers three suite options. It holds 30 passengers, making it perfect for those who love to cruise without the crowds. With 25 crew members, there is nearly one crew member per guest.
Aqua Expeditions cuisine
Fine dining aboard Aqua Expeditions includes buffet breakfasts and lunches, while dinners are a la carte culinary feasts under the direction of one of Lima's well-known restauranteurs. Beer and the best South American wines are included. On Aqua Mekong, the timeless flavors of Southeast Asian cuisines enhance your voyage, under the guidance of Michelin-starred Executive Chef David Thompson, ranked as the #1 chef in Asia. On Aqua Blu, sustainable and fresh East Indonesian seafood is a high priority, furthering the goal of giving an authentic regional experience.
Our recommendation
Ever since meeting with the owner and founder and seeing his vision made real, Aqua Expeditions has held a special place in our hearts. Visiting untamed and authentic regions in top luxury style with a very small complement of guests is an enticing formula.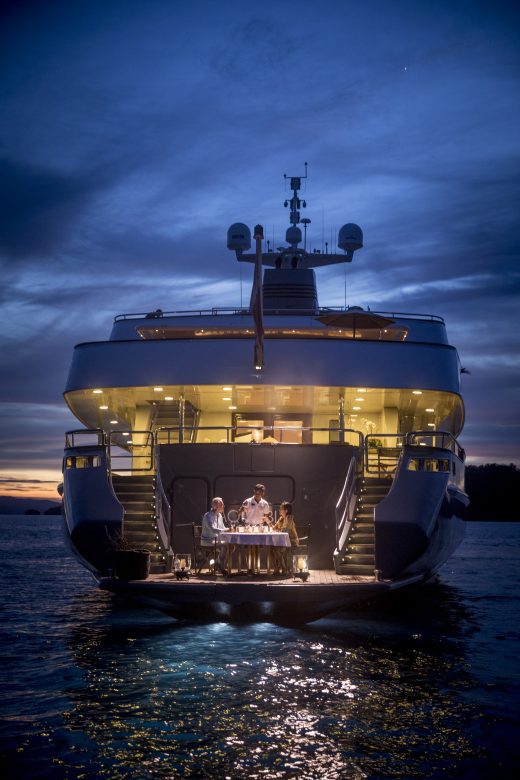 Why book with us?
Bonus value
Enjoy one complimentary 50- or 60-minute massage with our compliments on any Amazon or Mekong voyage.
Cruise Price Guarantee
We will match or beat a price when you provide us with a competitor's quote prior to purchase, if it is lower and available.
Cruise Price Monitoring
With our proprietary Cruise Track program, we can instantly monitor and take advantage of price and itinerary changes that occur.
Vacation Assurance
We've got you covered with our best-in-class service and support-- from booking till after you return home.
Online Access
With our direct connection to Aqua's inventory, you can Click Here to search available Aqua Expeditions cruises and see our added amenities.
Aqua Expedition Styles
Ocean
Aqua Expeditions operated its luxury you yacht-style cruise in the East Indonesian archipelago on <em>Aqua Blu</em>. Click to search Aqua's Indonesian cruise options currently available.
Read more
River
Aqua Expeditions offers Amazon river cruises and Mekong River cruises. Click to search Aqua's river cruise options currently available.
Read more
Our Cruise Experts
Our luxury cruise experts will arrange your best Aqua Expeditions cruise and customize your travel arrangements the way you want it. We'll help tailor your experience and arrange pre- or post-cruise hotel stays, your best airfare options, and more.
View More Cruise Experts
Let's plan your Aqua expedition
Call: 800-850-3224