Disney Fantasy football @ Disney Cruise Line
Disney Cruise Line
Happy vacation adventures for everyone -- with or without family
Imagine. You're sitting in the dining room and are entertained with an animated underwater world. Then "Crush," the turtle from "Finding Nemo," appears swimming from window to window, and engages you and your little ones in conversation. You just won't get that on any ship — only on Disney Cruise Line.
Disney Cruise Line is dedicated to minimizing its impact on the environment through efforts focused on utilizing new technologies, increasing fuel efficiency, minimizing waste and promoting conservation worldwide. The DCL Environmental Fact Sheet outlines many ways Disney Cruise Line practices environmental stewardship.
About Disney Cruise Line
Whether you have kids or not, a Disney cruise may be just the vacation you crave. Onboard Disney cruises, you can hear their laughs from across the deck. If you do have kids, you'll watch as they walk hand in hand with Mickey Mouse, their smiles looking as though permanently etched on their faces. They'll remember getting their autograph book signed. You'll never forget their ear-to-ear grin. A Disney Cruise is simply an unmatched family vacation experience, and not just for kids.
Disney Life at Sea
The entertainment is something only the creative minds of Disney could put together on the open sea. From Broadway-quality shows and deck parties to interactive games with some of Disney's most recognizable characters, this cruise is truly set apart from any other. Age appropriate activities await for the entire family – including adult-only areas where you can have a chance to relax and get away from it all, knowing your children are in good hands. There may be no casinos on Disney family cruise vacations, but the facilities for kids are second to none. Staterooms are well designed to accommodate families.
Where to go?
Disney Cruises offers premium itineraries on Disney Wonder, Disney Magic, Disney Dream and Disney Fantasy that range from 3- or 4- night cruises to the Bahamas, 7-night Caribbean cruises, cruises to Alaska and the Mexican Riviera, and 7- to 12- night European cruise vacations. Of course, in addition to handling the details, we can further customize your vacation pre- or post-cruise, and arrange exclusive shore excursions just for you.
Our recommendation
If your are all about everything Disney, then this cruise line is a good pick for you. You'll pay a premium over over brands to enjoy the Disney touches onboard, but overall, dining, service and comfort is at a premium level.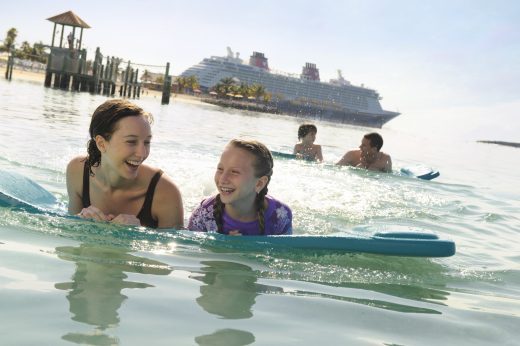 Why book with us?
Cruise Price Guarantee
We will match or beat a price when you provide us with a competitor's quote prior to purchase, if it is lower and available.
Cruise Price Monitoring
With our proprietary Cruise Track program, we can instantly monitor and take advantage of price and itinerary changes that occur.
Vacation Assurance
We've got you covered with our best-in-class service and support-- from booking till after you return home.
Online Access
With our direct connection to Disney's inventory, you can Click Here to search available Disney cruises and our added amenities.
Our Cruise Experts
Our luxury cruise experts will arrange your best Disney Cruise and customize your travel arrangements the way you want it. We'll help tailor your experience with customized shore excursions and special requests onboard, arrange pre- or post-cruise hotel stays, your best airfare options, and more.
View More Cruise Experts
Let's plan your Disney cruise vacation
Call: 800-850-3224