Midnatsol, Hurtigruten @ dan ilves
Hurtigruten Cruises
Expedition Cruises to Norwegian Fjords, Polar Cruises & more
Hurtigruten operates a series of voyages to some of our planet's most remote regions, including Antarctica, Greenland, Iceland and The Arctic, as well as in Europe and North America, with a strong commitment to sustainability and protecting the environment. Release your inner explorer on a Hurtigruten cruise!
As a leader in exploration travel, Hurtigruten was first to build the greenest fleet of expedition cruise ships and implemented a voluntary ban on heavy fuel oil over a decade ago. Its first hybrid electric powered expedition cruise ship, the MS Roald Amundsen, designed by Rolls-Royce, reduces fuel consumption and CO2 emissions. Single-use plastics have been entirely removed.
Sustainable travel is Hurtigruten's mission. The Hurtigruten Foundation is funded by onboard activities and donations, and focuses  efforts around three pillars: Conserving the world's marine wildlife, fighting against marine and plastic pollution, and supporting local and global projects where Hurtigruten visits.
About Hurtigruten
With a fleet of 13 cruise ships, Hurtigruten specializes and is the premier player in Norwegian Coastal cruise itineraries through the Norwegian fjords, Explorer voyages to the far reaches of the earth including the Arctic and Antarctica, as well as the Northwest Passage and beyond.
Norwegian Fjords
Since 1893, the original Norwegian Coastal cruises operate year round through Norwegian fjords, visiting cities and smaller towns along the way. Half the voyage is above the Arctic circle, offering unique celestial opportunities such as Northern Lights and Midnight Sun in the winter months. (On voyages of 7 nights or more, Hurtigruten offers its guarantee you'll see the Northern Lights.) These voyages focus on history, nature, wildlife, scenery, and culture -- all wrapped up in one voyage. Lecturers by noted expedition leaders enhance the experience. And the very good farm to table cuisine will satisfy your culinary cravings.
More ports of call
Unlike other cruise operators who may visit a handful of ports, Hurtigruten visits 34 ports on the Norwegian Coastal Voyages. To help you plan your time ashore, Hurtigruten offers nearly 100 shore excursions that can be pre-booked. These excursions offer travelers soft and moderate adventure and unique activities, including horseback riding, kayaking and more. (Consider the transfer to the airport from Kirkenes by doglsed.)
Science onboard
The MS Roald Amundsen features a working science lab with microscopes, onboard scientist and library, for hands-on opportunity to learn more about our world.
Our recommendation
Many of Hurtigruten's ships are older and will not offer the type of experience American cruise travelers expect and find satisfying, nor are these marketed in the U.S. The newer ships, however, offer a solid 4-star level of service, comfort and cuisine. Hurtigruten's calling card is being the most experienced line in Polar cruising, with more cruises to Antarctica or the Arctic than any other line, and offering excellent shoreside experiences. We admire and support the company's strong focus on sustainability.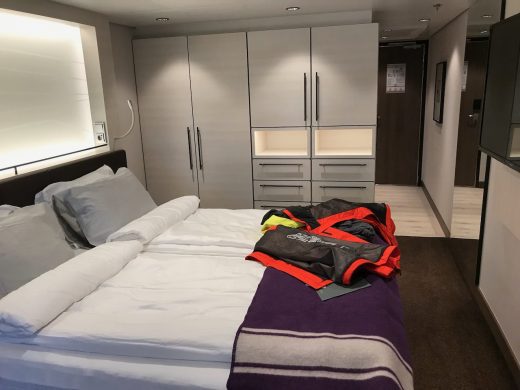 Why book with us?
Bonus Savings
Enjoy a spending credit of $65 to $210 per couple, depending on ship and voyage.
Complimentary Ovenight
Enjoy a complimentary one-night pre-cruise hotel stay on select Norwegian voyages.
Cruise Price Guarantee
We will match or beat a price when you provide us with a competitor's quote prior to purchase, if it is lower and available.
Cruise Price Monitoring
With our proprietary Cruise Track program, we can instantly monitor and take advantage of price and itinerary changes that occur.
Vacation Assurance
We've got you covered with our best-in-class service and support-- from booking till after you return home.
Online Access
With our direct connection to Hurtigruten's inventory, you can Click Here to search available Hurtigruten cruises and amenities.
Our Cruise Experts
Our cruise experts will arrange your best Hurtigruten Cruise and customize your travel arrangements the way you want it. We'll help tailor your experience with customized shore excursions and special requests onboard, arrange pre- or post-cruise hotel stays, your best airfare options, and more.
View More Cruise Experts
Let's plan your
explorer voyage:
Call: 800-850-3224