paddleboarding @ Paul Gauguin Cruises
Paul Gauguin Cruises
Luxury small ship cruising in Tahiti and SOuth Pacific
Does getting away from it all, for you, include pristine beaches and turquoise water? If so, Tahiti is an island paradise most likely atop your travel wish list. Paul Gauguin is the only luxury cruise line operating year-round Tahiti cruises in the Society Islands of French Polynesia.
Paul Gauguin Cruises completely eliminated the use of heavy fuel oil and uses a much cleaner fuel (LS MGO – Low-Sulphur Marine Gas Oil) and offsets 150% of its carbon emissions. The company also partners with Te mana o te moana, a South Pacific marine education and conservation foundation, as well as Jean Michel Cousteau's Ocean Future's Society.
About Paul Gauguin Cruises
Enjoy Polynesian hospitality, fine dining and be as relaxed or active as you like. While Tahiti is the cruise line's most popular destination, Paul Gauguin Cruises also offer you 7-13 day trips to places like the Tuamotu and Cook Islands.

- 2-for-1 pricing, free airfare from Los Angeles.
- Gratuities for room and dining staff included.
- Complimentary spirits and beverages onboard.
- Complimentary in-room beer, soft drinks and water.
- Complimentary windsurfing, kayaking and paddle boarding. 
What's a Paul Gauguin cruise like?
Itineraries are well-balanced with a variety of outdoor and water-based activities, fine dining, enrichment talks and evening entertainment. With a complement of up to 332 guests, the ship is small, yet large enough to provide many comforts and amenities. The m/s Paul Gauguin's water sports marina sets the ship apart, allowing you to access a variety of water sports directly from the ship, including kayaking, windsurfing and water skiing, snorkeling and a PADI-certified dive program utilizing zodiac craft. Onshore adventures range from golf to four-wheel drive excursions.
The added touches
Ocean views are standard in Paul Gauguin cabins and most staterooms have balconies. Your in-room comforts include European linens, feather-down duvets, robes and slippers. Your mini-fridge is replenished daily with soft drinks, beer and bottled water. When you reserve a category B and higher stateroom, butler services are included.
Who will enjoy it?
A Paul Gauguin Tahiti cruise especially appeals to couples and honeymooners who enjoy water sports and romantic getaways. Summer family cruises are also appropriate for children over age 9, who can enjoy Jean-Michel Cousteau's Ambassadors of the Environment program.
Our recommendation
This mid-size ship, being in the South Pacific year around, offers very good enrichment programs onboard and ashore, and is well maintained and offers quite a good dining experience. A great choice and convenient way to visit French Polynesian islands.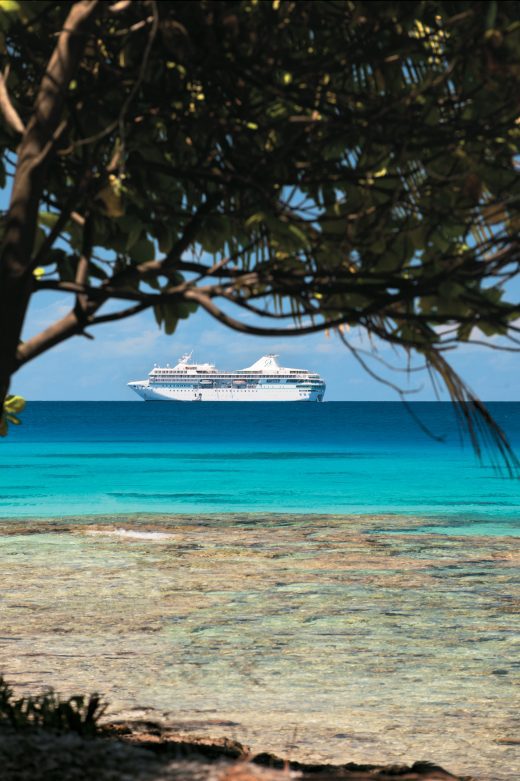 Why book with us?
Bonus Savings
Enjoy $200 or $400 per couple in onboard spending credit (on select voyages).
Cruise Price Monitoring
With our proprietary Cruise Track program, we can instantly monitor and take advantage of price and itinerary changes that occur.
Cruise Price Guarantee
We will match or beat a price when you provide us with a competitor's quote prior to purchase, if it is lower and available.
Vacation Assurance
We've got you covered with our best-in-class service and support-- from booking till after you return home.
Online Access
With our direct connection to Paul Gauguin's inventory, you can Click Here to search available Paul Gauguin cruises and our bonus amenities.
"Thanks so much for making our travel plans for our Paul Gauguin cruise stress free. We had a great time.  Everything was so exciting…words can't describe or capture the beauty of French Polynesia.  We appreciated the spacious, well-appointed stateroom and many activities offered…"
                                                             – Mari & Rod, Burlington, WA
Our cruise experts
Our luxury cruise experts will arrange your best Paul Gauguin cruise and customize your travel arrangements the way you want it. We'll help tailor your experience with customized shore excursions and special requests, arrange pre- or post-cruise hotel stays, your best airfare options, and more.
View more cruise experts
Let's plan your Tahiti cruise vacation:
Call: 800-850-3224