Quark Expeditions
Voyages to the Arctic and Antarctica
Expedition travel is a phenomenal adventure, an enriching, life-changing experience. Through compelling itineraries, an expert team of expedition staff and a capable and comfortable fleet, Quark Expeditions takes you right into the thick of things for a trip you will never forget. Quark pushes its boundaries and will help you push yours.
Quark's commitment to sustainability is embodied in its Polar Promise strategy, a framework which includes its ongoing reduction of carbon emissions, elimination of single-use plastics, and an aim to reuse or recycle 100% of waste in addition to other measures.
About Quark Expeditions
With 30+ years of experience, Quark is a polar pioneer and has been going to the Arctic and Antarctica since 1991. As trailblazers they set standards for the industry. Quark Expeditions offered the first circumnavigation of the Arctic Ocean, and were the first to take passengers to the emperor penguin rookeries near the Ross Sea. Their innovative spirit continues to inspire travelers on every voyage.
Polar specialists
The mark of a specialist is not to take anything for granted. Quark understands the moments you will treasure are the sum of a thousand details gone right. They check and recheck, making sure landing sites are safe and points of interest are scouted. As polar specialists, Quark attracts the very best talent in this area–- from its guides and captains to logistics and support staff. This adds up to insightful planning, spell-binding adventure and their deep personal connections.
Safety first
While it's easy to take safety for granted, it's all the more important in polar regions. Quark bases decision on the all-important pillar of safety, with the profound understanding of risk versus reward. Quark didn't just read the book on safety – they helped write it.
Our recommendation
Quark delivers exhilarating Polar adventures. A number of cruise lines venture out to polar areas -- but for Quark, these regions are their backyard, and as climate change continues to affect and shift the landscape, Quark is relentless when it comes to finding elusive wildlife, offering rich sighting experiences, and showing you things others can't.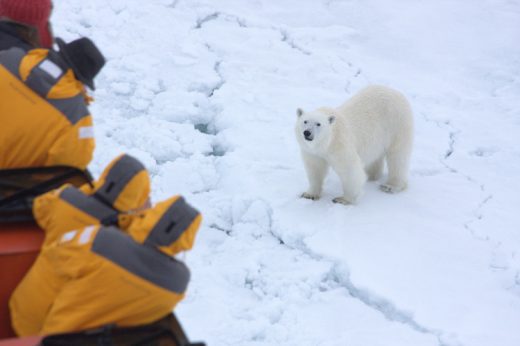 Why book with us?
Bonus Savings
$300 per couple credit in the Online Polar Boutique.
Cruise Price Guarantee
We will match or beat a price when you provide us with a competitor's quote prior to purchase, if it is lower and available.
Cruise Price Monitoring
With our proprietary program, we can instantly monitor and take advantage of price and itinerary changes that occur.
Vacation Assurance
We've got you covered with our best-in-class service and support-- from booking till after you return home.
Online Access
With our direct connection to Quark's inventory, you can Click Here to search available Quark Expedition cruises andVoyages our added amenities.
Our Cruise Experts
Our luxury cruise experts will arrange your best Quark cruise and customize your travel arrangements the way you want it. We'll help tailor your experience with customized shore excursions and special requests onboard, arrange pre- or post-cruise hotel stays, your best airfare options, and more.
View More Cruise Experts
Let's plan your Quark expedition:
Call: 800-850-3224