Royal Caribbean Cruises
Active and family friendly popular cruises
Sometimes size does matter. Royal Caribbean International boasts some of the largest cruise ships sailing the open seas and with that comes myriad options for you to enjoy, and ships designed unlike any other. A Royal Caribbean cruise vacation is equal parts resort, theme park and shopping mall.
Royal Caribbean International's Save The Waves® program focuses on reducing, reusing and recycling waste and practicing pollution prevention. This has resulted in a 30% reduction in CO2, testing exhaust gas scrubbing technologies to remove sulfur oxide from emissions, reducing water usage and using steam desalination or reverse osmosis to convert sea water into fresh potable water. You can review RCI's sustainability program here.
Royal Caribbean met or exceeded nearly all of its 2020 sustainability targets, achieving its carbon reduction target of 35% from 2005 levels and committing to further reduce emissions 25% by 2025. New ships will use cleaner-burning liquefied natural gas (LNG), which reduces ship emissions.
About Royal Caribbean
If bigger is better, you can't go wrong booking a Royal Caribbean cruise vacation on either of the largest cruise ships afloat. However, if bigger isn't to your liking, Royal Caribbean has a wide range of ships in varying sizes, many incorporating similar features, offering Caribbean cruises, Alaska cruises, Mediterranean cruises and more. Whatever your preference, our cruise consultants can best assist you in arranging the Royal Caribbean cruise vacation right for you, and ensure you get the best value.
Space matters
At over 225,000 tons with room for up to 5,400 passengers, the fleet's largest cruise ships, Oasis of the Seas and Allure of the Seas, may leave you forgetting you're at sea. Few ships offer as many entertainment options: huge climbing walls, ice skating rinks, inline skating rinks, surf riding machines and rubbing elbows with your favorite Dreamworks characters like Shrek and Alex from Madagascar.
Onboard enrichment
The line has also been innovative in creating a "mall" concept of shops and eateries on board some of their ships as well as innovative "neighborhoods." On Oasis of the Seas and Allure of the Seas there's Central Park, open to the sky with over 12,000 plants and trees. There's an elevator that doubles as a 35-seat bar. The Boardwalk includes Royal Caribbean's trademark climbing wall, as well as a zip line and a wooden carousel. The Aqua Theater on these ships features synchronized swimming and diving extravaganzas.
Our recommendation
If you want to be on a ship with more to do than you can imagine, a Royal Caribbean cruise has you covered, with something for everyone. Selecting the right stateroom is tricky, but our cruise experts can help guide your choice.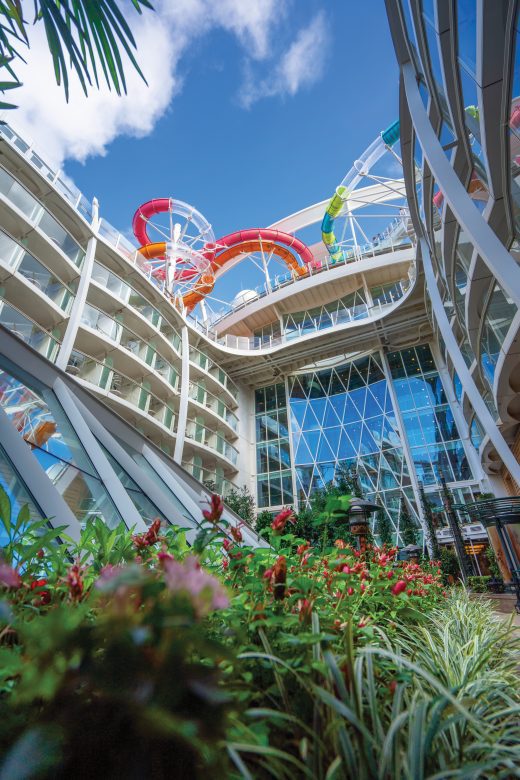 Why book with us?
Bonus Savings
$25 to $150 per couple onboard allowance on select cruises.
Cruise Price Guarantee
We will match or beat a price when you provide us with a competitor's quote prior to purchase, if it is lower and available.
Cruise Price Monitoring
With our proprietary Cruise Track program, we can monitor and take advantage of price and itinerary changes that occur.
Vacation Assurance
We've got you covered with our best-in-class service and support-- from booking till after you return home.
Online Access
With our direct connection to RCL's inventory, you can Click Here to search available Royal Caribbean cruises and our added amenities.
Our Cruise Experts
Our cruise experts will arrange your best Royal Caribbean cruise and customize your travel arrangements the way you want it. We'll help tailor your experience with customized shore excursions, arrange pre- or post-cruise hotel stays, your best airfare options, and more.
View More Cruise Experts
Let's plan your Royal Caribbean cruise:
Call: 800-850-3224