Tauck River Cruises
The most inclusive luxury river cruise line through Europe
Exclusivity means enjoying the finer things in life that few get to experience. As a discerning traveler, you'll enjoy the exclusive opportunities only found on European River cruises from Tauck. Virtually every river cruise expense is included.
Tauck is committed to eco-friendly conservation initiatives aboard its river cruises which include purchasing cleaner-burning GTL fuel for its ships, where available, installing shower-mounted dispensers for shampoo, conditioner and bath gel to eliminate single-use plastic bottles, and providing guests on tour with insulated reusable water bottles to help reduce plastic waste consumption.
About Tauck River Cruises
Custom-designed and built to their specifications, luxury river cruises on Tauck have been recognized as among the best by readers of Travel + Leisure magazine. Each river ship accommodates no more than 130 or 118 guests – fewer than on many other river cruise ships, making it all the more exclusive and spacious for you, including more suite options and larger public areas.  Onboard amenities include Molton Brown bath products, terry cloth robes, thick pillow-top mattresses and luxurious bed linens.
– Private shore excursions and exclusive events.
– Wine and beer with lunch and dinner onboard.
– All gratuities included.
– Pre- or post-cruise hotels on some itineraries.
The Tauck Style
The included sightseeing ashore provides you a window to cultural treasures and insider's secrets; and unique to Tauck, events crafted exclusively for Tauck guests, like a private gala Imperial Evening in a palace in Vienna, a home-hosted lunch in Bulgaria, a private dinner at the Palace of Parliament in Bucharest, wine tasting at a German vineyard, or lunch with local entertainment overlooking Pont du Gard. Our clients appreciate that on a Tauck river cruise, there are no hidden extras and no additional options, and more included opportunities to experience local cuisine and dine ashore.
More personalized
Your Tauck river cruise will include three Tour Directors plus a Cruise Director, more than on any other river cruise line, ensuring a higher level of service and care onboard and ashore. Plus, there's a smaller complement of guests on a Tauck cruise than on many other river cruise ships. Tauck also provides for solo travelers to some degree, with no single supplement charged in category 1 staterooms. More family options and occasional theme cruises for foodies and music lovers are also offered.
Shoreside enrichment
Perhaps you'll choose a trip on the Rhine and Saône rivers in France, of 10- and 14-days. Along the way you'll meet winemakers, chefs and culinary artisans, while you taste the riches of the regions. Or maybe you'd prefer to savor an 8- to 15-day Tauck European river cruise on either the romantic Rhine River, the musical Danube River and the Moselle River that winds through Switzerland and the Black Forest. Several mountain bikes are available on board should you care to pedal while ashore.
Our recommendation
A group tour with Tauck, whether on land or on water, is always top notch. Tauck is ideal for those seeking enrichment from their travels, not just a fun time, and who appreciate the added pampering and guidance additional professional tour guides provide.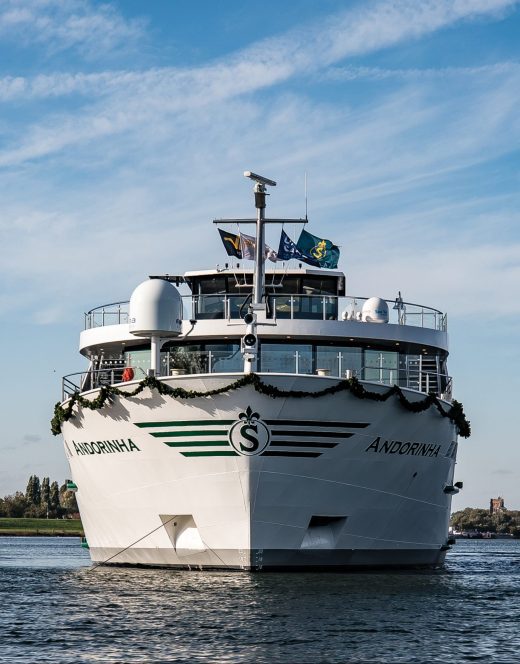 Why book with us?
Cruise Price Guarantee
We will match or beat a price when you provide us with a competitor's quote prior to purchase, if it is lower and available.
Cruise Price Monitoring
With our proprietary program, we can instantly monitor and take advantage of price and itinerary changes that occur.
Vacation Assurance
We've got you covered with our best-in-class service and support-- from booking till after you return home.
Online Access
With our direct connection to Tauck's river cruise inventory, you can Click Here to search available Tauck river cruises and our added amenities.
Our Cruise Experts
Our luxury cruise experts will arrange your best Tauck River cruise and customize your travel arrangements the way you want it. We'll help tailor your experience with customized shore excursions and special requests onboard, arrange pre- or post-cruise hotel stays, your best airfare options, and more.
View More Cruise Experts
Let's plan your river cruise vacation
Call: 800-850-3224