The Moorings
Crewed Yacht Charters
A Crewed yacht charter delivers the ultimate all-inclusive vacation and spirit of adventure on the water aboard your own private sail or power catamaran. Complete with a professional captain and gourmet chef, your group of up to 10 will enjoy spacious accommodations and a premium, personalized yacht charter experience.
The Moorings believes it can make a difference in ocean conservation and leave a positive legacy behind for generations to come. As part of the ongoing efforts to support the sailing community, preserve the integrity of top vacation destinations, and maintain a respectful relationship with the environment, The Moorings supports the ocean sustainability initiatives of One Cup at a Time and Hello Ocean.
About The Moorings
What's Included
While inclusions may vary by destination and vessel in general they include: Captain and Chef, Meals, Snacks, and Beverages, Fully Stocked Bar,  Watersports Equipment, Free Wi-Fi, Housekeeping Services,Air Conditioning.
Destinations
The Moorings offers crewed yacht charter voyages in the Caribbean, the Americas, Tahiti, Mediterranean, Indian Ocean, the South Pacific and Southeast Asia.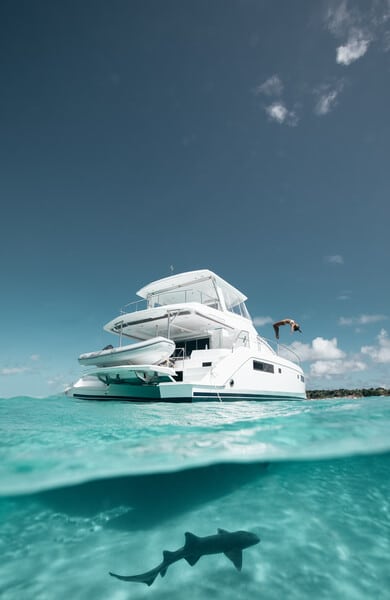 Why book with us?
Lowest Price Guarantee
We will match or beat a price when you provide us with a competitor's quote prior to purchase, if it is lower and available.
Vacation Assurance
We've got you covered with our best-in-class service and support-- from booking till after you return home.
Military Discount
The Moorings offers a savings of 20%* for all active and retired military personnel on select voyages.
Our Cruise Experts
Our luxury cruise experts will arrange your best yacht cruise and customize your travel arrangements the way you want it. We'll help tailor your experience with customized shore excursions and special requests onboard, arrange pre- or post-cruise hotel stays, your best airfare options, and more.
View More Cruise Experts
Let's plan your Ritz-Carlton yacht cruise:
Call: 800-850-3224