Korean BBQ @ Virgin Voyages
Virgin Voyages
Built for the Rockstar in all of us.
With attention to the fun and the hip, Richard Branson's "adult-by-design" cruise line appeals to those who aspire to be on the cutting edge. It's that differentiator that led to putting a tattoo parlor onboard. Self-described as "rebellious luxe," Virgin Voyages looked for inspiration in boutique hotels in creating a different type of cruise line.
Scarlet Lady "will feature 20-plus eateries with no surcharges, 78 suites with eight different styles, access to a personal assistant that Virgin has dubbed a 'Rockstar Coordinator,' the first tattoo studio at sea, an original craft beer, Virgin's on-demand champagne delivery service, and much more." (Telemarket Report) 
Virgin Voyages' commitment to sustainability includes banning straws, water bottles, shopping bags, food packaging and takeaway cups; tinting windows, using LED lighting and room sensors to use less energy and minimize its carbon footprint; serving sustainable seafood and direct trade coffee; pioneering innovative technologies that transform heat from the ship's engines into clean energy, and purifying wastewater so it's even clean enough to drink.
About Virgin Voyages
The Virgin brand debuted in 1970. 50 years later, the 2020 debut of the Scarlet Lady offered Caribbean cruises that can be best summarized in a few words: these are sailings that Richard Branson himself – the founder of Virgin and a longtime non-cruiser – would go on. Fellow eager explorers may find Virgin Voyages to be a breath of fresh air with its own twist on the cruise vacation experience. Wi-Fi and gratuities included.
Onboard lifestyle
Of the 1,330 cabins in the Scarlet Lady, 93 percent offer an ocean view. 86 percent feature a balcony cabin. In trying to reshape cruising's cabins, the bed in a balcony cabin can be transformed into a couch. This innovation was a thoughtful one: it allows your friends the opportunity to sit on a couch when hanging with you in your room. Every suite has its own record player and record collection. To take thoughtful design to the next level, some high-class Virgin Voyages suites come with a table that has stairs on its side, enabling any rockstar-type personality in your group to safely walk onto the table to dance.
Dining on Virgin
There are 20 onboard eateries that don't have assigned seating or dining times. You can find a traditional-style restaurant at which to dine, or you can sit down with some pizza. There's Korean BBQ, Pink Agave (Mexican cuisine), Extra Virgin (Italian cuisine) and Razzle Dazzle (vegetarian and vegan).Virgin Voyages tries to give you more options… even in food.
Bimini Beach Club
Bimini Beach Club transfers the feeling of the onboard experiences to land. Every Caribbean Virgin Voyages sailing stops at the Bahamian beach club, where, during your stay, you can find a DJ, yoga, a beach bonfire, white sand, and more.
Our recommendation
We expect new ships to be environmentally friendly. Virgin Voyages bans single-use plastics and uses carbon dioxide-reducing technology. Virgin has a lot going for it for those looking for a hipper more adult-style party-like atmosphere. Plus, we like the all-inclusive nature: prices include gratuities, all food onboard, and unlimited WiFi.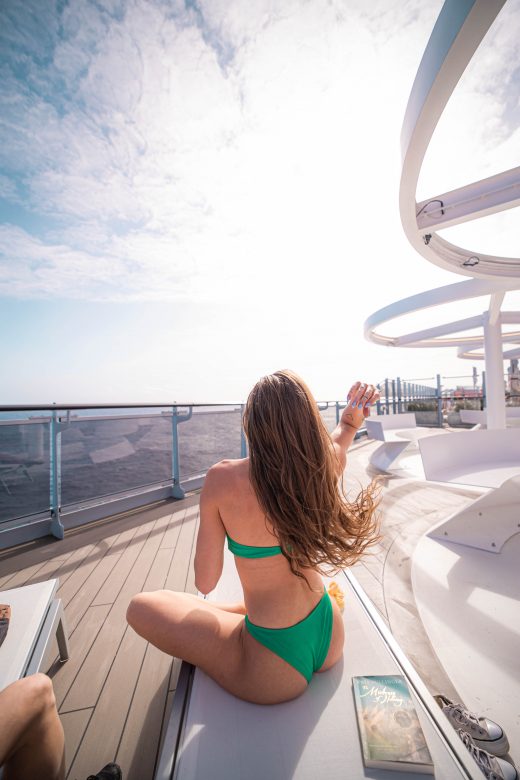 Why book with us?
Cruise Price Guarantee
We will match or beat a price when you provide us with a competitor's quote prior to purchase, if it is lower and available.
Bonus Advantage
Priority access to reserve add-ons and bookable experiences at the same time as Suite guests.
Vacation Assurance
We've got you covered with our best-in-class service and support-- from booking till after you return home.
Cruise Price Monitoring
With our proprietary Cruise Track program, we can instantly monitor and take advantage of price and itinerary changes that occur.
Online Access
With our direct connection to Virgin's inventory, you can Click Here to search available Virgin Voyages cruise and our added amenities.
Our Cruise Experts
Our cruise experts will arrange your best Virgin voyage and customize your travel arrangements the way you want it. We'll help tailor your experience with customized shore excursions, arrange pre- or post-cruise hotel stays, your best airfare options, and more.
View More Cruise Experts
Let's plan your Virgin cruise:
Call: 800-850-3224