Windstar ships Star Legend and Wind Star
Windstar Cruises
180 degrees from ordinary
Uncrowded and unhurried, a Windstar cruise is a unique five-star voyage that attracts cruise guests who enjoy the casual ambience and intimacy of a large yacht, with fine service and cuisine — without pretense or regimentation. Windstar transports you in style to the world's iconic small ports and coves large ships can't reach.
Windstar Cruises aims at reducing fuel consumption through increased use of ship's sails and through itinerary revision. The ships use fuel that is cleaner-burning with lower sulphur content to minimize environmental impact. Implementing water conservation initiatives are part of Windstar Cruises continued compliance of improvement of environmental procedures.
About Windstar Cruises
A leader in small-ship cruising that accommodates no more than 300 guests, Windstar luxury cruises gives you a unique and romantic adventure on a deluxe small ship that holds special appeal to honeymooners, active couples, and those who enjoy a sailing experience and a casual atmosphere. The retractable water sports platform offers free activities including kayaking, sailing, wind surfing and water skiing. Or, choose to simply relax beneath the massive sails on the sailing vessels, or attend cooking lessons, lectures or enjoy a spa treatment.
Dining on Windstar
Windstar's cuisine has always been noteworthy. There is a relaxed attitude (no jacket and tie required) and open seating allows you to dine when and with whom you please. Two main restaurants, Candels and Le Marche, offer dinner dining complete with an extensive wine list and locally purchased cheeses which complement the cuisine. Windstar has also tapped the culinary expertise of celebrity chefs who have created menus.
Our recommendation
Windstar has two type of vessels: large luxurious sailing yachts and small, boutique luxury cruise ships. Both deliver on providing more intimate travel experiences to guests on destinations suited to its ships -- and we've been long-time fans of Windstar.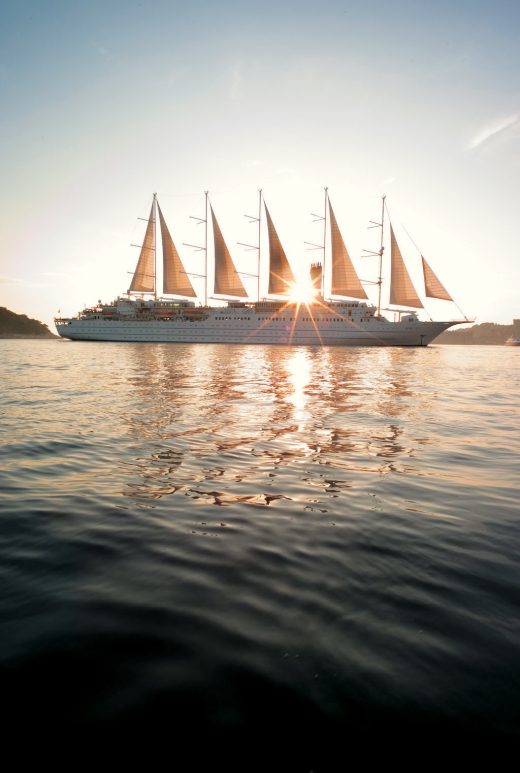 Why book with us?
Bonus Savings
Onboard spending allowance of $300 per couple on select voyages.
Top Producer
We are a designated Windstar Club 180 Beyond Ordinary Top Partner; our cruise planners provide more value to you, and you can book with confidence.
Cruise Price Guarantee
We will match or beat a price when you provide us with a competitor's quote prior to purchase, if it is lower and available.
Cruise Price Monitoring
With our proprietary Cruise Track program, we can instantly monitor and take advantage of price and itinerary changes that occur.
Vacation Assurance
We've got you covered with our best-in-class service and support-- from booking till after you return home.
Online Access
With our direct connection to Windstar's inventory, you can Click Here to search available Windstar cruises and our added amenities.
WOW! TravelStore arranged the most wonderful trip for us. We spent one wonderful night in Athens, then jumped on Windstar to Greek and Turkish islands and ended our trip in Istanbul for a couple of nights. We enjoyed the cruise so much we decided it's definitely the only way to see the world; we are booking next year. THANK YOU, you are the BEST!
Our Cruise Experts
Our luxury cruise experts will arrange your best Windstar Cruise and customize your travel arrangements the way you want it. We'll help tailor your experience with customized shore excursions and special requests onboard, arrange pre- or post-cruise hotel stays, your best airfare options, and more.
View More Cruise Experts
Let's plan your Windstar cruise:
Call: 800-850-3224