Rwanda & Uganda
Chimpanzee SAFARIS highlight the diverse wildlife.
Rwanda & Uganda
Meet and engage with the locals.
gorilla rwanda and uganda @ virunga lodge
Rwanda & Uganda
GORILLA SAFARIS highlight visits here.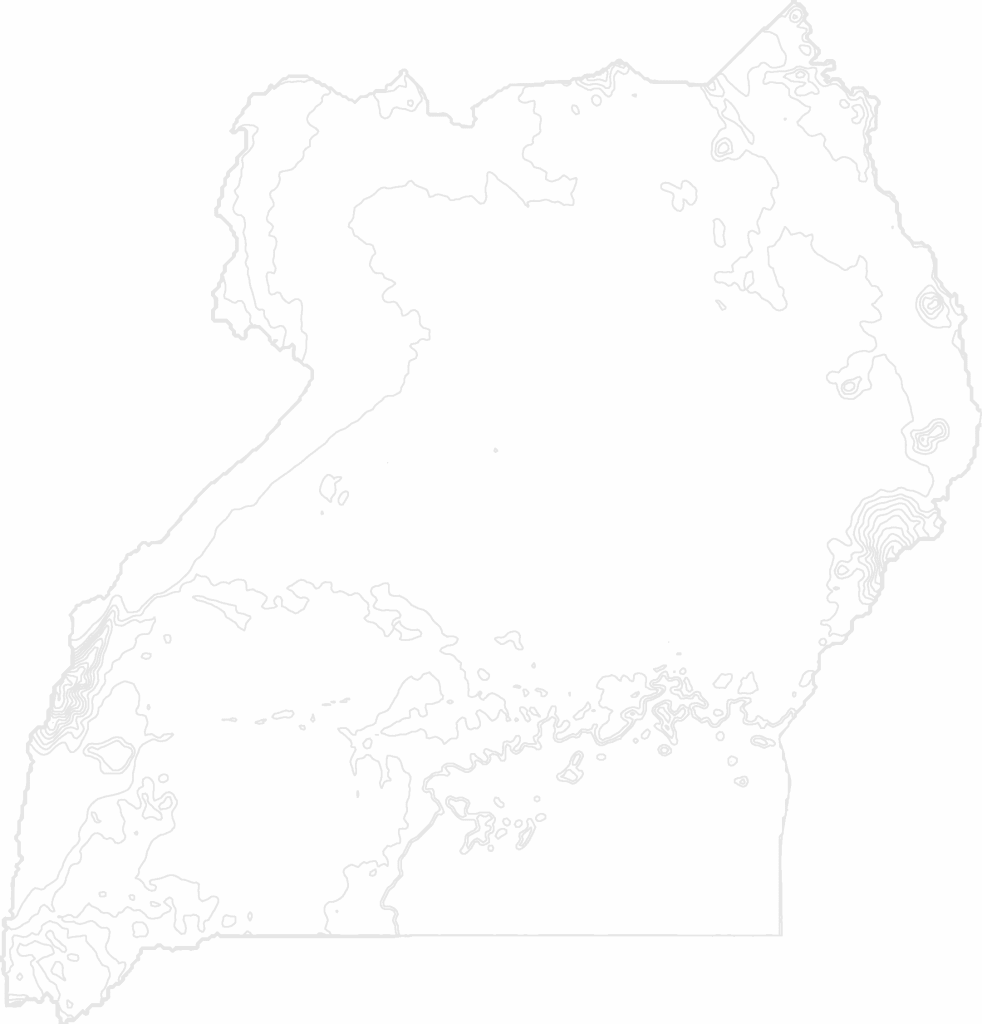 You're deep in the Virunga Range on the border of Rwanda and Uganda. The heavy jungle is alive with life. You come around a corner and suddenly, you're left breathless. You've reached a small band of gorilla. Imagine making eye contact. This is the adventure of a lifetime amidst sweeping landscapes and wide range of wildlife viewing.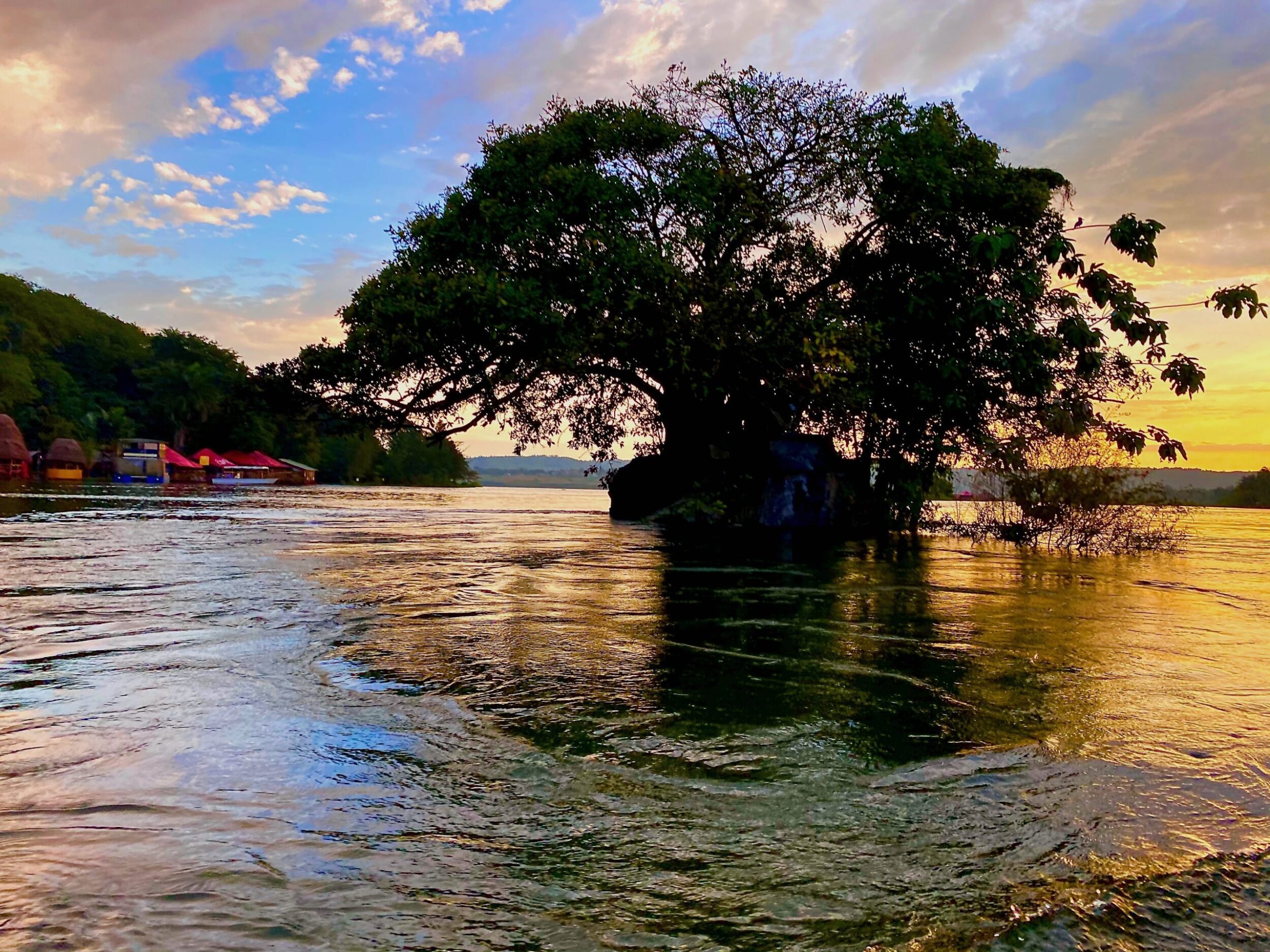 Introduction
At the center of migration routes from all directions, and with a wide diversity of wildlife and plant life, Uganda, the "Pearl of Africa," has become a touristic highlight as it emerges from its civil war and rebuilds. Uganda offers snow-capped mountains and lions, leopards, rhinos, elephants buffalo, as well as giraffes, zebras, chimpanzees, hippos, crocodiles and more than half of all bird species found in Africa. Rwanda, "Land of a Thousand Hills" is ranked as the safest country in Africa, (#5 in the world). The country is modern and has a fast-growing economy.  Rwanda is great for active travelers and in addition to mountain gorillas, offers Big Five experiences, plus 14 primate species and 700 bird species.
Cuisine in Rwanda
Part of your experience should be to sample local specialities. Isombe is a combination of vegetables and peanut butter, with pounded and boiled cassava leaves, cooked with spinach, onion, bell peppers and eggplants. Agatogo is a plantain-based stew with garlic, tomato and meat, fish, or vegetables.Ibirayi is the tasty potato dish, with potatoes boiled in spices then fried in butter on a skillet. Urwagwa is a local fermented beverage known as banana beer.
Cuisine in Uganda
Don't miss out on the Uganda's popular dishes. Luwombo is a traditional Ugandan stew of chicken, beef or fish that is steamed with vegetables and served with peanut sauce and wrapped in plantain leaves. Muchomo is a tasty Uganda food of meats ranging from chicken to pork, goat barbecued on a stick and accompanied by roasted sweet plantains (gonja). Chaloko is a traditional dish made with pinto beans, green peppers, tomatoes, and red or purple onions. Don't mix up a Rolex with the local dish that's an omelette with tomato, onion and cabbage wrapped with a chapati. The Ugandan version of egg roll is a hard-boiled egg inside a ball of mashed potatoes that's fried … g-nut sauce is a creamy sauce made from sweet red peanuts frequently served with various dishes.
Suggested reading
Woman in the Mists (F. Mowat), Running the Rift (N. Benaron), The Impenetrable Forest: My Gorilla Years in Uganda (T. Hanson), The Girl Who Smiled Beads (C. Wamariya), Shake Hands with the Devil: The Failure of Humanity in Rwanda (R. Dallaire), God Sleeps in Rwanda (J. Sebarenzi), We Wish to Inform You That Tomorrow We Will Be Killed with Our Families (P. Gourevitch), Our Lady of the Nile (S. Mukasonga), A Thousand Hills: Rwanda's Rebirth and the Man Who Dreamed It (S. Kinzer), A Girl Is a Body of Water (J. N. Makumbi).
Suggested viewing
The African Queen, Black Panther, Mississippi Masala, King Solomon's Mines (1950), Tarzan (2013), The Last King of Scotland, Bed of Thorns, Hotel Rwanda, Gorillas in the Mist, Shooting Dogs.
Travel with
an Expert
You need to plan properly for a gorilla safari or visit to Uganda or Rwanda.  Our travel experts, with our in-country specialists, can curate your amazing journey.
Resorts in Rwanda
If planning on a gorilla safari, we'll make all your arrangements including your accommodations in some of the better lodges here, including:
Volcanoes National Park, Rwanda
Singita Kwitonda Lodge
The closest resort to the national park; 8 stand-alone rooms with volcano views.
Volcanoes National Park, Rwanda
One&Only Gorilla's Nest
85-acres with 21 guest rooms—one- or two-bedroom suites— along winding, landscaped pathways.
Volcanoes National Park, Rwanda
Wilderness Safaris Bisate Lodge
Futuristic-looking thatched cocoons made using recycled plastic.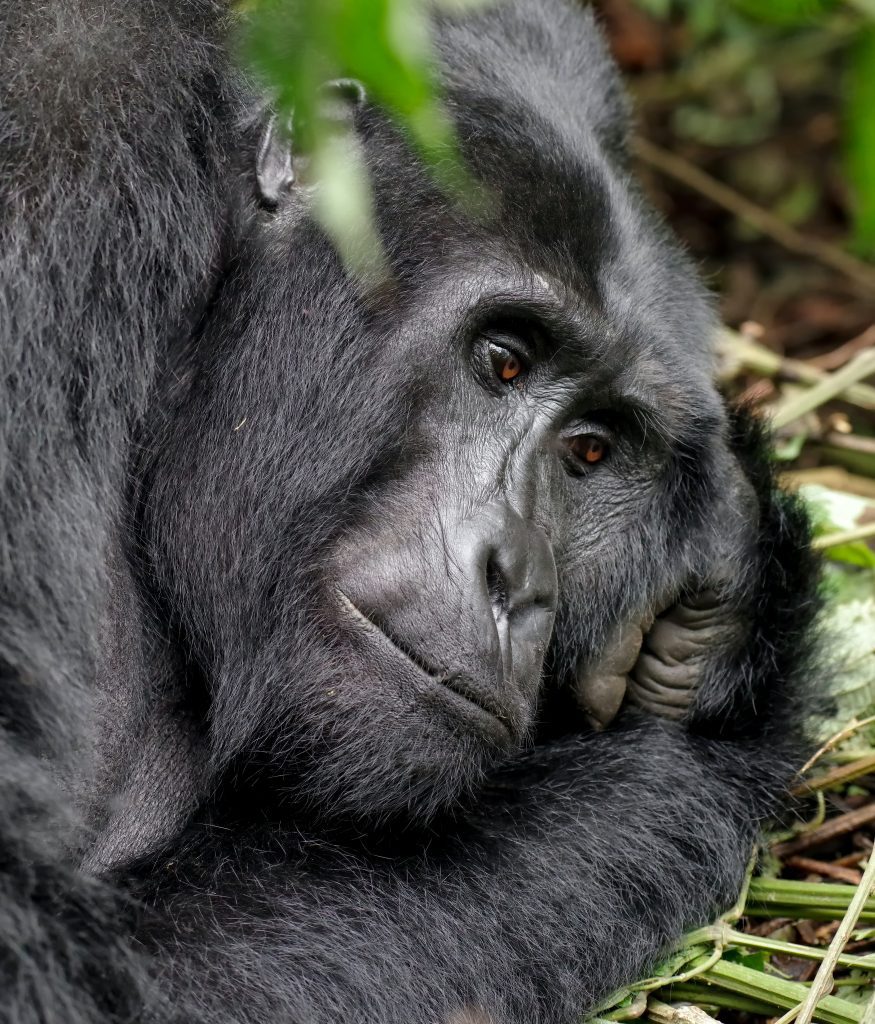 Did you know?
Rwanda is the only country where people participate in national service activities the last Saturday of every month.
Rwanda has 64% of female parliament members, more than any other country. 
The government of Rwanda banned non-biodegradable plastic bags in the country in 2008. 
More About Rwanda & Uganda
While most visitors may include Uganda safari to visit the endangered mountain gorillas in the Bwindi Impenetrable Forest, or the primate species in the Kibale Forest Reserve. Another unique wildlife experience are the tree-climbing lions (which can also be seen in the Lake Manyara area of Tanzania), located in Queen Elizabeth National Park.Murchison Falls National Park is Uganda's largest park, divided by the Nile River.
In Rwanda, Parc National Des Volcans is a prime destination for visiting mountain gorillas. Rwanda's other national park, Akagera, offers a variety of wildlife viewing. On daytime game drives there are impala, Cape buffalo, topi and lion among others. On night drives you can watch for aardvark, genet and civet. Nyungwe National Park is one of the few places in the world to observe colobus monkeys in the wild.

Kigali, Rwanda's capital, is one of the cleanest cities of the world. On the last Saturday of every month, the entire community joins in to keep it that way. Joining locals is a great way to make new friends and understand the conservation efforts here. The Genocide Museum is an important visit, and immersive experiences may include spending a day on a local farm, or visiting the Nyamiranbo Women's Center.
In addition to mountain gorillas, chimpanzees are also in the wild in both countries. However, if chimps are high on your bucket list, Tanzania may be a better bet than either Uganda or Rwanda.
Read More
TravelStore in #Rwanda & Uganda
Tell us about your trip and start planning!
Our professional travel experts look forward to tailoring an exceptional vacation for you.