Space Travel
Experience Earth like never before
Travel is often about exploring new dimensions. Space travel offers an opportunity to enhance your world view, and take you up among the stars. Now Space Perspective provides a sustainable means to do so (with zero emissions and carbon neutral)  providing a comfortable luxury experience in a fully pressurized capsule accommodating up to eight explorers per flight.
Explore New Dimensions
Space travel is about exploring new dimensions not just in space, but also inside of you as well. Those that have gone into space share a common experience in how deeply affecting this experience is.
What is this trip?
The flight will last approximately six hours, from launch to landing. Spaceship Neptune will ascend for two hours, float at its apogee of 100,000 ft (30 km) for two hours, and descend gently over two more hours before splashdown in the ocean where a ship pickup awaits.
Facilities onboard?
The spaceship has bathroom facilities, and the journey will include beverages and a culinary experience.
When can I go?
Flights are scheduled to commence in 2024 with about 25 flights, ramping up with more flights after that. Reservations are already being taken.
How much?
The base cost for this experience is $125,000. A deposit of $1000 is required to secure a reservation, and is refundable until final payment is due, about 12 months prior to scheduled flight.
Is training required?
No special training is required -- this the most accessible spaceflight experience available. You will be required to participate in preflight programming to help fully immerse yourself in the experience. These programs will cover everything from a comprehensive safety briefing, to a walkthrough of the Spaceship Neptune, to an overview of what will happen outside of the capsule during ascent and descent.
Is the balloon safe?
The SpaceBalloon is a well-tested technology that has been flown by NASA and other governments over 1,000 times and is inherently safe. It is a "zero-pressure" balloon: there is little to no pressure difference between the interior and the surrounding environment. So it cannot pop. In the unlikely event there is a hole in the balloon envelope, it simply descends very slowly and floats down to a safe landing.

There is a Reserve Descent System between the capsule and the balloon that can safely land the capsule at any time during the flight.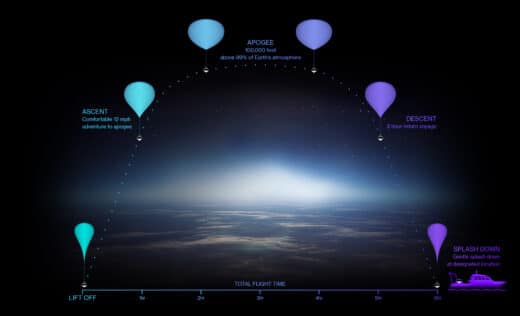 We'll Take You Out of This World
Our online travel advisors will customize your space travel experience with every necessary detail in mind as you enjoy The TravelStore Difference. Learn more about how we work.
How We Work
Plan Your Space Adventure
Let us connect you with space experts and arrange your discovery!