Alisal Guest Ranch, Central Coast, California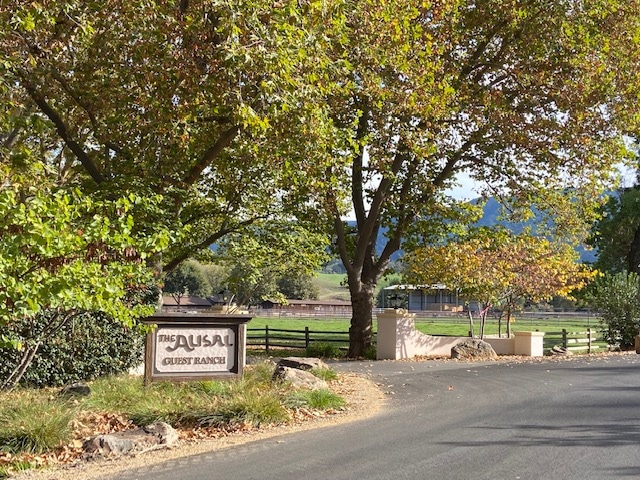 My recent visit to this amazing guest/cattle ranch was incredible. My best words to describe the experience are: relaxing and rejuvenating.
The drive sets you up for the beauty you will experience, through rolling hills dotted with sycamore trees, wildlife, grape vines and the blue skies of Solvang….but when you finally come to the spot to turn into AGR with its modest sign post and tree lined drive, seeing horses in the adjacent pasture….you know instantly that this is a very special spot.
A feeling of space and peace greets you, the entire property of 72 rooms or cottages dotted amongst trees and lots of wide-open space creates an intimate yet homey and comfortable atmosphere.
There are a variety of accommodations: Studios, Cottages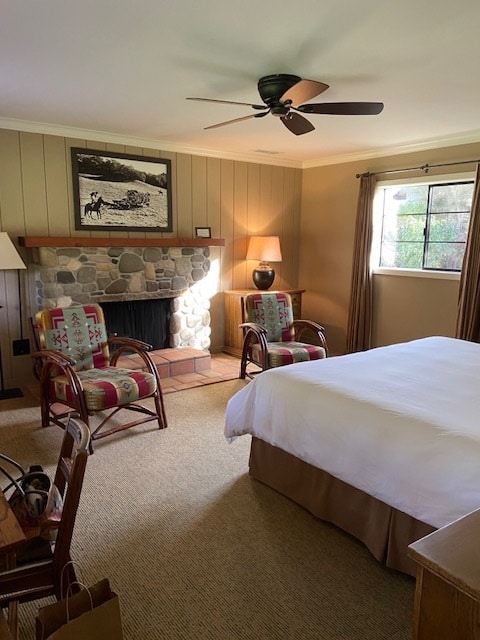 and Bi-Level homes, most with fireplaces and a modest western feel. All nicely appointed and many already updated and the remaining focused on completing renovations in 2022. Renovations are furnishings, carpets, and paint mostly, some structural but they will always maintain a comfortable classic feel instead of fancy accommodations. No TV's in the rooms because life and activity happens all around you, outdoors, all day long….this is the focus and why the feeling of relaxation and rejuvenation takes hold of you when you are here. I stayed in a golf view cottage and it was charming….king size bed with fireplace and two chairs, a desk and a twin bed, closet and full sink and dressing area that then leads into the full bathroom with separate tub, shower, toilet and sink. This room, like many, accommodate three persons and would be perfect for a family. Many rooms also adjoin to create perfect family settings.
The entire property is 10,000 acres…the majority of which is wide open landscape to explore, on foot, by horseback or hayride. It is a working cattle ranch and they pride themselves on their grass-fed cattle. Rolling hills, hiking trails, a manmade lake with fishing, boating & paddle boats, archery, shooting & golfing are all here to enjoy! The horses are well loved and cared for and there are experiences for novices to expert, young to old. A pool, spa, fitness center, arts and crafts ….plus wood fires for nighttime talks, and wide open grassy lawns for kids and families to enjoy are all part of the AGR experience.
Meals are enjoyed in the main dining room, on the lawns for special events, a grill by the pool and of course the cowboy breakfast in a remote wide-open area is a true highlight (think pancakes, biscuits & gravy, eggs, fruit, bacon etc ). Other special BBQ's happen throughout the year as well. The Oak room is a gathering place before dinner for drinks, relaxing by a huge fireplace and enjoying the wood bar area. The food is delicious and a true highlight.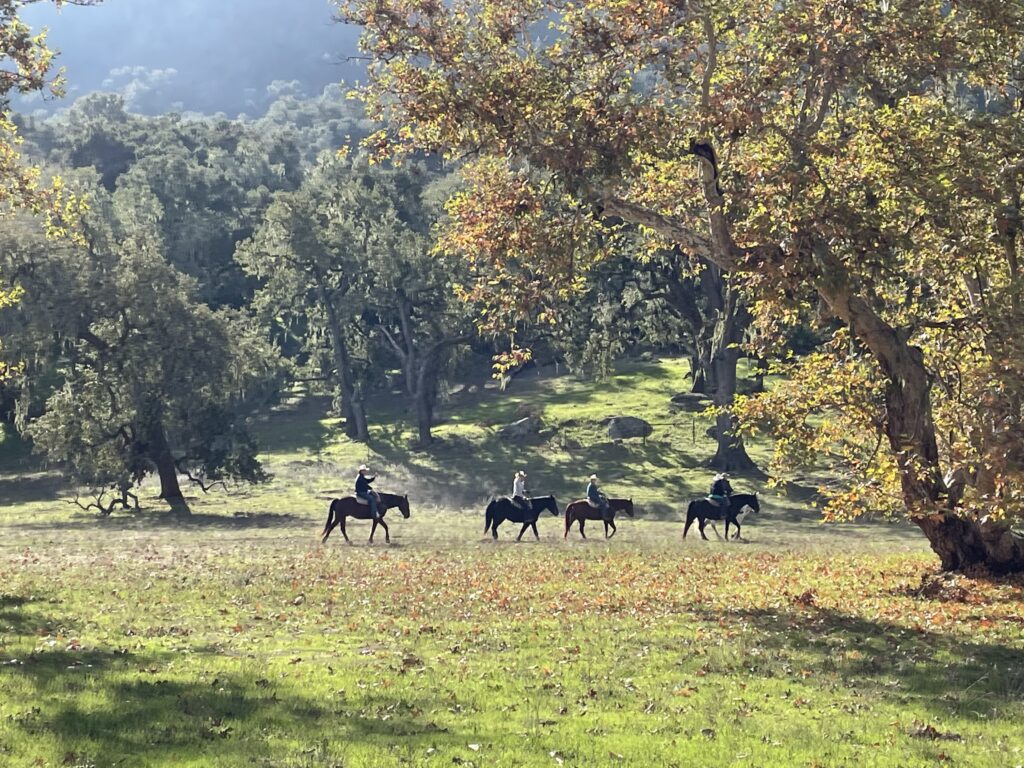 Room rates typically include breakfast, dinner and drinks….adding a lot of value to the room pricing. Activities are extra and at times they include some with the room rates.
This property is a very special spot for multi-generational families, or groups of friends and corporate type groups.
The staff and management are warm and inviting and committed to maintaining the special spot this gem offers all of us in Southern California….but sharing this as a destination getaway would be a great idea for our of town friends and clients as well. I think that once you have stayed at AGR it will not be your last….it's charms will remain in your heart and thoughts, drawing you back again.
While this was my very first visit to AGR….it will not be my last!