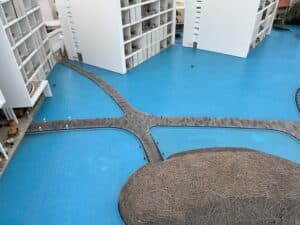 Los Cabos has always been a great getaway because it offers Southern Californians (and those in other parts of the US) an easily accessible away-from-home resort destination.  About a two-hour flight from Los Angeles one has their pick of many fabulous resorts, including some all-inclusives, that hug the Cabo coastline between Cabo San Lucas and San Jose del Cabo, and now even further beyond in the direction of La Paz, including the newly opened Ritz-Carlton Zadun and Four Seasons. (We've written several posts about resorts in Los Cabos on this blog.)
I mention the Ritz-Carlton and Four Seasons because it underscores that Los Cabos, perhaps known for fishing and nighttime party scene, has grown up over the years and now features the most storied luxury resort brands. Whether it's cutting edge culinary offerings, wellness and spas of the highest order, luxurious accommodations or varied experiences on land or sea, Los Cabos has it all.
On my last visit I luxuriated at the Montage Los Cabos, which offers residential-type accommodations, a fabulous secluded bay with swimmable beach, and incredible cuisine, including a pop-up Thai food truck.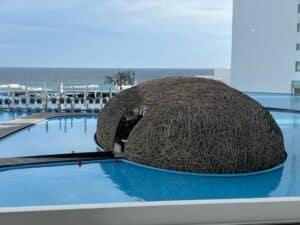 Montage is certainly a favored brand because they seem to do everything well, keeping the guest's satisfaction forefront. Previously I stayed at Grand Velas, a favorite when it comes to luxury all-inclusive resorts. Grand Velas did not disappoint.
On my most recent visit last week, I stayed at the Viceroy Los Cabos. Since I first saw a photo of what was the Mara Adentro when it opened, I was drawn to its futuristic and otherworldly design and knew I had to experience it.  The hotel has since changed hands and was taken over by Viceroy, a smaller boutique brand we love — all the better. The Viceroy is putting a lot of love into the project, and while this resort is definitely not for everyone, the cuisine and service at this point is spot on.
The design and architecture (Miguel Angel Aragonés was the architect) is so compelling, and while there is a starkness and coldness to it, and there are a few challenges, I admired all the design touches and thoroughly enjoyed my few days here, enjoying the spaciousness of the accommodations, from the junior suites to the five-bedroom casita, the five main buildings set as if floating on water, the stunning construction of Nido restaurant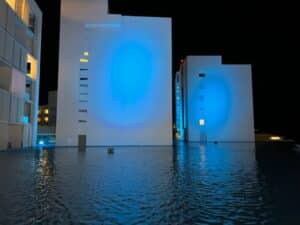 at its center, and the pools on the beach. My favorite secluded getaway was the rooftop of building 3, which had its own pool and Bali beds, private, secluded and sparsely visited while I was there.
There are five dining venues (I ate at four of them), and the food and service at each was perfect. For those that judge Mexican cuisine by the quality of its handmade tortillas, Viceroy does not disappoint, and even adds its own Asian touch to the wonderful bao tacos (a taco shell made from bao dough). The Japanese pancakes with Yuzu curd were a delight, the black truffle pizza a winner, and the steaks and Kuroubata pork chops easily large enough for two to share. The multi-course tasting menu we enjoyed at Nido, the Japanese-inspired robatayaki restaurant that's the heart of the resort, more than satisfied our gastronomic senses as we dined cocooned in its bird nest-like structure.
The Viceroy also offers additional benefits in terms of location.  It is the closest luxury resort from the airport and just below the heart of San Jose del Cabo. The resort offers bicycles, both standard and electric, for exploring.  Thursday night is Art Walk in San Jose, and it was enjoyable to hang out and view what artists were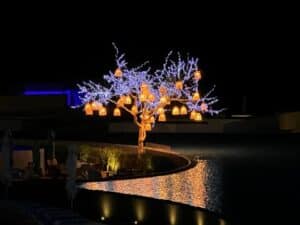 creating and listen to some street musicians while enjoying the people watching.
Because Viceroy is not an all-inclusive, you'll pay as you go. Not unlike other high-end resorts in Los Cabos, food here is no longer inexpensive.  You'll enjoy exquisite fine dining but you so need to budget for it if budgeting is of concern. Otherwise, as you peruse these photos and those online, you'll know if you are drawn to Viceroy's enclave in Los Cabos.