Rovos Rail and Giraffe Manor, Southern Africa
We are pleased to share the following trip report submitted by our clients, Larry and Fran:
Have you ever just wanted to get away, see a few animals and relax? You could try the Rovos Rail in Africa for 15 days and then go to the Giraffe Manor before a short flight home.  We did all of that and then some.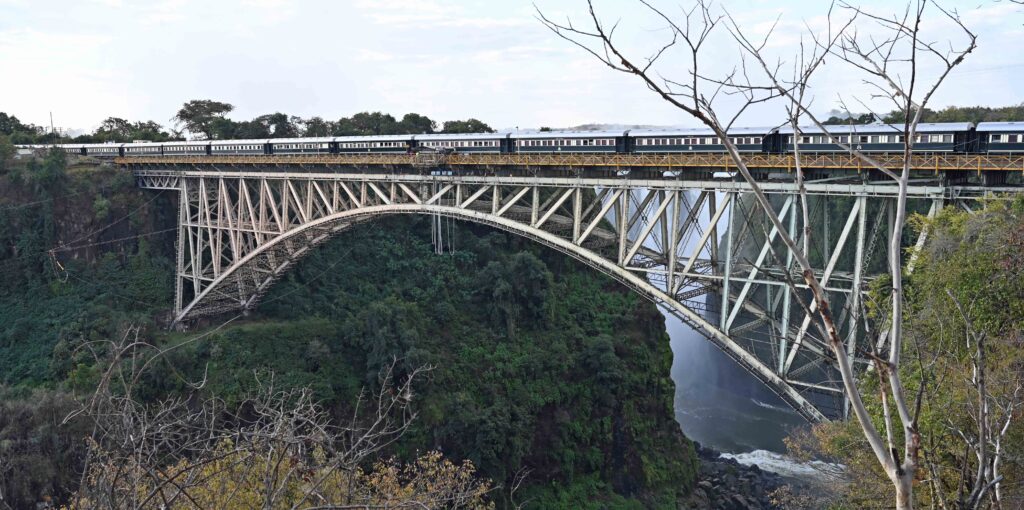 After the long flight, we began our adventure in Cape Town, South Africa. We had been there before, about 13 years ago. Many changes occurred there since our last visit. We decided to visit Robben Island, where Nelson Mandella was incarcerated for 30+ years. The tour was led by a former inmate. He did this to get his story out to those who were curious. The word "hardship" took on a whole new meaning after that tour. There are a few men still living there because they are unable to live on their own now. They will live out their days there but they are no longer behind bars.
We boarded the Rovos Rail train in Cape Town, the oldest city in South Africa. It was founded in 1652. The famous Table Mountain serves as the iconic backdrop for this city. The owner of the Rovos Rail train company was there to see us off. The train added a few cars and an engine to eventually make up the 22 cars of the very long train. The train cars are refurbished and restored cars designed in the early 1900s style.
We visited the Kimberly Diamond Mine known as The Big Hole. No samples were given. 😡 It was established in 1871 when

diamonds were discovered there.
Then we were off to Pretoria, South Africa and a tour of the city.
Madikwe Game Reserve was our next stop. We were given overnight bags to pack for a two nights stay at the Tau Lodge. Tau is Swahili for "lion". We had two game drives each day. We were fortunate to see lots of white rhinos, lions, elephants, zebras, antelopes of all kinds, a few giraffes, wildebeest, buffalo, cheetahs and many other species.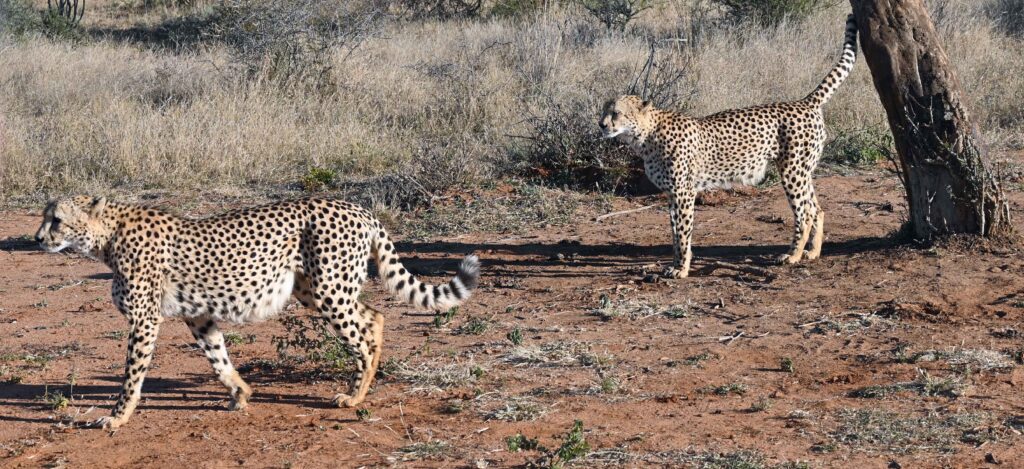 There was a lecturer on board who gave talks onboard when we were moving across the African continent. We passed through six countries and needed visas for some of them.
After we transited South Africa, the rail beds were not well maintained. Most countries here have not invested appropriately in their infrastructure since gaining independence from their colonial masters. That made for bumpy rides and scary times when going very fast. We walked through two cars to get to the dining cars of which there were two. They were in the middle of
the 22 train cars. Lots of bruises were incurred as we attempted to balance while remaining upright.
At Victoria Falls we spent one night at the Victoria Falls Hotel. We stayed there 13 years ago too. It is a beautiful old hotel that has been well maintained. Many years ago it was a large farm. We were in the 'stable' wing. Could not tell that horses used to be housed there. Plunging over the lip of the Victoria Falls is the largest body of falling water on earth. The mighty Zambezi, the fourth longest river in Africa, is about 2km wide above the falls and cascades over a precipice 1.6 km in length and 108 m at its deepest, compressing the vast volume of water into a chasm 50 m wide.
Larry took the tour that went under the Zambezi River bridge.
Due to many delays on the rails, some stops were eliminated. We missed a game drive too. You can never see too many animals in their homeland. One of the problems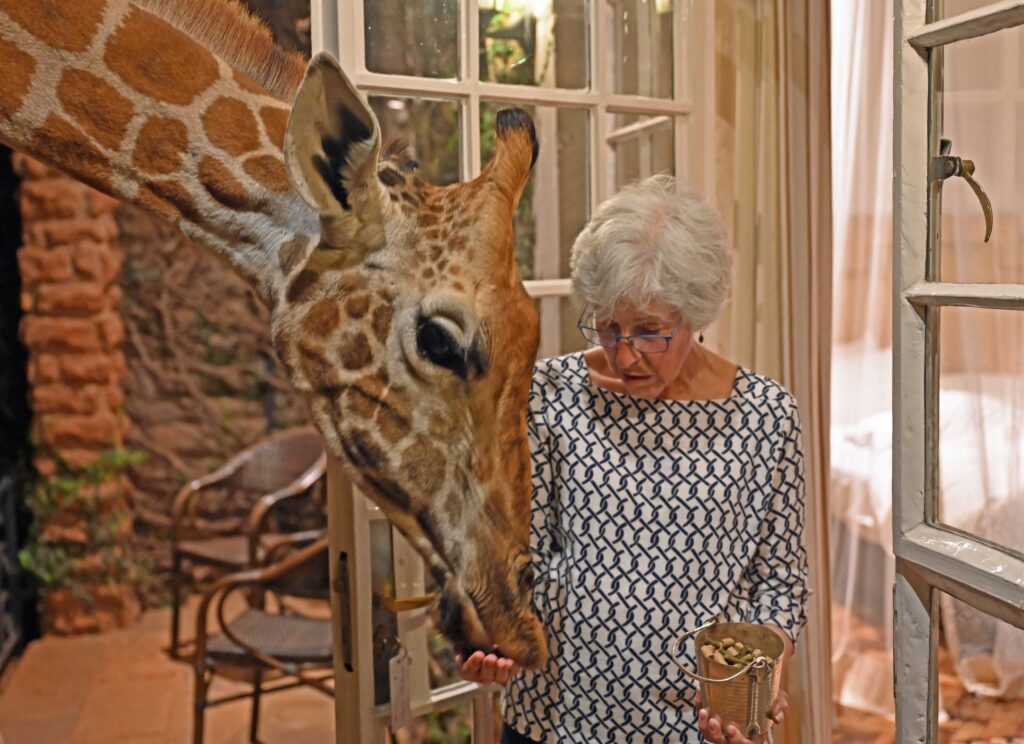 encountered was a bridge that was impassable due to damage a year ago. A plane was chartered to fly us to Dar es Salaam, the end of the train trip. We were anxious about the end of the ride because we had a flight to catch that would take us to Nairobi, Kenya, and to Giraffe Manor. The timing worked out in our favor.
Giraffe Manor was delightful, and I got to feed the giraffes. They show up about 0600 ready for breakfast. We were given pellets that are used for feeding horses to give to the giraffes. They just wanted as much food as they could get. They were very gentle and of course, very large!
Giraffe Manor is an exclusive boutique hotel in 12 acres of private land within an indigenous forest in Nairobi. The stately manor is reminiscent of 1930s grandeur, with lush gardens, sunny terraces, and delightful courtyards. The highlight, of course, is the herd of Rothchild giraffes.
After leaving the Manor we toured the Karen Blixen Museum. If that name sounds familiar, she wrote Out of Africa. The book was made into a movie of the same name. We were given her life story by an intern who hopes to become a tour guide.
Our next stop was the Sheldrick Wildlife Trust. This organization works in partnership with the Kenya Wildlife Service and hand rears orphaned baby elephants and rhinos so that they can be returned to the wild herds of Tsavo when grown. We ended the fun part at the Jomo Kenyatta International Airport. We had a 5-hour flight to Doha, with an hour until the next flight, with three security screenings to pass. We accomplished all that and began our 14.7 hour flight to Chicago. We arrived on time and ended our holiday thoroughly exhausted and ready for sleep in our own bed!
Fran and Larry O., Highland Park, IL
clients of Heidi Hoehn