The New Hotel The Mitsui Kyoto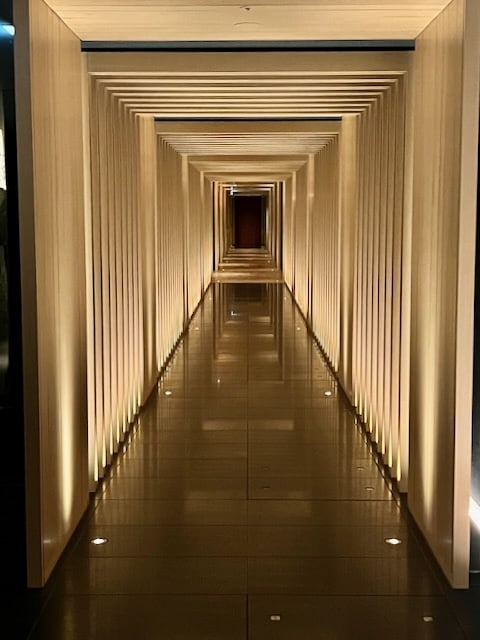 If Tokyo is the throbbing heart of Japan, then Kyoto might be the country's soul of sorts: more serene and the center of Shinto-Buddhism. While a 'soul' is more enigmatic than a 'heart,' and there's certainly a hustle and bustle in Kyoto, too; Kyoto offers the visitor many opportunities to appreciate the beauty and nature of Japan in its hundreds of temples and many exquisite gardens. But as these can be jam-packed with visitors, it's also important to plan wisely and if possible, travel in the off- season.
For the traveler looking for luxurious western-style lodging (with a contemporary Japanese flair and design) Kyoto has a few very good choices here (with many more coming soon).  Newly opened is Hotel The Mitsui Kyoto, a member of the Luxury Collection, and experiencing it was the purpose of my trip. I was able to enjoy it and Kyoto city for an entire week.
The hotel opened late in 2020, but due to the pandemic was only serving Japanese guests its first couple of years.  With Japan reopened post-pandemic, Hotel The Mitsui Kyoto is geared up to welcome international guests.  Unlike other luxury properties in Kyoto, there were no significant staff layoffs during the pandemic, and the hotel is fully staffed with a well-trained complement of staff who can communicate well with American clients.
Location is always important when selecting accommodations, and Hotel The Mitsui Kyoto is the most centrally located of the key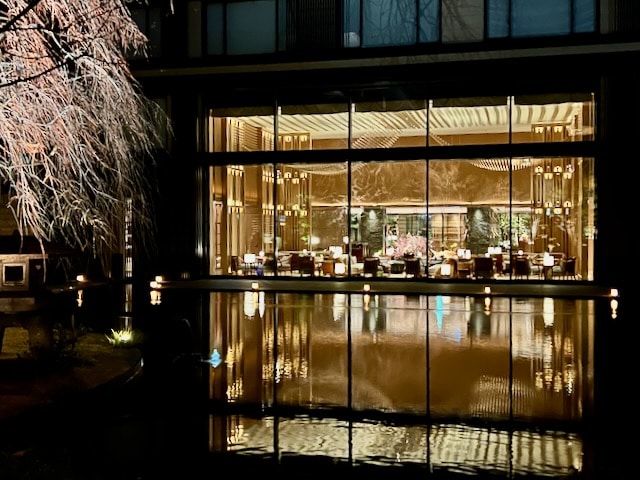 luxury hotels at present.  (The Ritz-Carlton is a close second.) The hotel is directly across the street from Nijo Castle, and several blocks from the entrance to the Imperial Palace. Hotel The Mitsui Kyoto is the luxury hotel in Kyoto owned by a Japanese company. The entrance is not on the main thoroughfare in front of Nijo Castle, but on a small parallel side street one block over, providing a more discreet and quiet entry.
(The Four Seasons and Park Hyatt are in the southern part of the Higashiyama district.) Which location is preferable may depend on one's focus and how much time one is staying in Kyoto. The Mitsui is certainly more central when considering important temples, gardens and sites to the west and the north as well as those to the east and southeast.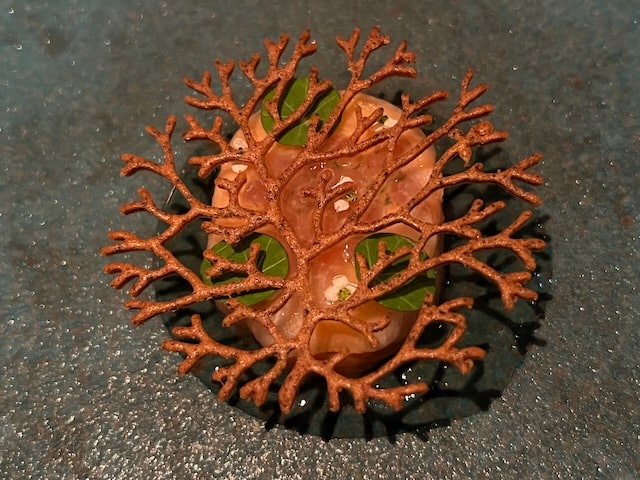 In addition to its location, Hotel The Mitsui Kyoto is the only luxury hotel with its own thermal spring onsen. There isn't a swimming pool, but the stunning underground onsen offers the convenience of enjoying this Japanese tradition. This underground oasis is co-ed, featuring four large bathing areas and two jacuzzi pools, surrounded by comfortable sofas and lounge chairs. As such, bathing suits are required. The water temperature is a consistent 104 degrees and sourced from an on-site natural spring.  After a day of touring the thermal spring was a welcome relief. While there is no charge, use of the onsen is limited to provide an appropriate relaxing experience and avoid crowding, so reservations are recommended.
The spa area includes very hot steam rooms (but no saunas). There are also two private onsens that can be booked for a fee as well as four treatment rooms, which were often booked during my stay. (Insider's Tip: If you enjoy spa treatments or would like to book a private onsen, do book in advance to avoid disappointment, especially during peak season.) Of course, there's also a fitness area with the newest Techno-Gym equipment.
The main building has four floors plus a basement level. Rooms offer either city view, Nijo or garden view (preferred). A historic  gate (moved from another location) and small Japanese garden greets visitors. A number of stone artifacts are from the original Mitsui family home. The Garden Bar lounge off the main entry area with the concierge and bell desk opens up to the lovely pool and central garden where the current season can be appreciated, with a cherry tree at the heart of the garden.
Off the main lounge is a tea room to one side where a traditional Japanese tea ceremony is available to guests, while on the other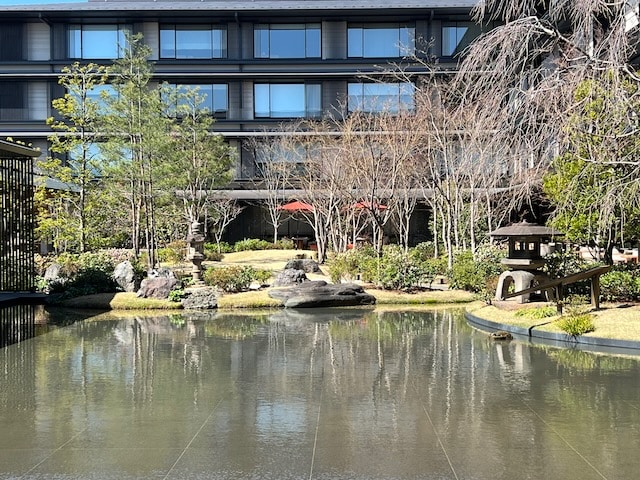 side there's a library with some 300 [mostly English] books on all things Japanese – from cuisine to design to arts and culture. I enjoyed pulling a book off the shelf every so often and reading a few pages, be it on cuisine, wood craftsmanship or graphic arts. Indeed, for those inclined, the hotel's library provides great insight into Japanese culture and enhances one's experience of Japan.
A hotel ambassador provides guests a tour of the art on property and its history; it isn't very extensive but interesting in providing insight about some of the contemporary art in the hotel, as well as the historic gate at the main entry. The art is inspired and tasteful, showcasing contemporary Japanese craftsmanship. The interior of the hotel is quite beautiful design-wise, and understated, with good use of different woods and stone throughout. Guests can also enjoy a morning wellness breathing session during their stay.
There are presently two restaurants, Forni and Toki.  Forni is open all day; for dinner it has an Italian menu serving nearly paper-thin pizzas, pastas and main dishes. Breakfasts are a la carte (buffers are seasonally available), with Japanese and American cuisine. If there's one thing (of many) Japan is obsessed over, it is its pastries and baked goods.  The flaky croissants and tasty pastries at Forni don't disappoint. There are a few different Eggs Benedict choices!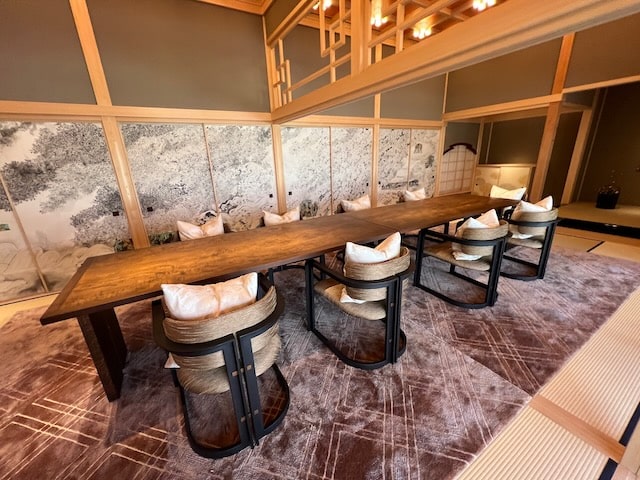 Toki is the upscale innovative French-Kyoto cuisine helmed by a chef who came from the two Michelin-starred restaurant at the Ritz in Paris, and the hotel hopes to earn one here. Toki offers an open kitchen; you can sit at a table or at the counter and watch the staff quietly creating exquisite bites you'll savor. The menu is prix-fixe and changes with the season. Dinner here included 12 courses, each paired with an appropriate wine or sake.
In addition to the two dining venues, there is also a more traditional Japanese structure, Shiki-no-ma, a reconstruction of part of the former Mitsui home and constructed of Japanese cypress, where private events or dinners can be held.
Cuisine on property is top notch overall as to be expected. As for the neighborhood, there are a number of small local restaurants, from Japanese to French, within a few blocks of the property, not to mention it's hard to go more than a block or two in Kyoto and not come across a dining spot at nearly every turn. After all, Kyoto is tied with Paris as having the second most greatest number of Michelin-starred restaurants in the world – only Tokyo has more.
There are 161 rooms at Hotel The Mitsui Kyoto. Rooms are similar in design, constructed of natural materials, with Deluxe, Premier and Garden categories ranging from 460 to 540 square feet. There are five suite types, ranging in size from about 600 square feet to 1200 square feet, and the Presidential suite, which at nearly 2300 square feet the hotel claims is presently the largest in the city and overlooks Nijo Castle. (There are a couple of room categories offering a castle view, though personally I think the garden view more desirable.)
One suite type is the Onsen Suites at the lower spa level, an area which has its own private entry. These are gorgeous rooms with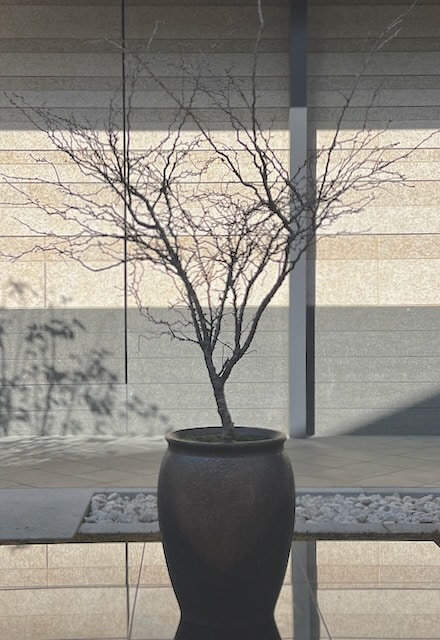 beds on a raised platform and their very own private onsen outdoors amid a small garden.
All bathrooms are spacious with double sinks and plenty of counter space and feature the most amazing rain showers (it's like standing in a misty spring rain like you've only dreamt about). Each bathroom has a deep stone tub, adjacent to the shower, for soaking. Comfy bathrobes and of course, slippers. Bath amenities are Parfum Satori products.
Another Japanese obsession is the high art of the toilette! Rooms feature top-end Toto toilets that, let's just say, do it all, and leave it at that. Included in rooms are Nespresso machines and an electric tea kettle and fridge. I liked that the fridge provided a well-designed storage shelf for one's own use, as well as the smartly designed pull-out shelf providing more space for making oone's tea or coffee. There are plenty of electrical outlets as well as a Bose sound machine bedside that you can connect with your device via Bluetooth. There is no dresser in the room, though there are storage drawers at floor level, below the shelving for luggage placement and the open closet area. Guests that like to unpack and put away their wearables may find bending down a bit inconvenient than higher placed drawers would be. The lighting is generally good if a bit subdued; it is not especially bright, especially in the hallway by the luggage shelf and above the storage drawers.
There doesn't seem to be any regularly scheduled "live" entertainment on property, though during my stay we enjoyed a 30-minute concert by ten students of the Seiji Ozawa Music Academy, something the hotel has done on occasion.  This was a delightful and exclusive experience, and hopefully the hotel will do more live events like this in future. A single musician performing on occasional evenings in the Garden Bar would be welcome.
As do a number of resorts these days, Hotel The Mitsui Kyoto is creating its own unique and exclusive experiences for guests, both on and off site. These included a calligraphy class, zen meditation with a head priest at a zen temple, visiting an artist's home and studio, a private after-hours Nijo Castle visit, an exclusive champagne experience at the Hosso textile showroom, a wagshi-making class and more.
Hotel The Mitsui Kyoto offers both electric and standard bicycles, and while Kyoto is an easy navigable and mostly flat city, I had second thoughts because finding a place to park a bike can be challenging here, depending on where you are going. Otherwise, Kyoto, which has 1.5 million residents, is a very walkable city, and while there's the bus and local subway network, taxis are readily available and it's not much to hop a cab, of course, depending how far you're going.
Otherwise, as to sightseeing, the advice provided in guidebooks is tried and true – it's best to schedule your visits to temples and gardens at opening hours or just before closing to avoid the crowds.