Viking Orion Bermuda Cruise
My very first experience cruising with Viking was onboard their ocean cruise ship, Viking Orion, for a 7-night roundtrip cruise from Hamilton, Bermuda.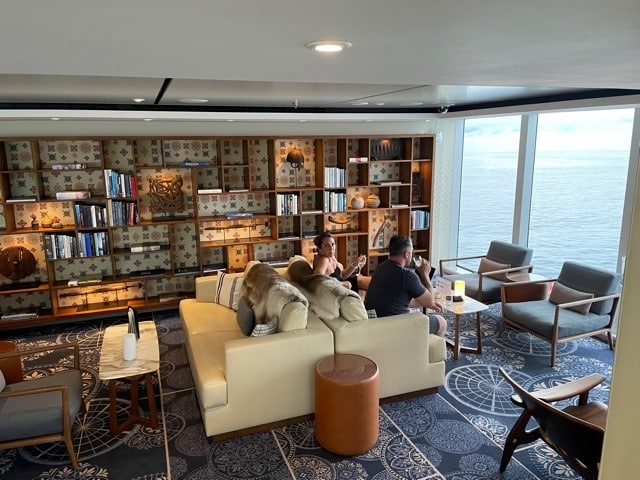 A 930-passenger ship styled in muted neutral tones feels like home.  A clean Scandinavian design features quality furnishings and décor that resembles what your own living room and library might include.  The all-balcony cabins carry this same feel with ample storage and closet space, a dressing table/desk with a built-in mirror and hidden storage, a mini bar refrigerator and additional coffee table and small couch.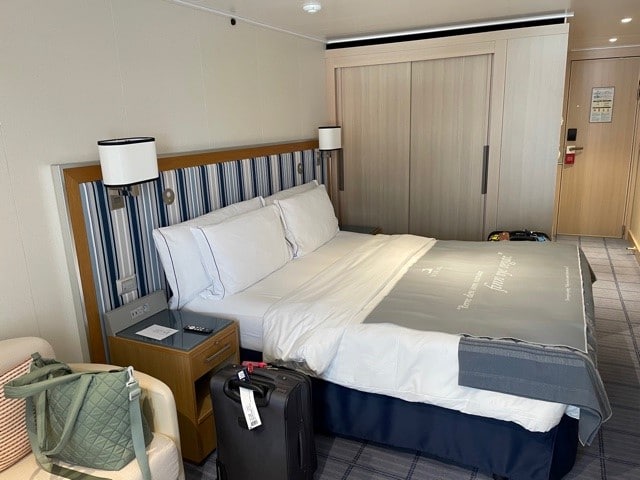 Bathrooms have heated floors and mirrors with shelves for storage & actual drawers (loved this feature) and a good-sized shower!  The balcony had two chairs; the dividing walls between balconies have a door that can be unlocked if you are sailing with friends or family.
Each stateroom comes with a "QuietVox" listening system for use with excursions and a full tray of healht-focused amenities: masks, hand sanitizers, gloves.
No triple accommodation cabins are offered; very few children tend to travel with Viking and the brand doesn't cater to families and doesn't offer a kids program.
I sailed in a DV4 category, which is a perfect starting balcony. The upgrade to a PV provides more space in the living area, a set of drawers, plus the closet is placed across from the bed affording easier access (in the DV the bed is next to the closet and restricts access somewhat)…so considering an upgrade or other Suites is worth considering for additional comfort and convenience.
Viking has their own Covid testing lab onboard and takes  saliva samples every day, plus all guests are asked to wear masks onboard except when eating and drinking; all staff wore masks the entire time.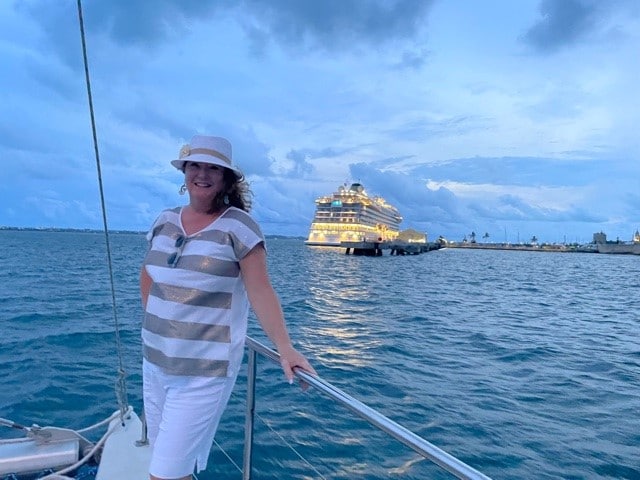 The entertainment onboard includes a variety of musical experiences: a pianist and violinist filled the main atrium with music throughout the day and night, a singer played his guitar and sang pop songs every evening in the Explorers Lounge and a small band and featured singers entertained in the Torshaven Bar every night. The main theater features lectures, Ted Talks, an occasional movie plus a 4-person musical show every night.  All port talks & lectures are recorded, and you can access them in your stateroom anytime.  There is no casino which didn't seem to be missed by the clientele onboard.   There were also popular electronic game tables that offered a variety of games.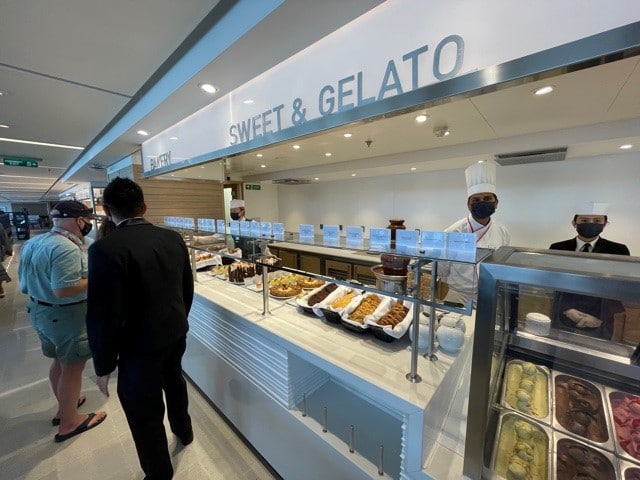 The Viking ocean cruise ships are all pretty identical and named after constellations….Orion, Sky, Mars etc.   An Astronomer is onboard and gives lectures and offers stargazing opportunities on deck…a unique & interesting offering.
The LiV Nordic Spa was lovely and featured a thalassotherapy circuit including a large pool with built in lounge chairs and jetted water massagers, a small jacuzzi, a sauna room, a steam room, a snow room, an ice bath as well as heated, tiled lounge chairs and several teak, padded lounge chairs.  They are limiting the number of guests in this section to 10 for Covid currently; a reservation is required but no extra fee is charged to enjoy this which is a big bonus in my book.   I enjoyed a fabulous traditional Swedish body scrub and massage treatment…and truly loved it and feel the spa experience was top notch.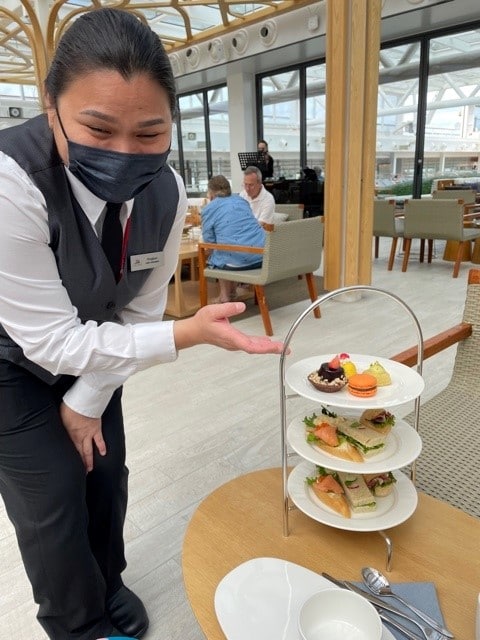 Scandinavian heritage is celebrated onboard with artwork and displays of costumes and artifacts throughout the ship.   A lovely High Tea experience is offered in the Wintergarden Atrium and the main outdoor pool and deck are comfortable and ample for the size of the ship.  There is also a small but fun infinity edge pool & jacuzzi on the aft of the ship.
The food and restaurant options were wonderful.  The Chef's table (surcharge applies) offered three different, set menu themes over our 7-night cruise: California, Asian & Mexican… I experienced and enjoyed them all.   Manfredi's is Viking's Italian-focused restaurant (with surcharge), and is also a fine option.  World Café (buffet format) and The Restaurant (sit down service) are the included dining options and were very nice…the gelato in the World Café was delicious.  They also have another reservation-only option called the Kitchen Table, but due to Covid or lower occupancy this was not open during our cruise.
All the bars and lounges were comfortable and scattered throughout the ship.   Viking includes beer and wine with lunch and dinner, and a optional Silver Spirit package is offered, which basically includes everything else, and includes an upgraded wine pouring during meals.  The modest charge of $150 for the week for the Silver Spirit package is one of the most reasonable in the industry.
The service and staff were wonderful, welcoming, and cheerful, adding to the excellent Viking experience.
Viking Cruises includes a free tour in every port and also has other touring options available for a fee (which I felt were reasonably priced).   I took several tours and felt that they were well run and covered a variety of experiences: snorkeling, sailing, cultural and points of interest.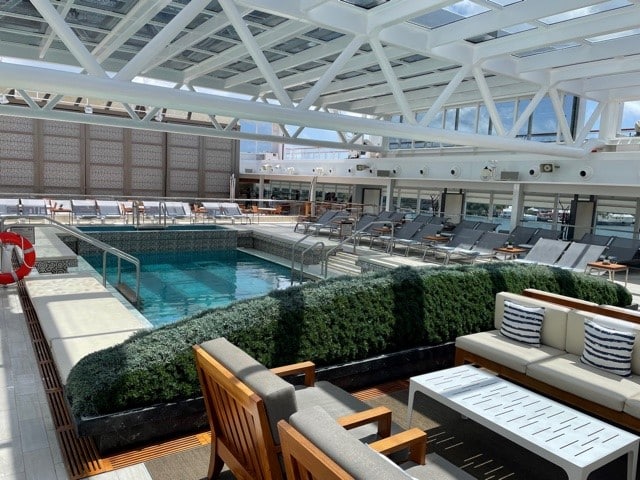 I was also very impressed by the notifications and outline for what was required for the sailing that Viking emails starting months in advance.   I found it very thorough, easy to navigate and felt they set accurate expectations which is so vital in today's travel environment.
My lasting impression is that Viking Cruises is designed for a more sophisticated, well-traveled client who is looking for enrichment and comfort, whether traveling alone, as a couple or with friends.
I would love to get back onboard!
Lori Ekdahl