Australis Cruises
Cape Horn & Patagonia Expedition Cruises
The time of year one visits Patagonia determines what wildlife you may see. The area is a thriving hub of marine life, including Humpback, Blue and Southern Right Whales, Orcas and different species of penguins. Ashore, there are elusive pumas, Andean condors, and the guanaco, cousin to the llama.
Australis practices maintaining an ecological balance between human activities and the beauty and proliferation of nature through responsible environmental protection; preventing any type of contamination in its operations, and having a minimum impact in the places they visit. You can review Australis's commitment to sustainability here.
About Australis Cruises
Australis is a boutique cruise line which operates two smaller ships, the Stella Australis and Ventus Australis, on two itineraries of four days in Chile's southern Patagonia region, including Cape Horn, the Strait of Magellan, Tierra del Fuego and the Beagle Channel. The four-day itineraries have similar eight-day versions as well. The Australis cruise is an ideal component to include with a trip to Chile, to enjoy a stay in one of Patagonia's resort lodges, or combine with visiting Chile's northern Atacama Desert, Santiago, or combining the trip with Argentina. Our travel consultants will be pleased to assist and secure your arrangements aboard an Australis cruise.
Our recommendation
Australis has been taking exploration seriously since then. It has won World's Best Awards from Travel + Leisure and Cruiser's Choice Awards for Best Small Cruise Ship in South America. Additionally, the cruise company is very conscious of potential impact to the environment, and it works to minimize any impact. Australis has, furthermore, outlined goals for the future, including promoting long-term biodiversity evaluation, as part of its commitment to sustainability.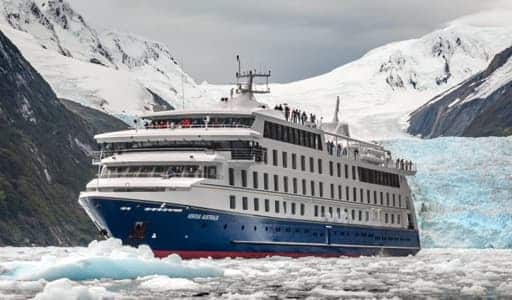 Why book with us?
Cruise Price Guarantee
We will match or beat a price when you provide us with a competitor's quote prior to purchase, if it is lower and available.
Vacation Assurance
We've got you covered with our best-in-class service and support-- from booking till after you return home.
Our Cruise Experts
Our luxury cruise experts will arrange your Australis Cruise and customize your travel arrangements the way you want it. We'll help tailor your experience with customized shore excursions and special requests onboard, arrange pre- or post-cruise hotel stays, your best airfare options, and more.
View More Cruise Experts
Let's plan your Australis cruise:
Call: 800-850-3224