Ritz-Carlton Yacht cruise
The Ritz-Carlton Yacht Collection
Elegant & luxurious yachting cruise experiences
Typical of a yacht vacation, the pace on a Ritz Carlton Yacht Collection cruise is slower — dialed back to focus on relaxation and rejuvenation. Itineraries include the Caribbean, the Mediterranean and Canada/New England voyages,  from 7- to 10-days duration and include ports of call rarely visited by other cruise lines.
The Ritz-Carlton Environmental Responsibility overall strategy and goals include reducing energy and water consumption; increasing local and organic dining options by partnering with local farmers, growers and seafood purveyors; and sourcing environmentally preferred products. You can learn more about the company's initiatives here.
About Ritz Carlton Yacht Collection
The Ritz-Carlton Yacht Collection is launching with its first for three all-suite yacht cruise ships. The known quality of the brand speaks to meeting your expectations onboard: the promise of beautiful resorts at sea-- intimate, boutique luxury yachts providing the style of service The Ritz-Carlton is known for ashore at its resorts, and blending a small ship luxury cruise experience with a resort vacation.
Space matters
Each of the Ritz-Carlton yachts will have 149 luxurious suites, each with its own private terrace, with 246 staff seeing to the needs of 298 guests. Yacht cruise pricing is inclusive of WiFi, beverages in-suite and throughout the yacht, and onboard gratuities. Children will be allowed onboard, with limited triple/quad accommodations subject to availability and voyage. The Ritz Kids program will be offered.
Dining onboard
Five dining venues will provide multiple choice options, and will include an Asian fusion venue, outdoor grill, the main restaurant, casual dining, and Aqua specialty restaurant from Sven Elverfeld, who has a three-Michelin-starred restaurant at Ritz-Carlton in Wolfsburg, Germany. Room service and in-suite dining will be available around the clock.
Onboard enrichment
A multi-functional marina style platform is positioned aft on the ship, with direct water access in order to enjoy water sports on days in port, including kayaks, paddle boards, windsurf boards, sailboats and snorkeling, and will serve as a space for social gatherings and private events. While at night, the yacht's top deck will serve as a nightclub area.
The Spa
The Ritz-Carlton designed and operated spa, will feature indoor as well as outdoor treatment areas, as well as have state-of-the-art exercise equipment. An indoor-outdoor solarium will serve as a sun lounge, and the yacht will have multiple pools.
Kid Friendly
Yes, the yacht will have a Ritz Kids space with morning, afternoon and evening sessions available to children ages 4 through 12 for an additional charge.
Our recommendation
As fans of the brand, we are excited for the launch of these new cruise yachts.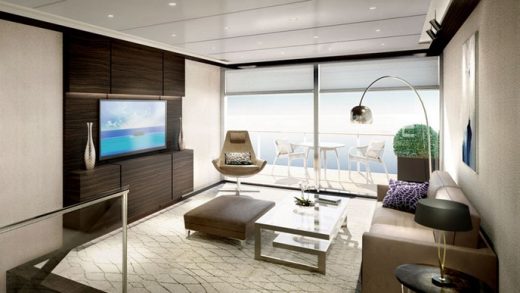 Why book with us?
Lowest Price Guarantee
We will match or beat a price when you provide us with a competitor's quote prior to purchase, if it is lower and available.
Vacation Assurance
We've got you covered with our best-in-class service and support-- from booking till after you return home.
Our Cruise Experts
Our luxury cruise experts will arrange your best yacht cruise and customize your travel arrangements the way you want it. We'll help tailor your experience with customized shore excursions and special requests onboard, arrange pre- or post-cruise hotel stays, your best airfare options, and more.
View More Cruise Experts