Maldives
LUXURIOUS HAVENS FOR DISCERNING TRAVELERS
Maldives
FIND YOUR VERY OWN CASTAWAY ISLAND
Maldives
WHERE a TRANSLUCENT SEA GREETS YOU EACH MORNING AND LAPS YOU TO GENTLE SLEEP EACH NIGHT.

These  famously romantic, beautiful coral islands encountered on an island getaway or Maldives honeymoon beckon with their translucent waters. A Maldives vacation offers amazing overwater bungalows at which to luxuriate, find wellness and enjoy water-based activities. In the Ari Atoll, scuba divers can encounter whale sharks, hammerheads and manta rays.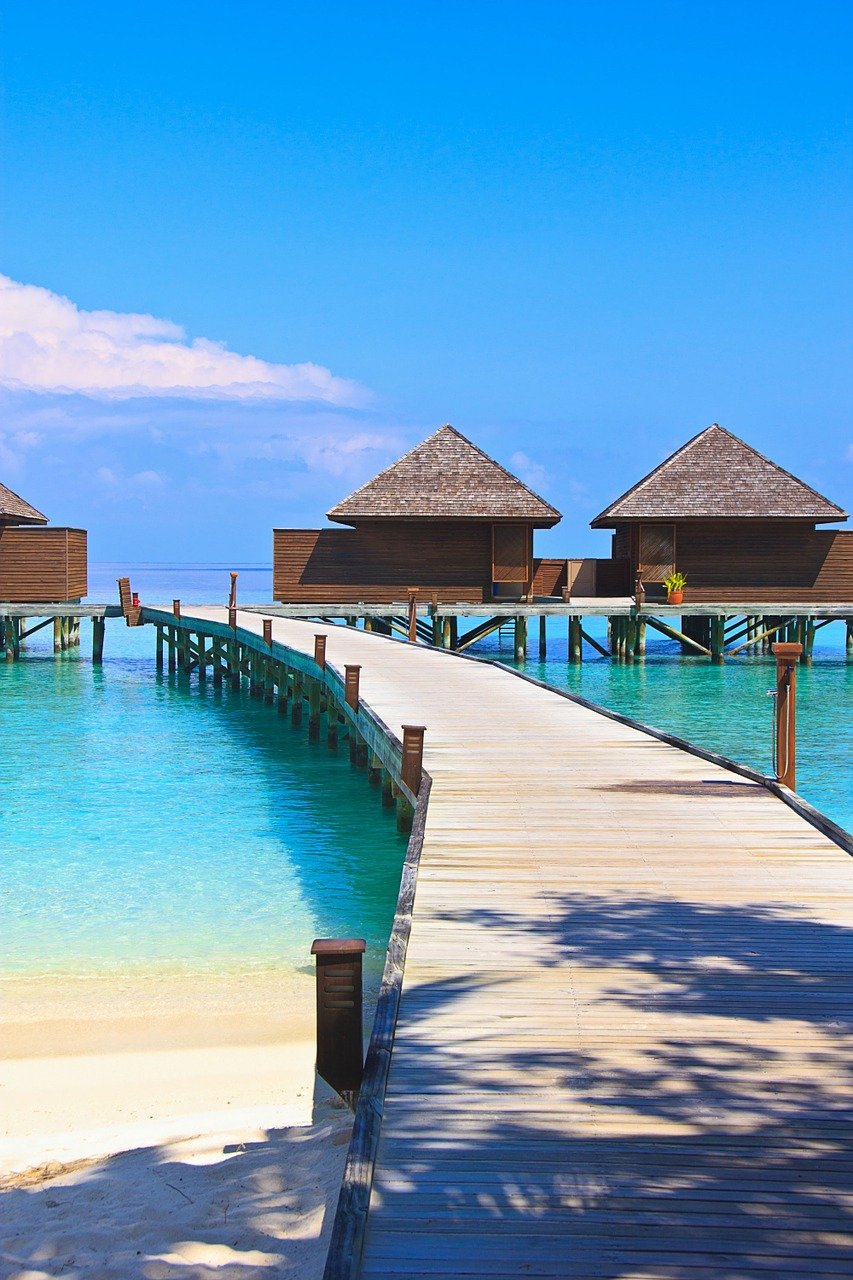 Introduction
The Republic of Maldives, is an independent island country in the north-central Indian Ocean, comprised of nearly 1,200 coral islands. All of the resorts have coral plantation programs that guests can take part in.
Weather
The peak season for visiting The Maldives is between November and April. The months with the least rain are January through April.
Dhivehi cuisine
While staying at luxurious resorts on a Maldive vacation will afford you the opportunity to dine elegantly on fine food, you may want to try some of the local specialities, largely influenced by the abundance of local seafood, coconut and influences of its neighbors. /em>Garudhiya is a fragrant fish soup served with lime, rice, chilli and onions. Kulhi Boakibaa is a fish cake of smoked tuna, coconut, onions and ground rice. The local version of tuna salad is Mas Huni (Masroshi), is a chapati with shredded smoked tuna, grated coconuts, lemon and onions. Gulha are dumplings with tuna, onions, chilli and grated coconuts. Bis Keemiya is a pastry filled with tuna/ and egg, onions and sautéed cabbage. Banbukeylu harissa is a curry of breadfruit, chili, onion, and coconut. Vegetable curry has sweet potatoes, pumpkin, and other vegetables flavored with pandan and curry leaves. On the sweeter side, sago pudding is made from coconut milk and condensed milk. Aluvi Boakibaa is a cake made from cassava and coconut.
Suggested Reading
books: The Maldives: Islamic Republic, Tropical Autocracy Book (J. J. Robinson), Gatecrashing Paradise: Misadventure in the Real Maldives (T. Chesshyre), Folk Tales of the Maldives (X. Romero-Frias).
Unique Experiences
In Maldives
How about having a painting of you made by a local artist in any setting of your choice in the Maldives? You'll able to pick the...
Read more
Consider a luxury adventure in your own seaplane flying over the islands.  The experience can include spotting whale sharks or manta rays and swimming with them,...
Read more
Maldives Travel Experts
Our experts have been to the Maldives — let our travel experts plan your luxury vacation and get the most from your island getaway.
Resorts in The Maldives
At Maldives resorts you can luxuriate privately, whether on a honeymoon or a romantic getaway. Our experts have firsthand experience and can guide your choice, including select resorts like these with our exclusive amenities:
Laamu Atoll,
Six Senses Laamu
Maldives' largest overwater amenities facility
Laamu Atoll,
South Male Atoll
COMO Cocoa Island
The island's serenity is reflected in the clean-lined, airy interiors.
South Male Atoll
North Male' Atoll
One&Only Reethi Rah
An all-villa resort offering an unrivaled level of style, choice and personalized exploration
North Male' Atoll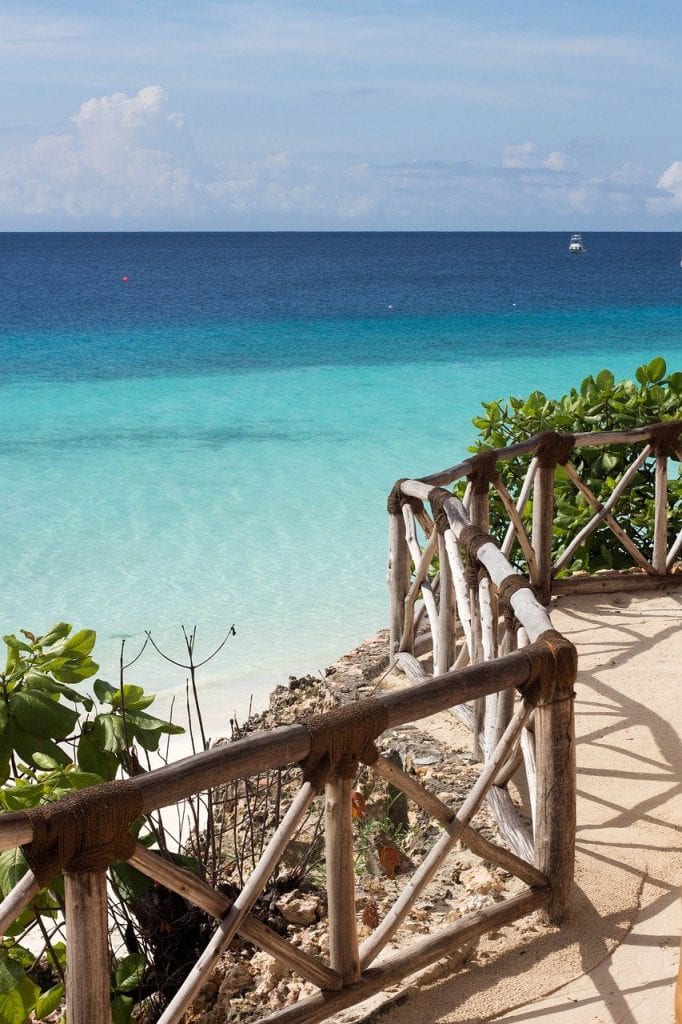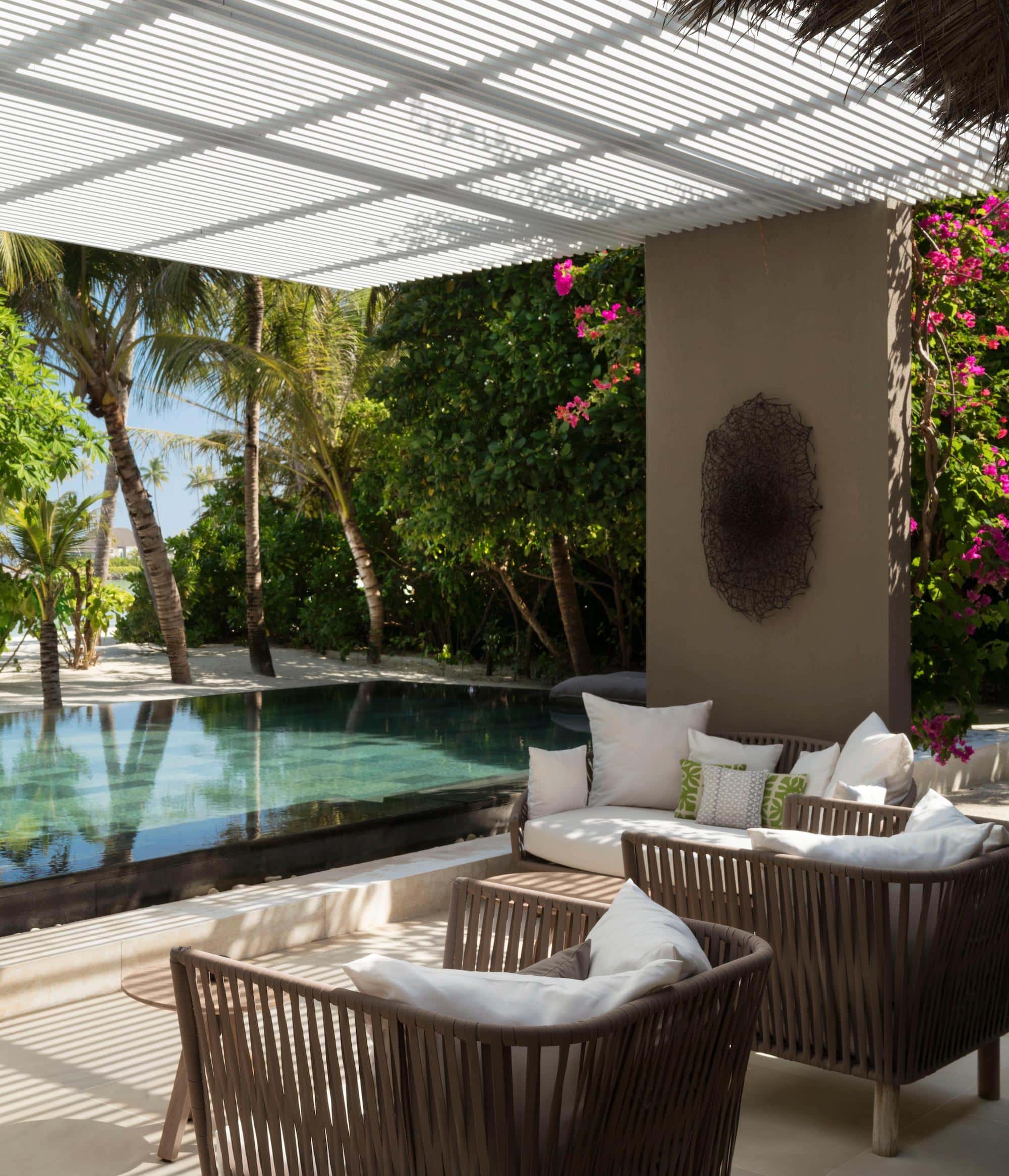 Did you know?
The Maldives are one of the few places on Earth where whale sharks can be encountered all year round.
The Maldives have 26 atolls and 1190 islands; 187 are populated, and 200 as standalone resorts.
In 2009, the then Maldivian government held a cabinet meeting underwater to create awareness of the threat of global warming.
The Maldives' fine sand is coralline and rare, representing less than 5% of the world beaches, which are mostly from quartz.
More about Travel to the Maldives
What is the average cost of a Maldives vacation?
It depends on where you stay! The Maldives has anything from three-star resorts to six-star, ultra-luxury accommodations, and price differs accordingly.
Is the Maldives safe?
The Maldives are extremely safe. On a trip, you will be generally in the resort. You will fly into Malé and transfer by seaplane, speedboat, yacht, or commercial flight.
How long it will take to get to the Maldives?
From Los Angeles, you can go through the Middle East, which is what most people do because the flights are pretty affordable. It's 17 hours, nonstop, to Dubai, and then a five-hour flight. You can also fly through Singapore and Hong Kong. Similar routing can be applied if you are leaving anywhere on the West Coast.
Let's Plan Your Trip!
Our professional travel experts look forward to tailoring an exceptional vacation for you.