Saudi
Experience the warmth of its people
Saudi
Discover the magnificence of its desert
Saudi
Savor its delicious cuisine
Saudi
Discover its culture
Saudi has been welcoming visitors from around the globe only since 2019 and is the newest untapped and exotic travel destination awaiting discovery and exploration of its warm and welcoming Saudi people, its rich cultural heritage, historical and modern landmarks, UNESCO world heritage sites and Red Sea beaches.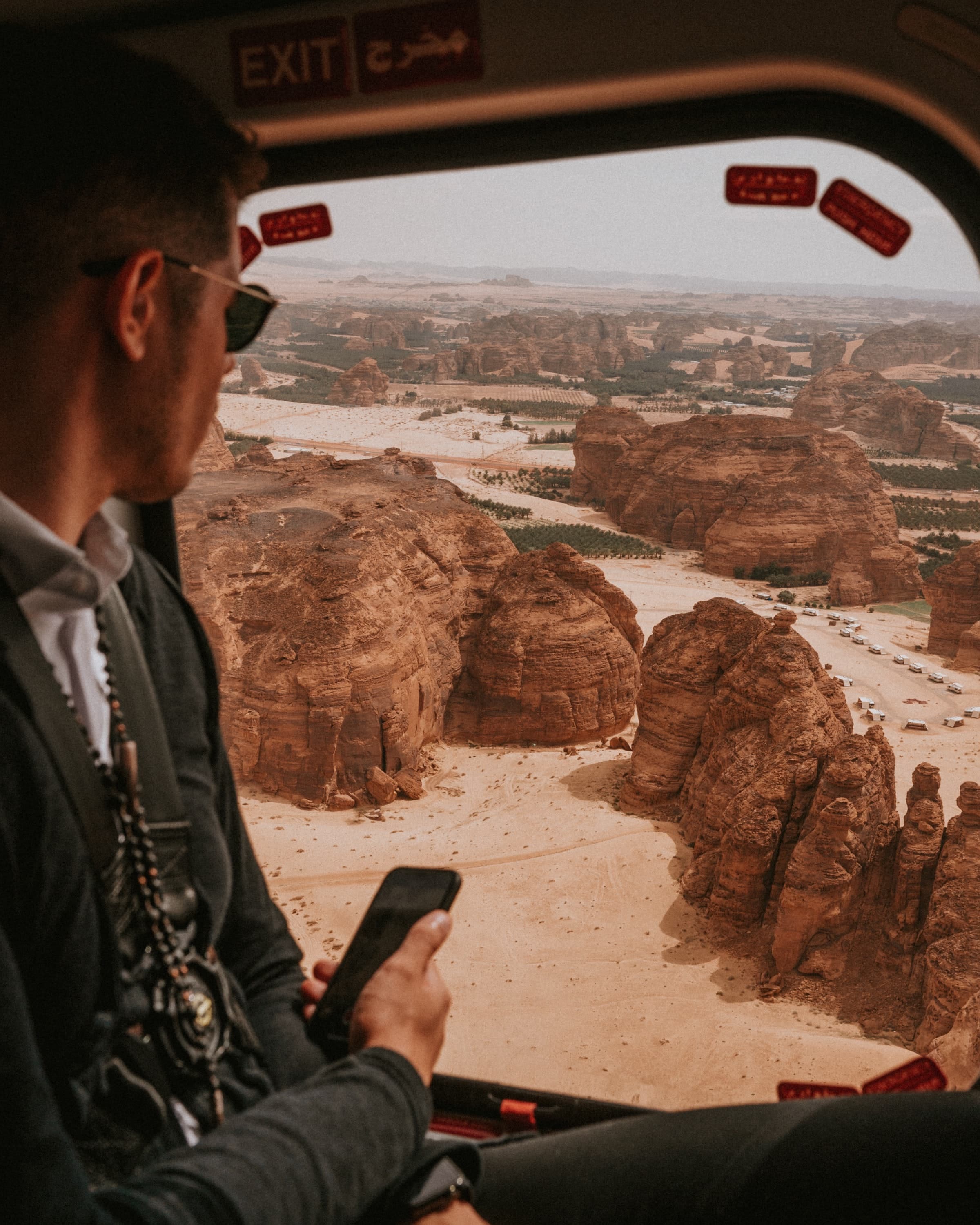 What to See
There is such a variety of experiences to be had in Saudi, that it warrants a trip of 9 to 10 days to really take in the destination's highlights at a good pace: The modern capital, Riyadh, exploring Diriyah, two of six of the UNESCO Heritage sites of At-Turaif and the open air museum of AlUla with its fascinating natural rock formations and art installations, the ancient captial of Dadan, and of course, Jeddah on the Red Sea offering coral reefs below the sea and houses built with coral in its historic district.
Weather & Climate
The best time to visit Saudi Arabia is between November and February, when the weather is more mild. Avoid the hottest summer months between April and October.
Saudi cuisine
Saudi cuisine is rich in flavor and influenced by the use of Middle East spices and flavors. Dishes like hummus, shawarma and falafel are quite popular. Fatayer is a meat-filled pie dish popular as an appetizer. Ruz Al Bukhari is a fragrant rice dish usually served with roasted chicken and made with a variety of spices including cinnamon, cumin, cardamom, and star anise and often topped with raisins and fried onions. Similarly, kabsa is considered the national dish of Saudi Arabia and is an aromatic rice with roast chicken. Muttabaq is a famous Saudi snack that's a layer of thin bread stuffed with minced meat, eggs, leeks and scallions. Harees, popular during Ramadan, is made of coarse ground wheat, meat, and oil/butter, often served topped with fried onions and garlic. Kibbeh, the local comfort food, are croquettes made from bulgur wheat and meat, deep-fried with toasted pine nuts and spices. Don't miss the gahwa, an aromatic Arabian coffee with cloves and cardoman. No doubt you'll discover your favorite dishes when you visit!
Suggested Viewing
Lawrence of Arabia, Wadjda (the first feature film entirely shot and cast in Saudi Arabia), The Life of Muhammad, Born a King, Barakah Meets Barakah, A Hologram for the King.
Suggested Reading
Girls of Riyadh (Rajaa Alsanea), Inside the Kingdom: My Life in Saudi Arabia (C. Bin Ladin), Princess: True Story of Life Behind the Veil in Saudi Arabia (J. P. Sasson), Seven Pillars of Wisdom (T.E. Lawrence), Wolves of the Crescent Moon (Y. Al-Mohaimeed), The Southern Gates of Arabia: A Journey in the Hadhramaut (F. Stark), Eight Months on Ghazzah Street: A Novel (H. Mantel), The Hadj: An American's Pilgrimage to Mecca (M. Wolfe).
Plan Your Trip with Our Experts
Our travel pros are ready to guide you and curate your vacation to Saudi.
While it is the 13th-largest country in the world, 95% of the country is desert or semi-desert, and less than 2% is arable land.
Kingdom Tower is the world's tallest building, standing one kilometer tall.
Over a quarter of Saudi Arabia's population is under 14 years old, and almost half of the population is under 24 years old.
More about Saudi
The capital, Riyadh, includes not to be missed Al Masmak Fortress and the National Museum. A recommended day trip from the capital is to The Edge of the World, an incredible panorama of desert beauty. There's also the varied shopping for handicrafts, spices and more at the Souq Al Zal, or enjoying traditional local dishes at Nadj Village Restaurant.
Further afield, Diriyah is becoming a hot travel spot, featuring ruins of the old trading center town and four museums. Another UNESCO site is At-Turaif.
Getting the most attention is the UNESCO site of AlUla, with its unique and beautifully abstract rock formations, canyons and art installations and ancient Nabatean structures.
Jeddah, the second largest city, is on the Red Sea coast, is popular for snorkeling and diving its coral reefs, as well as for its 7th century historic district of Al Balad, with its houses built of wood and coral. Here one will find a thriving art scene, food culture and cultural heritage of Saudi.
Let's Plan Your Trip!
Our professional travel experts look forward to tailoring an exceptional vacation for you.