Chef David Shalleck's
Mediterranean Summer®
Cruise for Food Lovers
Join me, Chef David Shalleck,
on a Delectable Voyage through
the Western Mediterranean
Rome to Lisbon | 10 Days | September 13 – 23, 2024
Oceania Cruises' New Luxury Ship, Vista
Celebrate the pleasures of the Mediterranean lifestyle at the perfect time of year while tasting a mosaic of flavors along the way.
Mediterranean Summer ® is more than a season — it's an attitude!
Immerse yourself in a fascinating flavor-driven voyage through the western Mediterranean and into the Atlantic. The Mediterranean Summer® story will come to life while you savor palate-pleasing delights along the way. Immersive
and engaging shore excursions, mouthwatering meals paired with local wines, and private events on board the ship are just a sample of the experiences you'll enjoy during this unique culinary adventure at sea. Throughout the journey I will share tips and techniques to show how easy it is to replicate this fantastic region's dishes at home.
The Mediterranean Summer® cruise package includes Three Exclusive Shore Excursions, Private Demos and Cocktail Parties, Prestige Beverage Package, Pre-Paid Gratuities, Free Internet, and Airfare from select gateways in the continental United States.
Limited to a small group of only 20 guests, I can assure you this is a voyage not to be missed!

About Your Host,
David Shalleck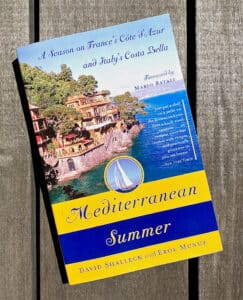 Chef, author, culinary producer David Shalleck is no stranger to the Mediterranean. As a member of the chef-instructor team at Oceania Cruises The Culinary Center he has taught hands-on classes and led Culinary Discovery Tours™ throughout the region.
Earlier in his career, while doing internships in some of Italy's most famous restaurants he was the summer season chef for a prominent Italian family on board their private yacht. This rare opportunity became the setting for his acclaimed culinary travel memoir, Mediterranean Summer.
David has been the chef-de-cuisine in numerous respectable, Michelin-starred fine-dining establishments and has logged over 250 cooking shows as the culinary producer for well-known chefs such as Jacques Pépin and José Andrés. Adding recipe and food product development to his vast portfolio of experience, David's career in the culinary business has spanned decades. You can learn more about David at his websites: www.volochef.com and www.mediterraneansummer.com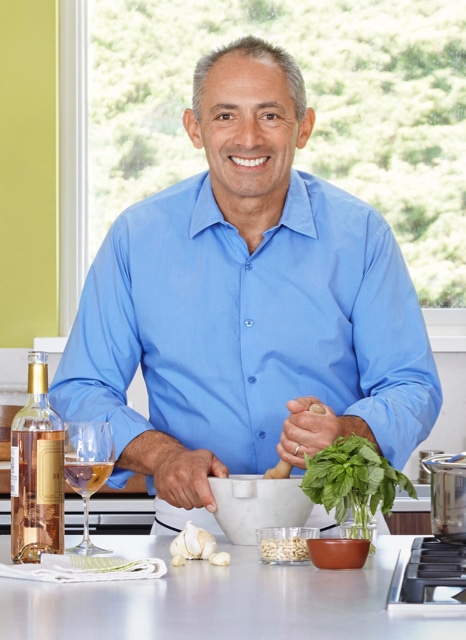 Mediterranean Summer® Cruise 2024
Mediterranean Summer® Exclusives
●Cruise group host: Chef David Shalleck
●10-Night Luxury Cruise Accommodations
●Two Cocktail Parties
●Two Private Demos with Chef David
●Prestige Beverage Package
●Free Unlimited Specialty Coffees, Sodas and Vero Nano-filtrated water
●Chef Dinner in a Specialty Restaurant
●Three Exclusive Culinary Shore Excursions
●Free In-Room Dining Available 24 hours a Day
●Free Coach Class Air from select US and CAN gateway cities
●Free airport transfers with Oceania's air program*
●Free Dining at Specialty Restaurants
●Free WiFi onboard Vista
●Free Pre-Paid Gratuities 
●Free shuttle service from ship to city center in many ports
●Fare includes air-related government taxes, surcharges and fees of $189 per person
Plus automatic membership to
The Mediterranean Summer® Tasteful Travelers Club™
featuring
Pre-Cruise Zoom Calls | Virtual Cooking Demos | Member-Only Extras
Oceania Cruises
Oceania Cruises is the world's leading culinary- and destination-focused cruise line. The line's seven small, luxurious ships carry no more than 1,238 guests and feature The Finest Cuisine at Sea® and destination-rich itineraries that span the globe. Expertly curated travel experiences aboard the designer-inspired, small ships call on more than 450 marquee and boutique ports across Europe, Alaska, Asia, Africa, Australia, New Zealand, New England-Canada, Bermuda, the Caribbean, the Panama Canal, Tahiti and the South Pacific in addition to the epic 180-day Around the World Voyages. The brand has an additional 1,200-guest Allura Class ship on order for delivery in 2025.
Vista
Contemporary Luxury
Step aboard Vista and you'll discover a dramatic new way of seeing the world. Vista invites you to savor the journey on a ship whose captivating beauty and stylish design evoke the wonders you'll discover ashore. Stunning interiors and harmonious spaces reflect a fresh, new perspective through organic elements inspired by the land and sea.
Features
A marvel in the making, Vista will deliver The Finest Cuisine at Sea®, exceptionally personalized service with two staff members for every three guests, a warm and welcoming ambiance as a result of the ship's captivating residential furnishings, and introduce several unique firsts for the brand in the realms of dining and guest experiences. Vista's best-in-class culinary experiences, luxurious signature public spaces, and spacious, residentially-inspired suites and staterooms create a welcoming home away from home.
Activities
Evenings aboard Oceania Cruises can be anything you desire. Marvel at the continuously changing talented guest entertainers as you delight in high-energy production shows, talented vocalists, classical music and more. Perhaps stop by the lively Monte Carlo-style Casino for a rousing game or two. Unforgettable evenings are just steps from your stateroom.
Staterooms
Stateroom with Veranda
Measuring 291 square feet of living space including the private veranda, Vista's standard Veranda Staterooms are the epitome of spaciousness. Bathed in soft tones of harvest and wheat punctuated with seagrass and bold sienna, each is furnished with a queen-size Tranquility Bed piled high with plush linens and plump pillows, a comfortable seating area, private veranda, thoughtful amenities, abundant storage space and an oversized bathroom.

Category B1 and B2
Concierge Veranda
Vista's Concierge Level Veranda Staterooms envelop guests in lavish comfort. Shades of cream and rich fawn set the tone for a luxuriant respite with an extravagantly dressed queen-size Tranquility Bed, sumptuously comfortable sitting area and a private veranda to take in the marvels of the surrounding seascapes. All feature extraordinary closet and storage space, and a marble bathroom with walk-in rainforest shower. A wealth of additional amenities, such as a dedicated Concierge Lounge, unlimited use of the Aquamar Spa Terrace, room service from The Grand Dining Room and free laundry services, elevates the experience to the sublime.

Category A1 and A2
Penthouse Suite
An overabundance of space and elevated levels of luxury define the Penthouse Suite experience. Ingenious design and tony furnishings punctuate the space, which is resplendent in rich upholstery, fine leathers and stunning works of art. Measuring 440 square feet, Penthouse Suites feature the added luxuries of a walk-in closet, an oversized bathroom with dual vanities and of course, a large private veranda overlooking the sea. Penthouse guests also have unlimited use of the sublime Aquamar Spa Terrace along with Butler service and keycard access to the suites-only Executive Lounge with a dedicated Concierge.

Category PH1 and PH2
More About Oceania Cruises
Featuring a fleet of intimately luxurious ships, Oceania Cruises offers an unrivaled experience renowned for the finest cuisine at sea and destination-rich itineraries spanning the globe.
Mediterranean Cruises
We are driven to the destinations that line the Mediterranean Sea. These are among the most popular locations around the world for travelers. Is it the agreeable climate? The cultures and culinary riches? Is it he draw of the turquoise sea? Of the 22 countries that surround the Mediterranean, each with its unique culture and cuisine, the most popular are Spain, France, Italy, Slovenia, Croatia, Greece and Turkey; Israel in the Levant, and North African countries of Egypt and Morocco.
Mediterranean Summer® Cruise for Food Lovers
For more information:
Call 800-777-6540
Call 805-987-3425 outside of US
Hours: Mon – Fri 8am – 5:00pm PST