A Luxurious Honeymoon in French Polynesia
Ia Orana or Hello! Allow me to whisk you away on an enchanting journey to one of the most sought-after destinations for romance and relaxation – the mesmerizing French Polynesia. Join me as I recount the dreamlike 12-night escapade through this tropical paradise, where turquoise waters and swaying palm trees became the backdrop for an unforgettable honeymoon.
Our adventure commenced on the shores of the island of Le Tahiti by Pearl Resorts. With hearts aflutter and anticipation buildin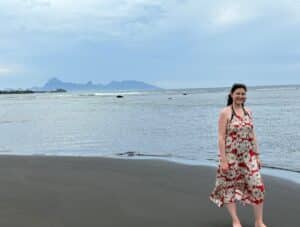 g, we embarked on a whirlwind exploration of the captivating Island of Tahiti. A captivating Circle Island tour unveiled the island's rich history, with incredible viewpoints offering panoramic vistas that left us breathless. A highlight of this leg of the journey was undoubtedly the visit to a pearl shop, where we not only selected pearls but had them transformed into a necklace that would forever hold the essence of this magical place. We took our time to wander, meander, and lose ourselves in the island's beauty, cherishing each moment.
A short 45-minute ferry ride transported us to Moorea, where we were greeted by the pristine shores and the luxurious embrace of the Sofitel Kia Ora Moorea Beach Resort Here, our days were adorned with thrilling jeep tours that unveiled the island's hidden gems, and my personal favorite, a street food tour that took us on a gastronomic adventure through the local flavors. From vibrant fruit stands to charming family-owned restaurants, we indulged in French, Polynesian, and Chinese-influenced delicacies that satisfied both our appetites and our curiosity for cultural immersion. And let's not forget the exhilarating water activities – swimming and kayaking in the crystal-clear waters, a true testament to the island's aquatic allure.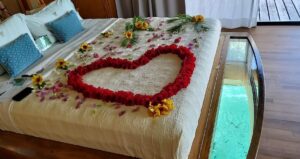 As the sun painted the skies with hues of amber and rose, our journey led us to the haven of Le Taha'a by Pearl Resorts on the island of Taha'a. Here, we reveled in the lap of luxury on the private island, surrounded by a mesmerizing coral garden that seemed like a work of art painted by nature. The overwater bungalow was our sanctuary, providing a front-row seat to the surreal beauty of the surrounding lagoon. Days were spent relishing delectable cuisine, sipping exotic drinks, and indulging in heavenly massages that rejuvenated both body and soul. A day tour to the neighboring island of Raiatea added a touch of exploration, reminding us of the diverse wonders that French Polynesia had to offer.
We arrived in Bora Bora – the epitome of tropical splendor. Le Bora Bora by Pearl Resorts welcomed us with open arms, and we embarked on an array of thrilling excursions that fused adventure with luxury. Snorkeling with rays and reef sharks left us exhilarated and humbled by the marine wonders, while an ATV drive through the island's lush interior and an afternoon jet ski tour over the cerulean waters added a dash of excitement to our idyllic days. The overwater bungalow on this final leg of our journey was the cherry on top, providing the perfect vantage point to witness the sun sinking into the horizon, casting a spell of serenity over the enchanting landscapes.
With hearts full and spirits soaring, our last three nights in those overwater bungalow hotels were a symphony of relaxation and adventure. Our honeymoon was a dream woven from the threads of romance, luxury, and exploration. And, oh, the food! French flavors danced upon our taste buds, leaving an indelible mark on our palates.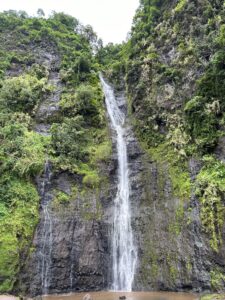 Dear readers, if a paradise escape is what your heart craves, I wholeheartedly recommend the exquisite tapestry of French Polynesia. Let the allure of turquoise waters, overwater bungalows, and unforgettable experiences enchant you. Whether you seek relaxation, adventure, or a harmonious blend of both, this gem of the South Pacific will craft a chapter of your life that you'll cherish forever. Until next time, may your travels be as beautiful as the memories we've etched in the sands of French Polynesia. Bon voyage!
Until the next adventure,
Courtney Lavarnway Van Vleet