Belize: A Beautiful Escape into the Heart of Nature
Hello fellow travelers and adventurers! Today, I want to take you on an unforgettable journey to the stunning beauty of Belize, where I recently had the pleasure of experiencing a magical mini-moon with my husband. After our joyous wedding, we decided to embark on a 3-night escapade to immerse ourselves in the splendor of this Central American gem in November 2022.
Our choice of accommodation, the Pine First – Gaia River Lodge, turned out to be a delightful surprise. A small luxury hotel, the property was nestled in the heart of Belize, surrounded by breathtaking views of waterfalls and lush greenery. The lodge offered an intimate and secluded ambiance, perfect for couples seeking tranquility and luxury.
During our stay, we had the privilege of celebrating Thanksgiving — Belizean style. The hotel hosted a special dinner for its American guests, serving a preset menu that included a delectable surf & turf entrée, scrumptious pie, and celebratory champagne. It was a unique twist on the traditional Thanksgiving dinner, incorporating local flavors and ingredients.
Our cozy abode, the waterfall room Cabana, provided us with mesmerizing views overlooking the cascading waterfalls. We had to descend hundreds of steps to reach the waterfalls, but the refreshing swim in the crystalline waters made the effort worthwhile. For those seeking a more leisurely experience, a lift was available to reach the waterfalls.
Exploring the property was an adventure. We embarked on a couple of jungle walks with a knowledgeable property employee. The early morning and nocturnal walks offered distinct experiences, with the jungle coming alive with different sounds and nocturnal animals emerging from their slumber. Armed with flashlights, we cautiously made our way through the darkness, ensuring no snakes slithered into our path.
Feeling adventurous, we decided to use the property's mountain bikes to venture further into nature. We pedaled our way to another captivating waterfall, about 1-2 miles away, located atop a mountain. After reaching our destination, we hiked down to the waterfall, immersing ourselves in the serene surroundings. Coco, the friendly dog residing on the property, was our loyal guide, leading us to hidden gems and even joining us for a refreshing swim in the waterfalls.
As the sun set, the property's grand bonfire beckoned us. Gathered around the flickering flames, we roasted marshmallows and savored the warmth of the fire while sharing stories with other guests.
For those seeking a connection with nature, the lodge had its own organic garden, where we took a delightful stroll. The organic produce added a delightful touch to our dining experiences.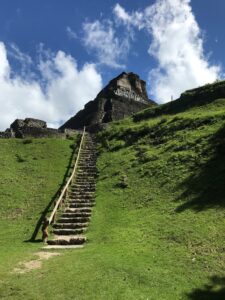 On one of our days away from the property, we embarked on an archaeological tour, exploring ancient Mayan ruins. Among them, Xunantunich stood out with its majestic architecture and rich history. This excursion offered an extraordinary glimpse into Belize's cultural heritage and was a great addition to our mini-moon.
As our mini-moon ended, we realized that Belize had stolen a piece of our hearts. From the captivating natural wonders to the warm hospitality of Gaia River Lodge, every moment was etched in our memories forever. Whether you're seeking a romantic escape or an adventurous getaway, Belize has it all. So, do yourself a favor, add this gem to your travel bucket list, and let it weave its magic on you!
Until next time, fellow wanderers, happy travels!
Courtney Lavarnway Van Vleet