Cruising in Italy with Uniworld
My first "post-pandemic" trip to Europe was to Venice, Italy, to enjoy an 8-night river cruise on Uniworld's SS La Venezia, roundtrip from Venice. While I have visited Venice a few times previously, the sheer magnificence of the place on various levels never ceases to intrigue and engage me.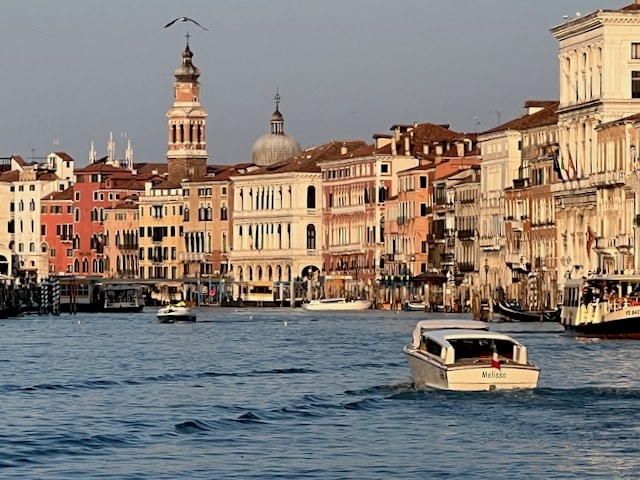 We flew to Venice a couple of days early, staying at the Bauer Palazzo, one of a few 5-star luxury hotels with easy walk of St. Mark's Square. We paid extra and found good deals on British Airways, though our outbound flight was operated by American Airlines.  Arriving a day early gave us a full day on our own before meeting up with our traveling group  onboard our 'river' cruise. We enjoyed walking throughout Dorsoduro and some of Santa Croce, and enjoyed visits to the Peggy Guggenheim Museum and the Accademia Museum, a chronological display of canvases by the great Venetian masters. Venice was clean, and while still polluted no doubt, the canals looked better ("cleaner") than I recall.  Now that the MOSE tide barrier project has been completed (a year or so ago), there should be less flooding occurring here and Venice will, hopefully, remain standing for a much longer while.
Uniworld, one of very few to operate cruises in the Venice Lagoon and on the Po River, provides an opportunity to explore this part of the Italy a bit more in depth, offering special experiences to better discover Venice as well as some of the nearby cities and towns like Chioggia, Burano, Torcello, Padua and even Bologna.
While large ocean-going cruise ships are now banned from Venice's Grand Canal and dock at nearby port, Uniworld's La Venezia docks at the port right at Dorsoduro, within a 15- to 20-minute walk of St. Mark's Square or Rialto Bridge (or a short water taxi ride), to the heart of what was in the 18th century a major worldwide trading center, and whose population was much larger than that of Paris. The wealthy doges ruled this independent city state in its heyday until Napoleon toppled it in 1797. Venice is easy to cover by foot, though it can be tricky meandering the calles and campos without getting a bit lost – all part of the fun, however.
We boarded La Venezia in the afternoon, in time to settle in, attend a brief safety briefing, and get ready for cocktails and dinner. Uniworld, a luxury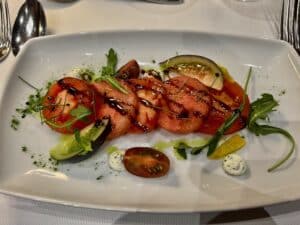 rive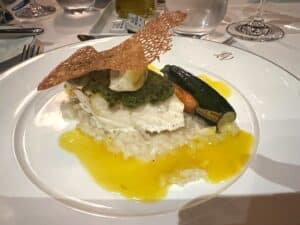 r cruise operator, is known for its cuisine and its elegant furnishings and décor. The company is part of The Travel Corporation, owned and managed by the Tollman family, with cuisine overseen by Bea Tollman and the elegant design and décor overseen by Toni Tollman. Their personal touches are always noted throughout their products. (The family also owns Red Carnation Hotels brand and African Travel, in addition to a number of other travel companies, and are great partners of TravelStore's.)
Like most European river cruise companies, Uniworld's cruises are mostly all inclusive, with liquor, wine and beer included, as well as coffees, soft drinks and waters. Also included in the price are shore excursions, though optional and premium alcohol and excursions may be available. La Venezia has massage services, a small but very adequate fitness room (large by some river boat standards), and a second optional dining venue with a fixed menu and limited seating for up to 12 persons, who can participate in the dinner preparation if they wish. (However, the price of 95 euro per person, even including wine pairings, seems steep).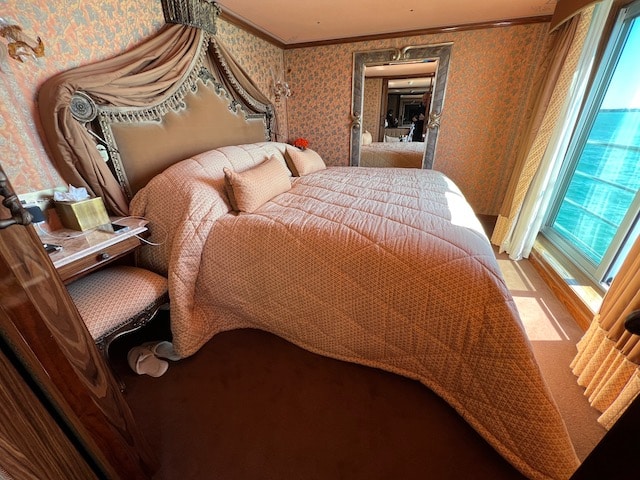 The dining on board is top notch and exceptional, as to be expected from Uniworld.  Soups are always fabulous. Breads and pastries are freshly baked and just right, fruits and salads plentiful, and main courses delectable. Our complimentary wines are all Italian in keeping with the itinerary. The complimentary wines in some cases were good, in other cases just so-so, but premium wines are available for purchase and steeply priced, (or you can shop ashore and bring your own to enjoy).
Our next day in Venice was one of the highlights where sightseeing is concerned: a visit and tour of the Doge Palace in the morning prior to its opening to the public. Entering the large hall and meeting rooms in small groups made this all the more special, as was learning about the politics of the day when the doges ruled Venice. In the evening we had an even more spectacular experience – a private after-hours visit to St, Mark's Basilica with an exceptional guide who provided interesting insight about the mosaics, took us behind the altar to view one of Europe's greatest treasures, and into the crypt below ground.
Low tides prevented us from cruising on the Po, and we were relegated to cruising about Venice's large lagoon area, which is 50km wide. On our itinerary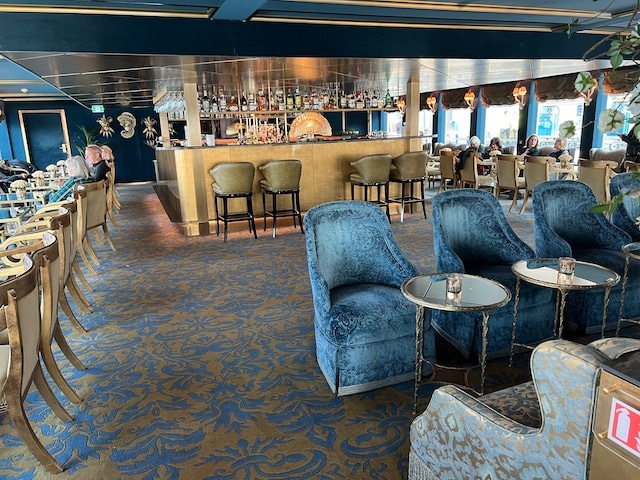 we visited the Foscari villa in the countryside, designed by Palladio, admiring its frescoes throughout the house, which serves as a summer retreat for the family. A wine tasting at Domini in Baglioni was quite good, and most of us ended up purchasing bottles of their wonderful prosecco made from pinot noir, as well as the two fruili reds. We visited Burano with is colorfully painted houses, and nearby Mazzorbo island with the Venissa winery , a fascinating project to resurrect the Dorona varietal that only grows here and fed by the salt sea water from the lagoon. The limited production and unusually tasting wine retails for 140euro for a small bottle – most definitely a passion project for the owners! A notable Michelin-star restaurant is on the premises, as are some rooms to stay at. We also had a full day excursion to Bologna: the two-hour drive by coach through northern Italy's agricultural area was a long trek there and back; after a walking tour of Bologna we enjoyed a pasta-making demonstration of several varieties and enjoyed a lunch of cheese tortellini and tagliatelle with ragu sauce, washed down with local Sangiovese. In Chioggia we had choices of biking, visiting a castle, or enjoying market day and the fish market. Uniworld stops in Chioggia on the weekly market day, and the downtown was jam-packed with locals and nearby residents shopping for just about everything under the sun. Burano, with its multi-colored houses is delightful if touristy, but lovely to stroll through. We found some fabulous aged balsamic to bring back home! Back in Venice, we enjoyed visits to the Rialto Market. One evening we enjoyed a spectacular concert of Vivaldi's Four Seasons – none better place to hear it again than in the exquisitely beautiful Scuolo di San Rocco, a must visit while in Venice.
There isn't much by way of onboard entertainment. The infotainment system in the cabins offers movies and news channels among others, the lounge, as typical of Uniworld, offers many beautiful art and destination books to peruse, and there is an onboard entertainer and a trio that performed some nights.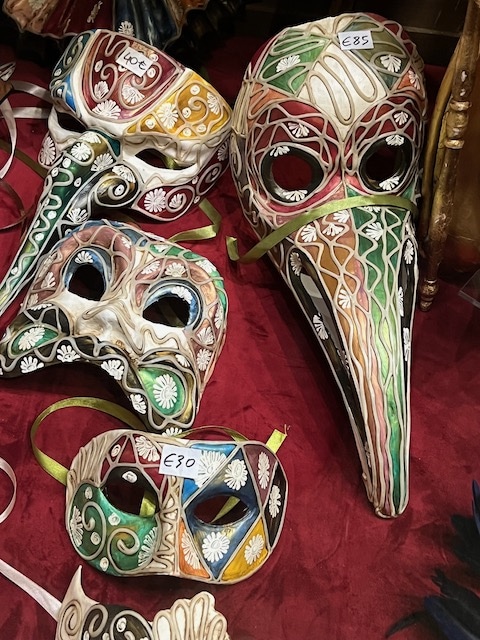 When it comes to identifying luxury river cruise options, Uniworld has always been at the top of my list, and I've cruised with them a few times. La Venezia is a smaller boat than Uniworld operates on other European rivers, and while the food and service was up to par, the staterooms are much more compact, except in the six suites (recommended if you book early enough). For those that have cruised on Uniworld elsewhere, it's an important point of distinction. Nonetheless, unlike other river cruises that traverse more than one country and usually are not roundtrip, La Venezia stays in the Venice Lagoon (the Po River will probably be removed in 2023 as low tides often prevent entry), and it's a one-week immersive adventure in this part of northern Italy, which is delightful and also unique among its other itineraries.  Certainly it's a relaxing and comfortable way to enjoy a week in Italy, and enjoy some special experiences.