Exploring Sri Lanka: Part 1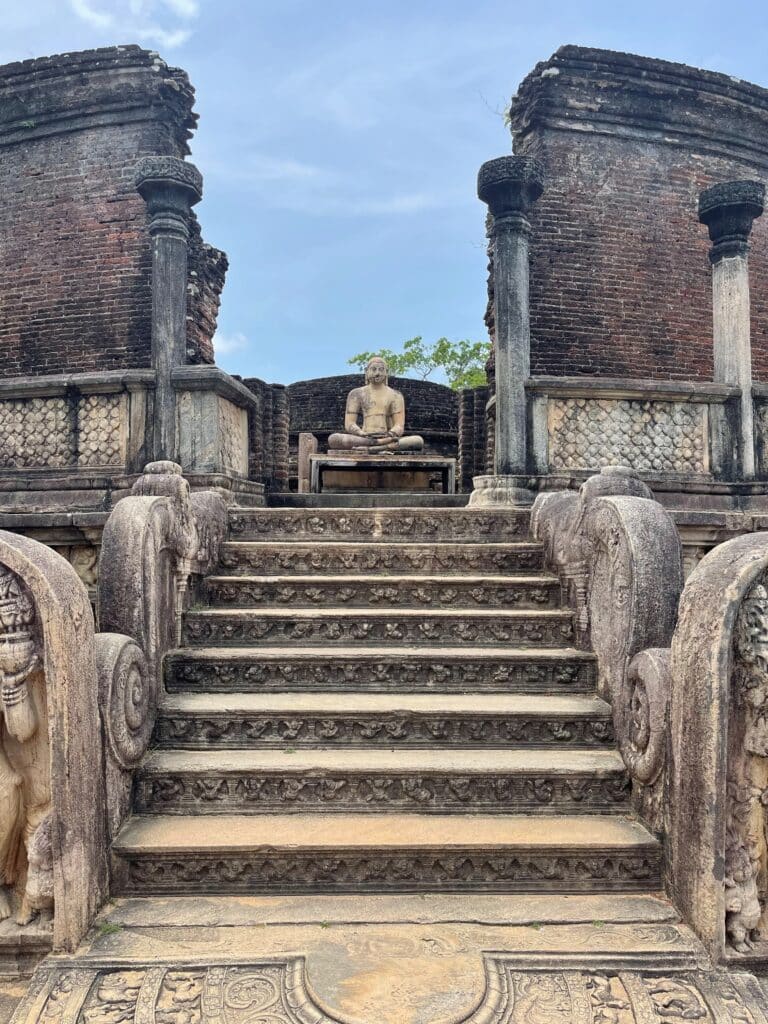 Our group of seven travel advisors planned to go to Sri Lanka in 2020. We finally made it happen in May 2022. We were concerned about the situation in the country, but were reassured by our host we would be well taken care of and not to worry. We saw the demonstrations, but while we were there they were peaceful. We felt safe and in good hands with our supplier partner, who took care of every detail during our trip.
We explored Colombo with a local expert in architecture, visited a few hotels, shopped, and had a fabulous day. We stayed at the Shangri La, a 5-star contemporary high rise hotel right on the waterfront.
Our next stop was via charter flight to the Cultural Triangle of Sri Lanka, the site of ancient kingdoms.
We first went to see a world heritage site, Polonnaruwa, a medieval city which was a capital between the 10th and 12th centuries. This site has been compared to Angkor Wat in Cambodia, and with the ruins of temples and many statues of Buddha, it was easy to see why.
As required when visiting religious Buddhist sites, shoes had to be removed, shoulders and knees had to be covered. Our tour operator conveniently provided us with socks and sarongs each time we entered a site.
Our lunch was at a local farm, food prepared using wood fire and clay pots. This was a highlight, mostly local vegetables cooked with traditional spices. Beside each of the dishes, the raw vegetable which was the main ingredient was placed, so that we would know what we were eating.
We continued to Sigiriya, built in the 5th century as a palace and fortress and situated on top of a huge rock. Sigiriya is surrounded by geometrically laid out water gardens. The stone facade has lion's feet carved at the entry with 1200 steps to climb to the top. A few in the group opted to make the climb, followed by the monkeys who tried to sneak into backpacks whenever the opportunity arose, to steal a snack.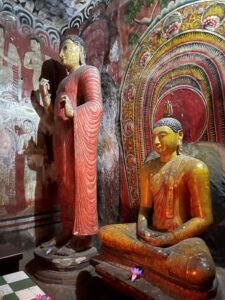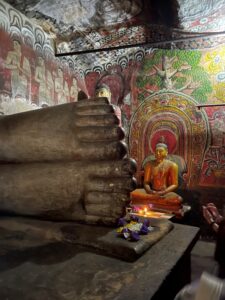 The climb to the top was not for me, and after  taking in the sights, I headed to the next hotel, the Water Garden Sigiriya. This stunning hotel was inspired by views of the rock fortress. Each room is a spacious villa with a private plunge pool. I swam in the large hotel pool and relaxed with an amazing view of the hotel's water gardens with a perfect view of Sigiriya in the distance, while peacocks and parakeets put on a show. When the others finally arrived hot and tired from the climb to the top (a few of them made it) we were treated to sundowners by the pool before a delicious dinner, with candlelight and the sounds of nature around us.
The next day we drove to the hill station of Kandy, stopping along the way at Dambulla. This was my favorite visit in the cultural triangle. We hiked up a hill to arrive at a religious site where the cave temples are richly painted and filled with sculptures. The paintings depict Buddha's life as well as Sinhalese history. This is still an active religious center, so we had to leave as the monks arrived for their worship. The caves were breathtaking. We collected our shoes and walked back down the rocky path, monkeys begging for a handout, to be greeted by our host waiting for us with chilled towels on a silver tray. Our van was always stocked with cold drinks and snacks in case we were tired and thirsty along the way.
We then stopped at the Spice Garden, starting with a walk through the garden showcasing the local plants and spices and hearing about their healing qualities. We did plenty of shopping here. We also were treated to Ayurvedic facial and foot massages, much needed after walking in the heat and humidity. We were offered tastes of fresh coconut water as they split a few coconuts with a machete, but most of us chose to taste the local beer instead.
We finally arrived in Kandy, ready to visit the palace and the all-important Temple of the Tooth, where a relic of Buddha's tooth is enshrined. We purchased lotus flowers to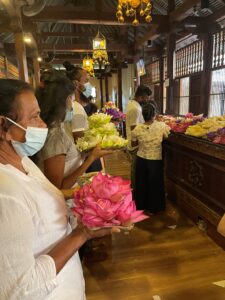 make the traditional offering, along with the many other visitors to this most significant site. This was the last bastion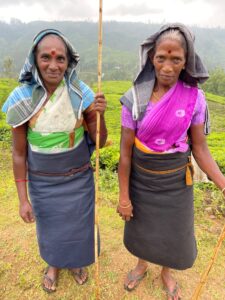 of Buddhist political power against the colonial British.
Following the visit, we made a stop at a jewelry center to see the gemstones from this area, a perfect opportunity for more purchases.
Our hotel, the King's Pavilion, hosted a private show for us by Kandy dancers, with acrobatics, music and fire dancers. It was here I got behind the bar to make a few martinis for our group.
Our morning was spent at the Royal Botanical Gardens, toured with a professor of botany. There were quite a few local couples having wedding photos taken in the gardens, as it is one of the most beautiful areas in the city.
We took a local train for 2 hours to the tea town of Hatton. Tea country in Sri Lanka is like entering another world, with terraced tea plantations, lakes, waterfalls, beautiful rolling hills. We stayed at Resplendent Ceylon's Tea Trails, which is comprised of several bungalows on either side of the lake a short distance from each other. Each cottage is just perfect with lawns, flower gardens, swimming pools, and a team of butlers and chef.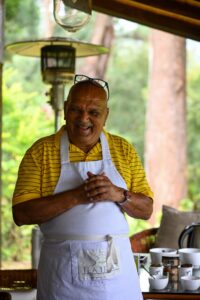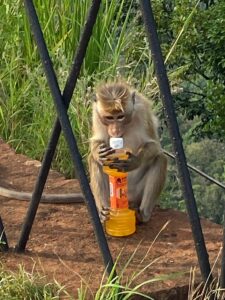 The bungalows have a living room, dining room, great room, and up to 5 bedrooms each ensuite and most with their own private garden. There is a button beside each bed to call for service.
We spent our time tea tasting with experts, touring the local tea factory, hiking through the plantations, having fun with a cooking class learning how to make "hoppers" and curries, and being entirely pampered by the charming staff.
I loved having my morning tea and scones in my room, looking out at my garden.  The menus were tailored to exactly what we wanted, when we wanted it. I did have to teach my butler how to make a proper martini, but he quickly learned. I hated to leave, but the next part of the trip beckoned.
please see  Exploring Sri Lanka: Part 2, for Susanne Hamer's report on Wild Coast Lodge and Cape Welligama, our last two stops.