Exploring Sri Lanka: Part 2
Onward we traveled by seaplane, taking off from Castlereagh Lake adjacent to the Tea Trails bungalows for a short flight to the Southeast Coast and Yala National Park. Yala boasts the highest density of leopards in Asia and is home to innumerable wildlife and so, the leopard search was on.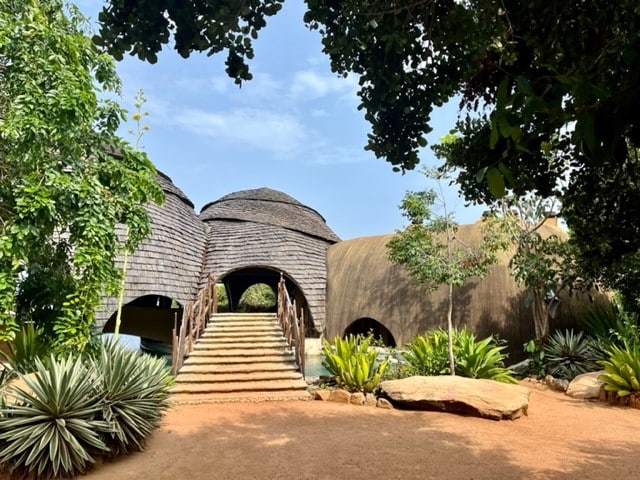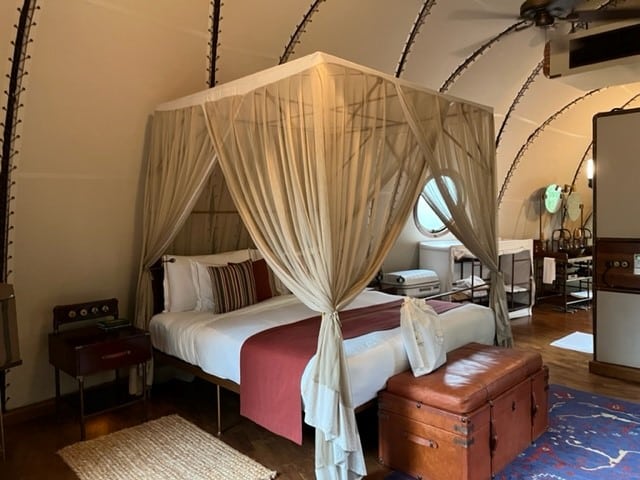 Wild Coast Tented Lodge by Resplendent Ceylon is a luxurious tented camp situated at the edge of the Yala National Park. Our accommodations were in tented "cocoon" suites, which offered total immersion and panoramic views of the jungle. The suites are stunning in design and their seamless architectural blending with the surrounding landscape.
I have been on many Africa safaris before as well as to Ranthambore in India; what was most surprising about Wild Coast is that it sits on the edge of Yala National Park and is just steps away from the white-sand beaches of the Indian Ocean.
On a sunrise walk through the Yala bush surrounding the lodge, our ranger Keith helped us understand the mystical creatures that enjoy the security of darkness.
During a morning game drive we were fortunate to encounter elephants, a sloth bear, an array of rare birds, wild boars, crocodiles and so much more … sadly, the leopards eluded us. We were close several times, just not close enough.
I will just have to go back!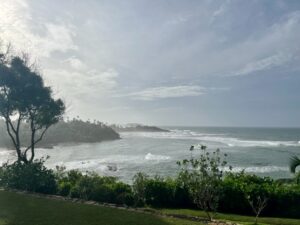 Our time in Sri Lanka was coming to an end and we had just two more magical nights left. After just 2.5 hours traveling via the expressway, we arrived at Resplendent Ceylon's Cape Weligama on the South Coast of Sri Lanka. Perched on a hilltop, the resort offers 270-degree panoramic views of the Indian Ocean from every corner. Individual villas, restaurants and bars resemble a typical Sri Lankan village with terra-cotta tile roofs and acres of lush tropical gardens.
While here, we visited Top House, a 25-acre, working cinnamon estate just inland from Cape Weligama. A British couple has restored the old plantation and now produce healthy "Ceylon Cinnamon," which grows along the steep hillsides.
After lunch we took a drive along the coast to the ancient trading post of Galle Fort, home to numerous boutiques, cafes and galleries. We had lots of time to explore the wonderful architecture and historical landmarks and for more shopping.
There was a little time to visit the famous Stilt fishermen of Sri Lanka. These fishermen sit perched far from shore atop crude crucifixes of sticks and twine, dangling fishing rods into schools of fish. This was a fun photo opportunity.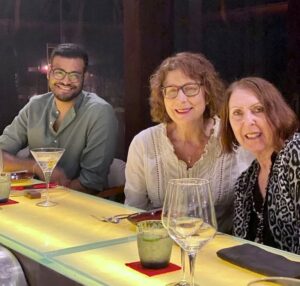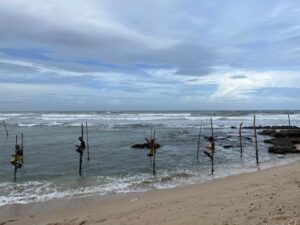 And finally, we arrived at our farewell dinner at Cape Weligama's chef's table tasting experience – Tableau.
The people of Sri Lanka are an inspiration, working quietly behind the scenes to make every experience seamless and exceptional, from the guides and our hosts, to the magical unexpected moments delivered by the hotel team.