Holiday Rockstar in French Polynesia
One of the greatest things about flying to a destination is being able to squeeze in family and personal time. After enjoying all the Christmas festivities, I left (yes, on Christmas Day!) to catch a red eye flight that left around 11:50pm. The hustle and bustle of the day's activities left me awake enough to handle the vastness of the LAX airport, but as I settled into the plush seat of the Air Tahiti Nui plane (with lots of leg room), I knew I made the right choice to fly Premium Economy.
Why's that you might ask? Well, for one, I was still able to use the business class restroom and take advantage of all their amenities. Not to mention, the service I received was seamless and excellent. Add in the comfy pillow and blanket waiting for me on the seat… let's just say, I was tucked in and ready!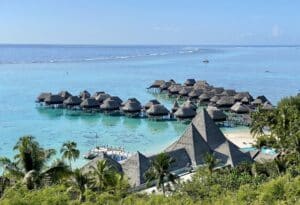 My guests and I arrived 9 ½ hours later in Papeete, and it was amazing to get off a plane and not feel any cramps or aches in my body. I walked off the airplane, across the tarmac to discover Tahiti Legends did not disappoint! We were all greeted with leis—FRESH leis—and there was a greeter with a sign, alongside our driver. He was amazing! We received Contact Info, What's App info, and were told how to get breakfast at the ferry terminal, just a short drive away. If you're curious on breakfast, you can read what I had to say about Happiness and Food in French Polynesia.
Then we headed to Moorea. Ok first of all, you can see it from Papeete since it's only a 45-min ferry ride. So, while on one hand you want to enjoy the scenic ferry ride, on the other hand, the anticipation of disembarking to go exploring the beautiful land ahead grows.
Upon arrival in Moorea, the transfer driver greeted us when we got there and shared with us the tales of growing up in French Polynesia. There's no such thing as getting lost or being confused because Tahiti Legends really made sure every detail was covered. We stopped for about 20min to talk about culture at the overlook, where we could see the Sofitel Kia Ora Moorea Beach Resort. Then we headed out to the resort we were all staying at: Manava Suite Resort.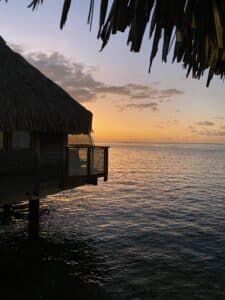 Allow me to paint the picture (which isn't hard, given that it's Tahiti, but indulge with me for a bit): You have a waterfront property with regular resort suites on land, overwater bungalows, the vast ocean in front of you, and behind you is a landscape complete with gorgeous mountains and hills, lush with surrounding greenery and flowers. In a single word, it was dreamy. We arrived, ready for a greeting of fresh flowers, and fresh juice. As recommended, we grabbed our swimsuits, enjoyed lunch, and then hopped in an infinity pool. There was a pool boy roaming around the lagoon, to fetch snorkeling stuff or whatever else you wanted in case you wanted to see fish and sharks up close.
If you're staying in an overwater bungalow, you can see turtles and sharks swimming below. Although you will want to just soak in the landscape during a sunset, don't forget to look down because the rays hit the water in such a way that illuminates the sharks and other sea life that is a marvel to behold. If you choose a garden bungalow, you will have a plunge pool that's quiet and reserved. Although the beds are closer to the ground, they were super comfy. If you're thinking of streaming, don't. Although the Wi-Fi wasn't cruise-ship bad, you're on an island and should take that into account.
One of the highlights was getting to see a Polynesian wedding. It was beachside in a cove, but we were allowed to spy and watch. The bride arrived by an outrigger canoe, and they paddled her to arrive where family and friends were waiting on the beach. The ceremony was lovely, and the wedding party was traditional! Listen, the resort provides plenty of Polynesian shows, but an authentic wedding was a bonus reward for the 4 nights we spent there.
If you're going to explore Moorea, an ATV Tour is the way to go because it's a great way to learn about the culture, arts, and a few secrets that the island has to offer in a 4 or 6-hour day excursion. I won't give away all their secrets, but I will mention that first we went to see the famous pineapple fields. By far, the highlight of the tour was climbing the peak of the Belvedere lookout point. From there you can see Bora Bora and all the other islands, with a spectacular 360degree view. Breathtaking doesn't even begin to describe it, and the deep climb really made you feel like Mother Nature is a miracle.

I did experience a small hiccup in my Captain Taina's Glass Bottom Snorkeling Tour where the taxi driver thought we were staying at a different hotel so by the time they reached us, we missed our private boat tour and had to share a boat. It was a rope tour snorkeling so if you are an experienced snorkeler like myself, don't expect to wander around much because you are limited to the rope as it drives you away. We did have the owner's son as a guide for our tour, and he made us feel like family. They even treated us lunch on their private motu (island), so it was a bonus all around. The highlight was swimming with rays and sharks which had us all smiling ear-to-ear super thrilling.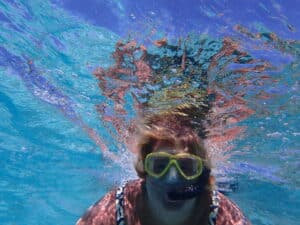 After 4 days on Moorea, another quick ferry ride back to Tahiti and a quick inter-island flight, with Tahiti Legends assisting along the way, we arrived to end and start the year in Rangiroa! OMG! Known for it's amazing sea life and dive spots – nothing prepared us for this. It's an abundance of reefs, sea life, and colors, oh the colors! Rangiroa is one of the world's largest atolls – so not even an island. One of the major highlights, was drift snorkeling and wandering around with dolphins as we ended the year.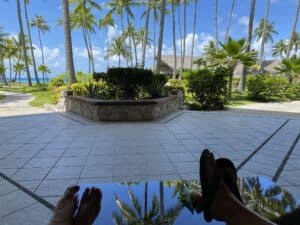 Staying at the Hotel Kia Ora Resort and Spa was like visiting friends. The staff is super welcoming and friendly, like they've known you forever. The views were just out of this world. There was a moment while in the hot tub, where a thought came to me that the place was sold out? I looked around the tranquility then back out at the sharks for hours on end where it was just us and the ocean.
After the new year began and a quick flight back to Papeete, Tahiti Legends was there again, and they made everything amazing. We did the Unique Tahiti Tour and learned more about the island, surfing spots, the Olympics locations, waterfalls, black sand beaches and a few other things before taking the sad, overnight flight back home. French Polynesia hasn't seen the last of me though, and I'm now bumping Bora Bora to next on my list.
Contact me to make you feel like a rockstar with your own journey to French Polynesia.