Happiness and Food in French Polynesia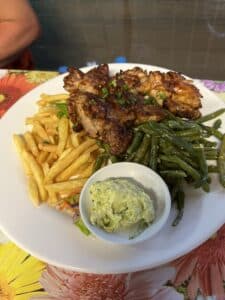 I felt like a Holiday Rockstar in French Polynesia. The food was so amazing that I needed to take a moment to sing a few praises about the foods I experienced. The first thing to note is that this is French Polynesia, so French cuisine is abundant. Since our driver from the airport told us where to get breakfast at the ferry terminal, we would be amiss if we didn't go with his recommendations. Those in my group ate chocolate croissants and omelets before heading to Moorea. The first bite of that croissant had me looking around in awe. Was I still on earth? It was soft, but not spongy, flaky, but not crispy, buttery, chocolaty perfection. Spoiler alert: I had another on the way home. This also set my expectations high for the foods I would experience and I was not disappointed! Hands down, the best meal I ate was the steak and fries at the food truck next to the Manava. Now you might be thinking, 'steak and fries? Really?!' Allow me to explain… first of all, the requirements are different for food trucks out there than here in the states, which means, most locals do food trucks. So, if you are wanting to experience the real food of the locals, you gotta get yourself to a food truck. They have a way of utilizing sauces with butters and herbs, and of course, they only use the most amazing stuff. It's basically French Polynesia with a twist, but it's really all about the sauces!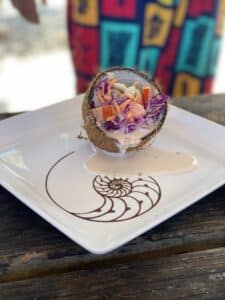 I recommend everyone in your party getting a different sauce so you can try them all. Oh, and you gotta go family style because what you are tasting will send you through a whirlwind of senses that will awaken all your tastebuds! The Poisson Cru (the national dish of Tahiti, which literally means "raw fish" in French) was phenomenal. It was especially good at the place across the street from the hotel, with sashimi melting in your mouth. Pictured is the family recipe gifted to us by Captain Tiana's during our Motu picnic-absolutely unforgettable!
Moorea has the largest population of Tahitian Queen pineapples and it's all thanks to the regenerative farming they have in place. The ATV tour tells you all about the fascinating life cycle of the pineapples. Every 7 years, they clear it out to rehabilitate it. If a pineapple is past its prime, they use it for preserves, or they mix it in with the vanillas and honey—just unbelievable! The sweetness of them was oh-so-good!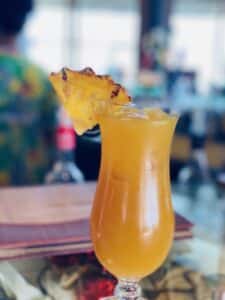 The last 3 days we spent at the Hotel Kia Ora Resort & Spa was through New Year's, which meant festivities. Festivities meant a massive array of fish! There was a buffet of every kind of specialty you can imagine, including pastries and drinks. I didn't get to take as many photos of the display as I wanted (didn't want to hold up the line), but it was a work of art they put into this thing!
Don't laugh, but I did stop at a McDonald's before I came back. If you travel frequently, you understand why; if you don't, then something to catalog for a future trip is that outside of the U.S., McDonald's are "a thing!" Different countries and places add their own flair, and French Polynesia was no exception. They had café au laits, chocolate croissants, croque monsieurs, and while they didn't have chicken nuggets, instead they had Korean-styled chicken wings! It was a fun little snack!
Let me help you bring out your inner foodie as you journey across French Polynesia and discover their hidden gems and food tours.