We had concerns about what problems we might encounter on our trip to Iceland given all the flight cancellations and delays that have been occurring this summer. However, gratefully we had no issues – our two flight segments on Delta, LAX to NY and then on to Keflavik, Iceland both left and arrived on time. The biggest hassle was the mob scene at LAX and checking in luggage. We flew premium economy and the seats were decent, provided enough legroom, there was one meal and plenty of snacks distributed. We had lunch at LAX pre-flight and some dinner at JFK on our layover, so it worked out well; we slept and skipped the onboard meal.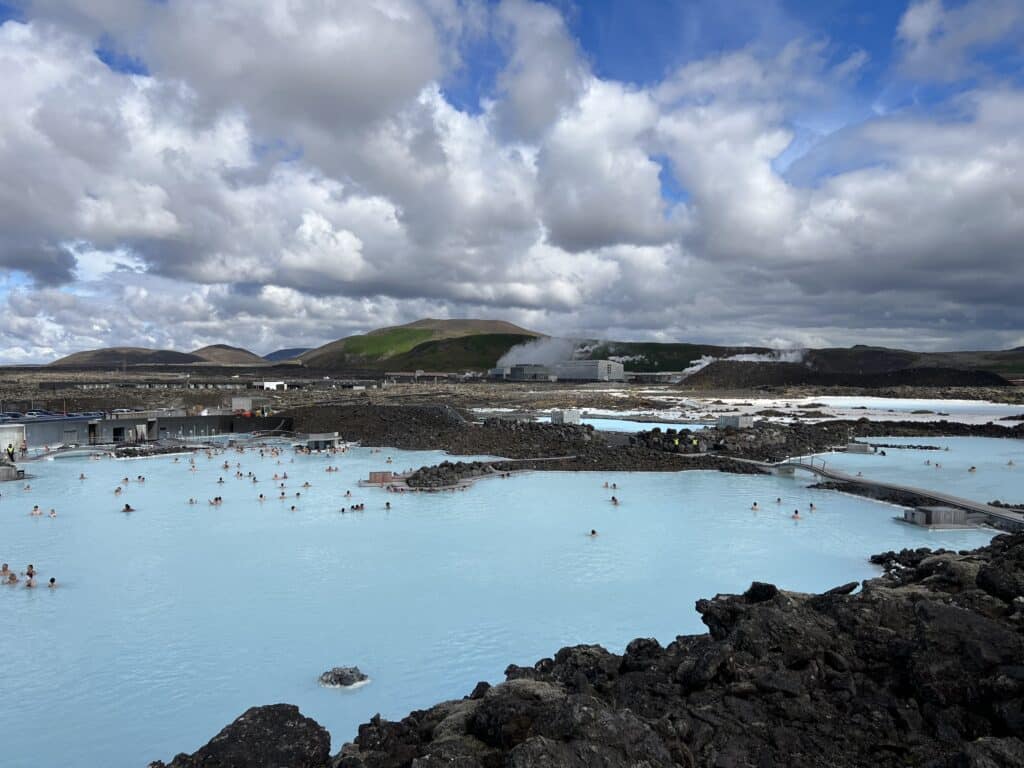 When you visit Paris for the first time, the Eiffel Tower is de rigeur, in Bilbao it's the Guggenheim, and in London it might be Big Ben. In Iceland it's The Blue Lagoon. While there are other geothermal pool options, including the newer Sky Lagoon, the Blue Lagoon is the granddaddy of them all and the largest. There's also the luxury addition of The Retreat next door.
Because the lagoon is much closer to the airport (15 minutes) than the city center (45 minutes), it's easy to visit here right after arriving or just prior to flying out.  There are various bus options that operate pretty much on the hour, both to or from the Lagoon and to or from the city center or Keflavik airport.
If you don't arrange a private car transfer and take the various shuttle bus options (which are far less expensive), just note that the shuttles generally take you to a city bus terminal, where you transfer to another coach that takes you to a city bus stop from which you'll walk to your hotel nearby.  Depending on weather and fitness, and how much luggage you have, this may or may not be to your liking.
I had been to The Blue Lagoon once before, in wintertime, and it was a memorable and wonderful experience. The Retreat had not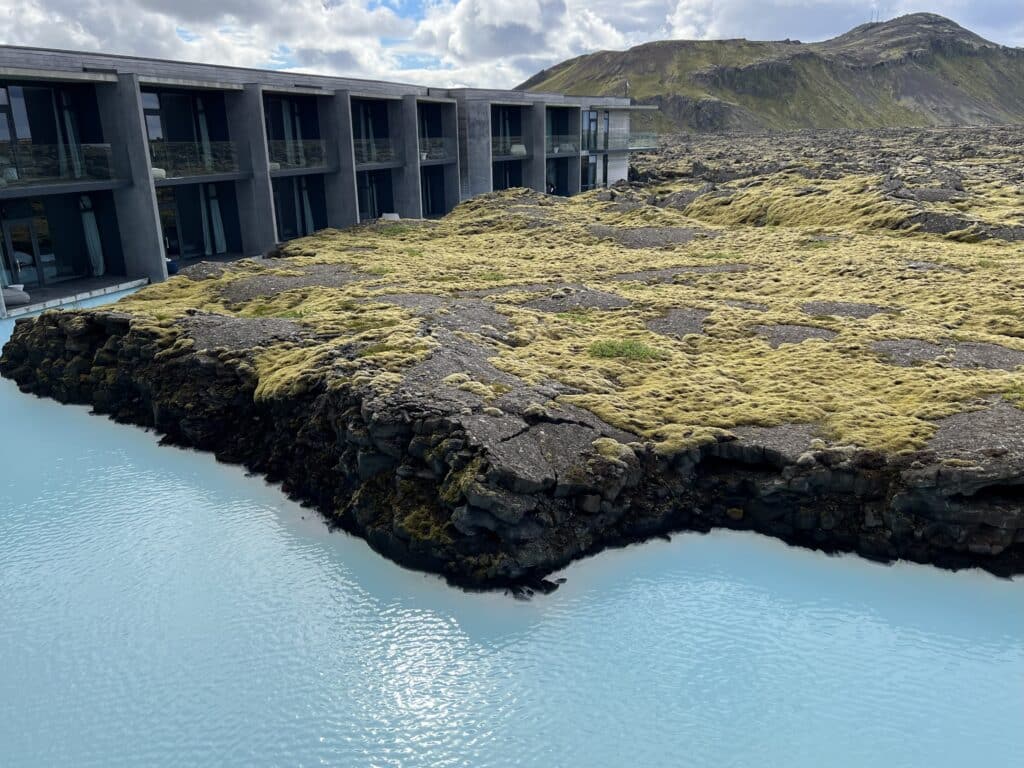 yet opened. This trip we booked a 5-hour pass at The Retreat, quite a step-up and a far more exclusive experience.  We had a private changing room where we could store our luggage, change and take showers (two showers per changing room). The Retreat has its own pool areas, and while there were hundreds at the main Blue Lagoon pool (which is huge), there were maybe two dozen or so at The Retreat during our visit.
We had lunch at The Spa restaurant within The Retreat, and the food was fresh and delicious. (There are three dining venues here.) Included at The Retreat is The Ritual, a skin cleansing regimen that includes lava and sea salt body scrub, followed by two other silica treatments and finally some scented oils.
Following a 12-hour journey, we felt revitalized and refreshed after our visit here. This is a wonderful way to re-energize after a long flight! The Retreat is also a 5-star hotel for those with more time and wanting to indulge all the more at a spa and be removed from the world (and no TVs in the room).  The Blue Lagoon also has a 4-star hotel nearby, about a 10-minute walk away.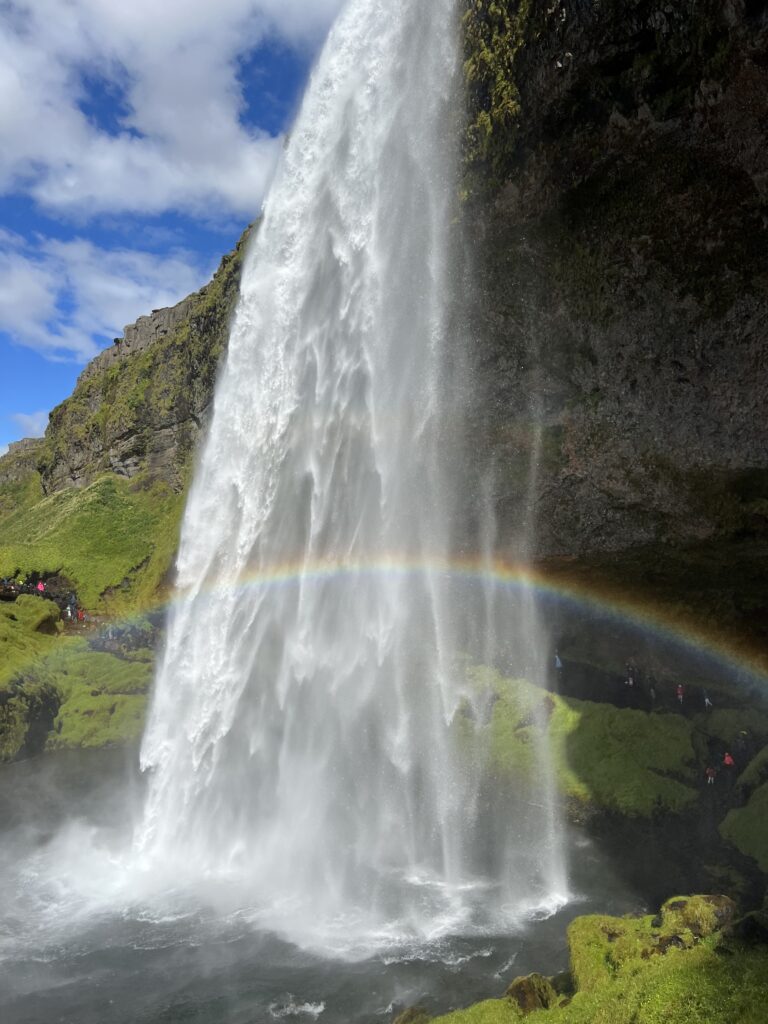 Tourism to Iceland exploded pre-pandemic, and is slowly coming back.  As a result of this growth many new hotels were built. Ten years ago there were few 5-star accommodations, while today there are far more choices. At the top of the 5-star list in Reykjavik would be The Edition, at which we offer exclusive amenities.  In the 4-star range there are many more options.  Hilton has three hotels; we chose to stay at the Konsulat, a Curio hotel, a boutique property that's well situated and near the old harbor and Harpa Hall, and close to art museums. Rooms were quite adequate though the property is a bit dated. Other options here include the Apotek (with an exceptional restaurant of the same name, reservations required), Radisson Blue and the Borg, all at higher price points. The Foss Hotels are a popular brand, too. The main tourist/museum/shopping area of Reykjavik is all pretty much within walking distance.
For those staying here, you'll generally book day trips to see a bit of the spectacular countryside – that's why you come to Iceland, after all. The most popular day tour is the Golden Circle, followed by the South Coast tour (and this waterfall you can walk behind). Beyond these, there's driving on a glacier, visiting ice caves and more to consider. A visit to experience Iceland's wonderful horses is also worthwhile. For the active, there are plenty of options from trips by ATVs,  horseback riding, hiking and trekking.
The entire country has a population of about 370,000, with some 2/3rds living in the Reykjavik vicinity. The capital is charming with its colorful wooden houses and laid-back feel. The country is also respectful and inclusive of everyone — Pride Week was being celebrated. I was glad to see the music store I visited some years ago still there, where with an espresso in hand I could hang out and listen to Icelandic bands. I've been fascinated with how such a relatively small island has inspired the creative output of a Bjork, Sigur Ros and Jonsi, Olafur Arnalds and others. The city has become more touristy, not surprising given the growth the country has seen in international visitors since the Eyjafjallajökull eruption of 2010.