Ireland – Two Countries, One Big Welcome
Ireland has a long and rich history.  On my recent trip we discovered much of that as well as the signature welcome the Irish have for visitors.  My American accent brought thanks from locals who were glad tourists were returning.  Our ten-day trip to both north and south has so many wonderful memories of discovery and the signature warm Irish hospitality.  It was almost like coming home.
We started our trip in cosmopolitan Dublin at the beautiful 5- Star Westbury Hotel, very centrally located near St. Stephens Green. The hotel has the legendary Sidecar Bar which should not be missed.  Outside, we did a 3-hour escorted walking tour. If we had done this on our own we would have missed so much.  Included were historic churches and the historic Trinity College Library and the Book of Kells.  We also had free time to explore on our own, touristic areas like Temple Bar but also delightful hidden areas we just wandered into.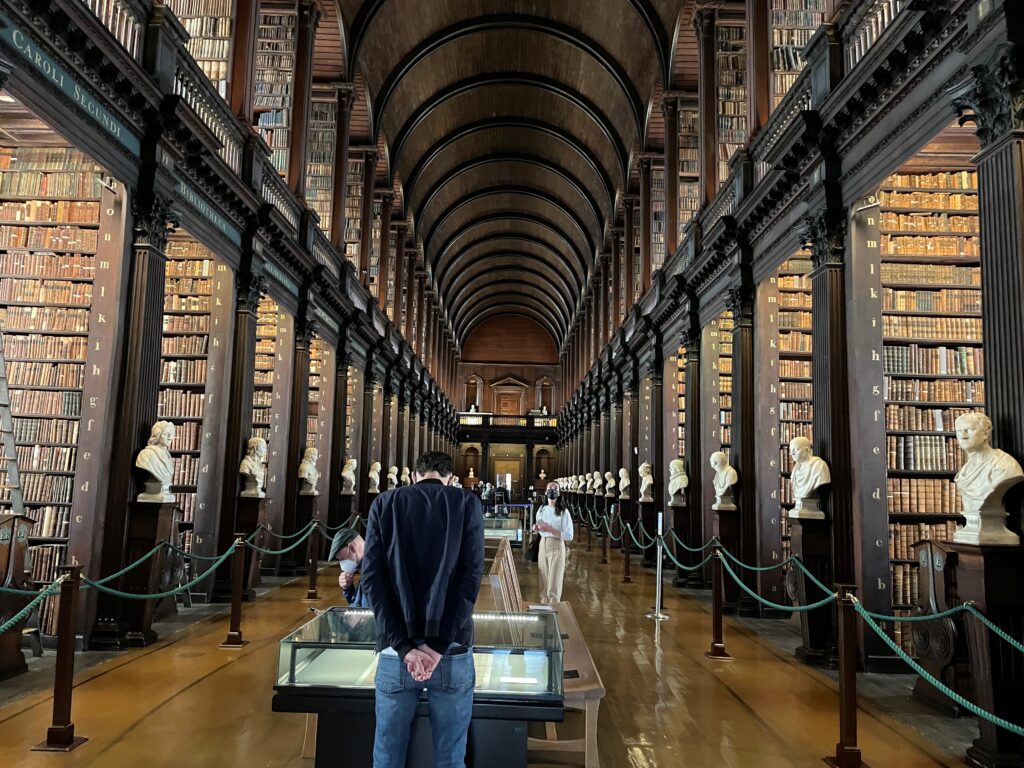 After some time in Dublin, we met up with Pat, our driver/guide who would be with us for the next several days.  We headed back in time to County Donegal via the historic island town Enniskillen. Our destination was Lough Eske Castle along the Wild Atlantic Way with stunning scenery everywhere you look.  The castle itself reopened in 2007 and was expanded with a modern wing. Here we had our first of two exclusive whisky tastings, diving into one of Ireland's most famous exports. We had time to explore the extensive grounds and do a day trip to explore more of the Wild Atlantic Way. This included Slieve League, the grey mountain cliffs situated on the west coast of Donegal.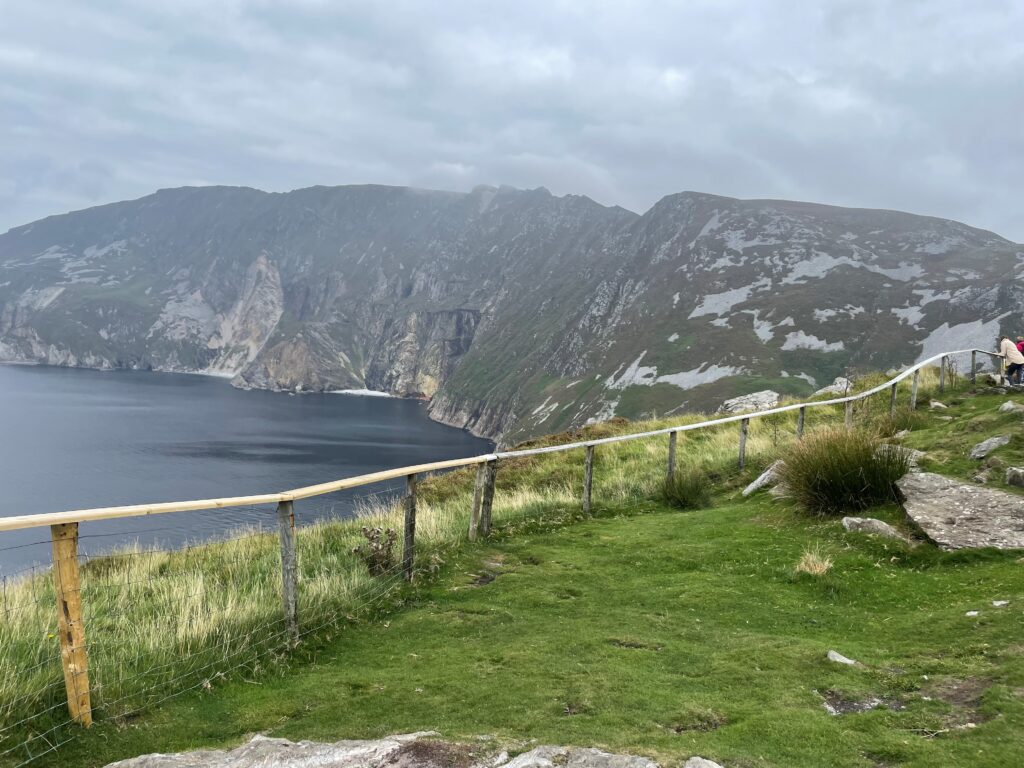 Ireland can be explored in many ways. With four of us, an experienced driver guide was ideal.  Besides his deep and extensive knowledge, he took care of everything from navigation, dining suggestions, taking into account our desires, preferred schedule and making everything door to door service.  It made for a hassle free journey in our handsome Mercedes Sprinter.  We were catered to in every way.
From an ancient castle we headed across the almost invisible border via historic Derry to Belfast and one of its newest 5-Star hotels, the Park Central.  Once a 23-story office building, it is now a grand hotel featuring some of the largest rooms in Ireland.  My room on the 14th Floor had two king beds in it with plenty of space left over.  The 23rd floor cocktail bar was perfect for pre-dinner drinks and hors d'oeuvres.
Before that we did afternoon touring with a 2-hour escorted walking tour.  The City Hall has an outdoor Titanic Memorial with a list of all those who perished (the Titanic was built  here).  We also discovered The Great Room, one of the finest dining venues outside of Paris.  Now part of the Hastings Hotel, the Victorian venue was built as a bank and served one of the best meals we had on the trip.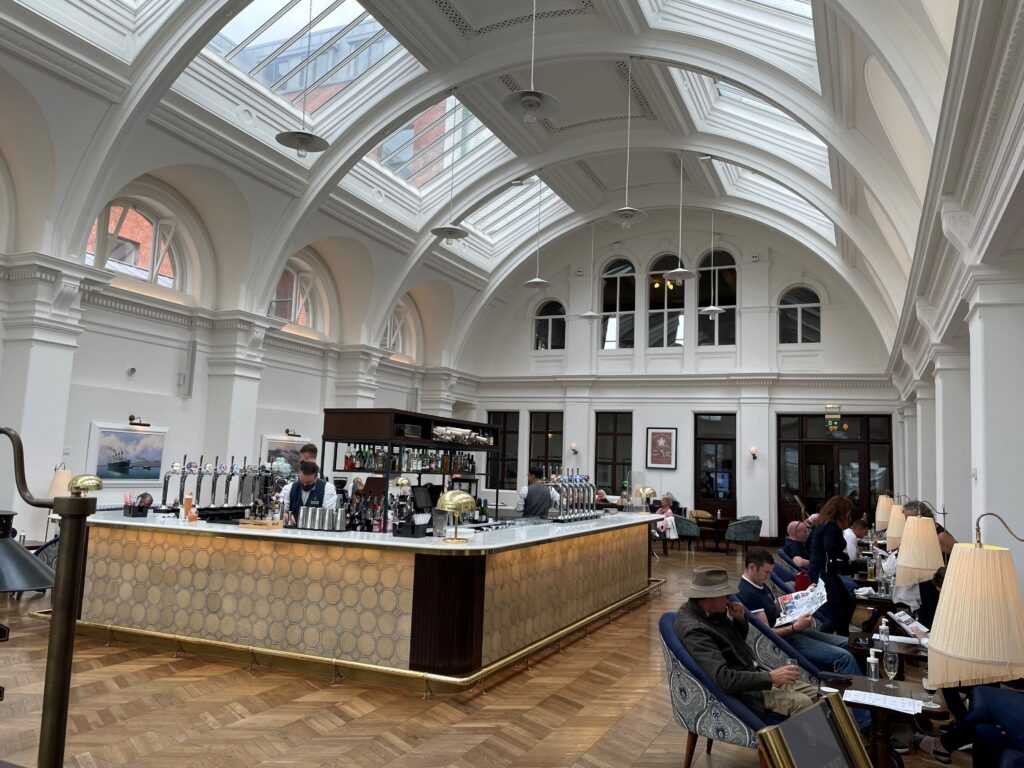 Of course, with "The Troubles" behind them now, Belfast has quickly grown bigger and stronger, particularly the Titanic Quarter with the impressive Titanic Belfast Museum. Recently added is the nearby Titanic Hotel which has kept many historic elements of its former purpose. An elegant bar used to be where the designers of Titanic did there work before she was launched.  The city itself is vibrant and full of life.  This was a gritty industrial town that reinvented itself after so many years in the shadows.  No trip to Ireland is complete without a visit to the north.
That view was reinforced with our day trip further north along an amazing scenic coastal roadway to the World Heritage Giant's Causeway natural formations — well worth the stop.  We also saw the ruins of Dunluce Castle, from the 13th century, built just a bit too close to the sea.
Our journey then turned back south with a stop at Newgrange, the megalithic passage tombs dating circa 3,200 BC, older than the pyramids of Egypt. We then headed for our final overnights at historic Kilkea Castle in County Kildare, built in the 12th century and recently restored after many years of neglect. We had rooms in the original castle building.  We had time for our second exclusive whisky tasting and also to explore the 180 acres surrounding the castle.  In 81-degree sunny weather, we reveled in warmth and majesty of such a place and we did not want to leave.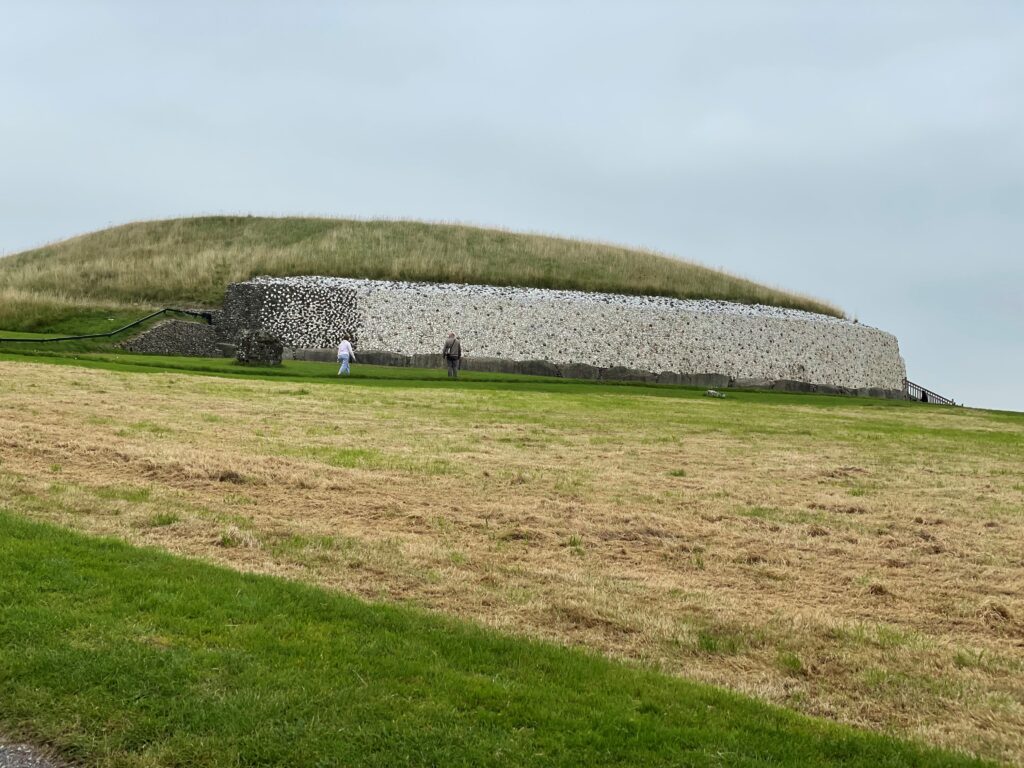 Some of us stayed on castle grounds, but others elected to do the final day trip to Glendalough along a scenic hilly drive to see a 6th century monastery founded by St. Kelvin. There is also an 11th century church. This area is significant in the history of Ireland, a major pilgrimage route of the time. The significant and still standing round stone tower is about 108 feet tall and about 1,000 years old.
That afternoon we took our driver/guide Pat to lunch and said good bye.  The next morning we were on our way to Dublin Airport for our trip home.
There is so much going for Ireland, even with Covid still with us.  Masks indoors, most restaurants and bars asking for vaccine certificates and other precautions did not take away from the pleasure of one of the world's most welcoming countries.  With English the language, close ties to the US and being not as far as Continental Europe, Ireland is a satisfying and pleasurable adventure for anyone who wants to explore in comfort.
Let me show you the way as an Ireland Specialist.