Storybook Adventures in Canada: Part I
Many months ago, I had the pleasure of a sightseeing adventure in Canada. My trip had the descriptive title, "Classic Polar Bears." The goal, as described in that title, was to see the magnificent polar bears when they begin their annual migratory movements to cross the ice-covered Hudson Bay. This trip is only offered for a limited time each year due to the influences of nature. (The freezing-over of ice to cover Hudson Bay!)
I took a trip to the town of Churchill, located in the north end of Canada's Manitoba province. Churchill is a very small and remote community that happens to be located in the heart of polar bear country and in the bears' path as they move to the ice-covered feeding areas of the Arctic Ocean. Churchill is located in a unique position; the bears gather in the area as they wait for the Hudson Bay to freeze over with sea ice so that they may continue their migration to the open ice-covered seas to feed on seals. This natural occurrence is the reason that there are so many bears in the Churchill area only during the months of October and November.
This opportunity to see the polar bears is greatly increased as the animals gather in large numbers but in a small area. The sea ice has not yet formed sufficiently to allow the bears to continue, so they are basically in a holding pattern until conditions allow them to move on. This is the unique setting and conditions that allow for my tour operator to offer such an adventure.
Fortunately, my trip had excellent results, as I saw many polar bears, up-close and in their natural environment. I got as close as about four feet while a large female bear approached our vehicle and stood on her hind legs. Our tour guide told everyone to back away, in caution, should the bear decide to take a swipe at me and my fellow tourists that gawked in awe. This animal sniffed at us and seemed to study us, as we, too, studied her. To look into the eyes of this animal was a moment that I will always remember. Oh, how I wish that I could have reached out and hugged this creature. Still, the up-close sight of this animal was amazing.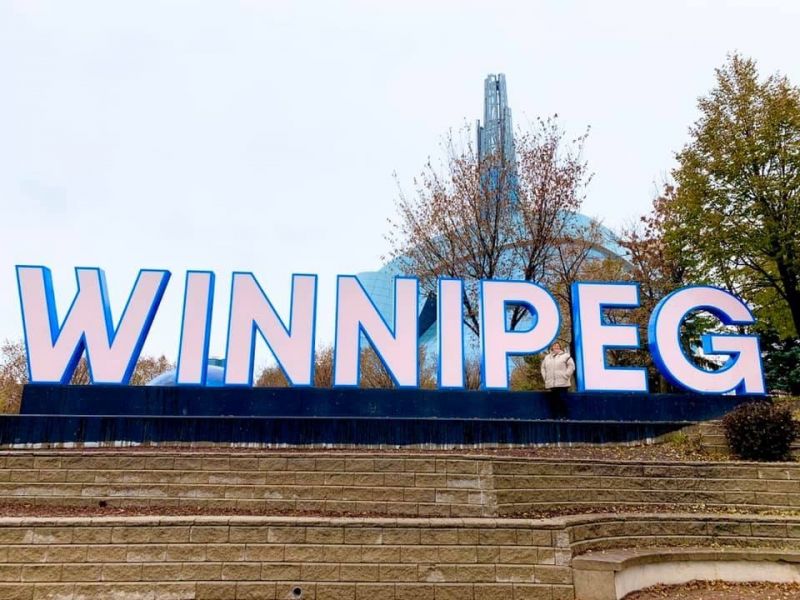 I did the next best thing: take a picture! I captured the moment, and I relive the encounter whenever I view this photo. This contact with such a wild, dangerous, yet beautiful bear should be respected due to the potential for danger.
My trip began with a flight to Winnipeg, Canada. I arrived a day early to adjust to the colder climate. I had a leisurely day in Winnipeg and was able to take in some of the local culture. (And there's an interesting fact that I learned about Winnie-the-Pooh: there was a real bear from the local area that later become the friend of Christopher Robin as told in the famous books.)
To assist with the cold climate, our tour operator outfitted me with arctic gear of heavy parka coats with hoods and insulated boots. This clothing is rated for sub-zero temperatures, and they were, indeed, welcome. Everyone on the tour utilized this gear when we went out on the tundra. After receiving our gear, my fellow travelers and I were given a briefing on what to expect on our journey. We had one last night in the big city of Winnipeg that included a group dinner and a chance to meet everyone since the tour is limited to just 16 people. The next morning, we took a charter flight to the remote town of Churchill. It should be noted that Churchill can only be accessed by flight or a 44-hour train ride. We chose the air route and took a 2.5-hour flight.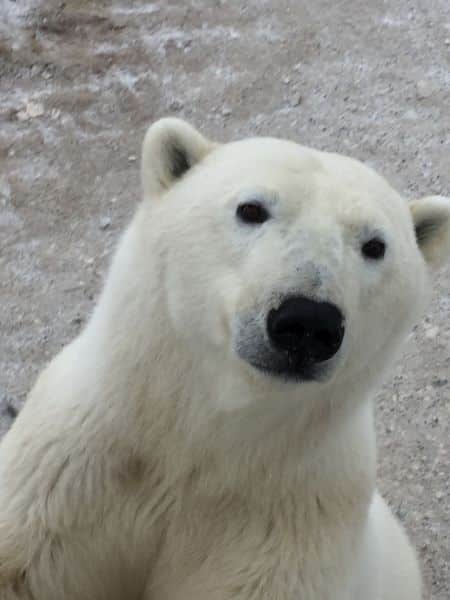 There was definitely a change in environment as we landed in Churchill, which has a local population of about 800 people that live right on the coastal edge of Hudson Bay. We took a short five-minute shuttle ride to our accommodations at the Churchill Inn, which was basic yet modern. It had wi-fi and individual temperature controls in each room. More so, the staff was charming and welcoming. Mornings were greeted with a buffet of traditional breakfast foods.
Our tour operator had large and enclosed vehicles, "rovers," that resemble school buses on monster truck-type tires. These vehicles were able to carry us over dirt trails without getting stuck. We were out in the cold climate each day, and the large interior is warm and welcome. There is an open deck on the back, much like a viewing patio, where you can stand and take in the nature as you travel about. It was on this deck where I had that magical encounter with that beautiful polar bear.
Be on the lookout for the second part of my blog… coming soon! And reach out to me at TravelStore to get your future travel plans underway!