Storybook Adventures in Canada: Part II
Our rover was driven through this part of Canada by a local celebrity known as Bill. Bill also happens to the on-air broadcaster for the local radio station. Bill was accompanied by our tour guide, Theresa, who kept us informed about the bears and explained the actions as we witnessed the bears' movements. While Theresa provided facts and contributed to our education, Bill drove the rover and positioned it for the best viewing of the bears. Bill also prepared our lunches and snacks as we were out in field for about eight hours each day. Basically, we were on the move from sunrise to sunset.
I was able to see about 10 to 15 bears each day. On the second day, a female bear approached our rover as we were stopped on the trail. This bear walked around the rover, stopping often to look up at the tourists that were snapping photos. The air was quiet as everyone lowered the windows or moved to the viewing deck. The bear sniffed the rover as she examined us. She moved to rear of the vehicle and looked at me from the ground. She moved a short distance away and again began sniffing with a raised head and nose. Then, she suddenly returned to the back of the rover and rose on her hind legs as she sniffed. I looked into her eyes as her breath was visible in the cold air. I was grateful to have been put in the position to see these animals in their natural environment and take in the setting.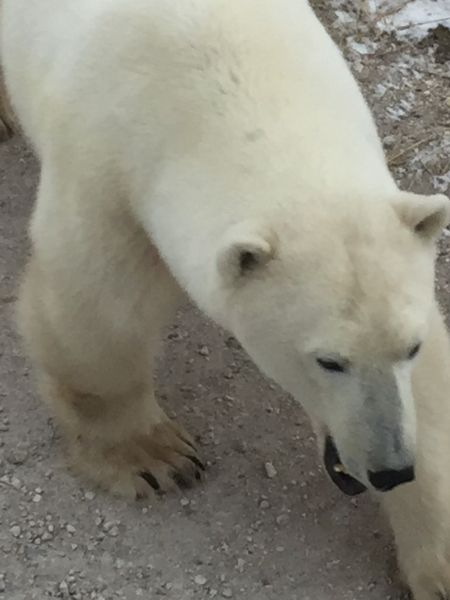 On my last night, we were having a group dinner when we informed that the Northern Lights were just starting to become visible. I was aware of what this information meant and joined the others as we ran for the motor coach. We were driven to the edge of town, down by the bay, away from the outdoor lights of the town. In the darkness, we witnessed a magnificent natural light show in the northern skies. The light storm lasted about 30 minutes as the green glow slowly faded and the sky returned to black darkness.
Of course, I learned many interesting details about the area, such as how the locals survive the Canadian winters with sled dogs and snowmobiles and how the idea of climate warming has great impact on these animals and what it means to the arctic environment.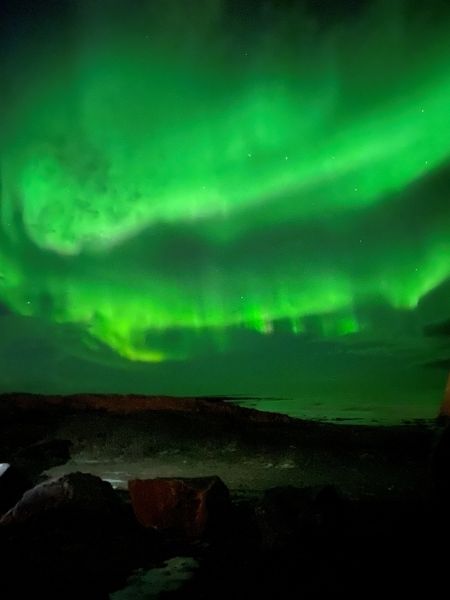 If this description of my trip has your interest, please give me a call. Be aware that space for such a trip is extremely limited due to the timing and conditions that are in the hands of Mother Nature. It is exciting to witness these animals in their natural environment and is a trip where lifelong memories are made. When you are ready to travel, reach out to me at TravelStore!