The New Hotel Xcaret Arte in Quintana Roo
It's always touchy to talk about luxury travel because it means different things to different people. Before reviewing the new Xcaret Hotel Arte in Quintana Roo, a few thoughts come to mind.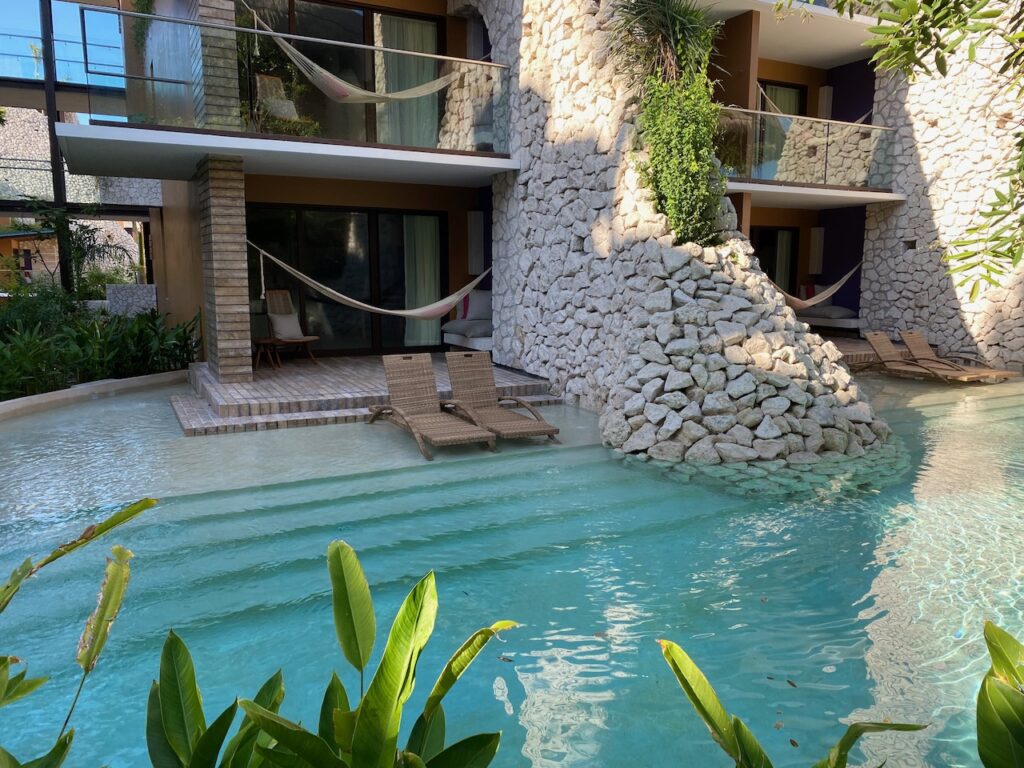 It wasn't all that long ago – let's go back 30 years — that "Mexico" and "luxury" did not really fit together very well for US travelers.  Mexico was neither known for fine service nor gourmet cuisine. Quite the contrary, travel to Mexico always seemed to be accompanied by dire warnings to beware of Montezuma's revenge.  We – and Mexico – have come a long way since those days! Today, Mexican cuisine is considered among the most sophisticated in the world.
In the 1990's it was perhaps the Ritz Carlton opening in Cancun and the Four Seasons opening in Punta Mita that in some ways changed the dynamic and began the explosion of well-established luxury hotel brands taking a foothold in Mexico and elevating the travel experience to the luxury level, with a promise of good food, good service and luxurious accommodations.
The ever popular all-inclusive vacation concept has also evolved.  Years ago this appeal was largely focused around less pricey vacations.  Today, of course, there are many all-inclusives, including five-star resorts offering incredible diverse offerings with more value, comfort and convenience than ever before.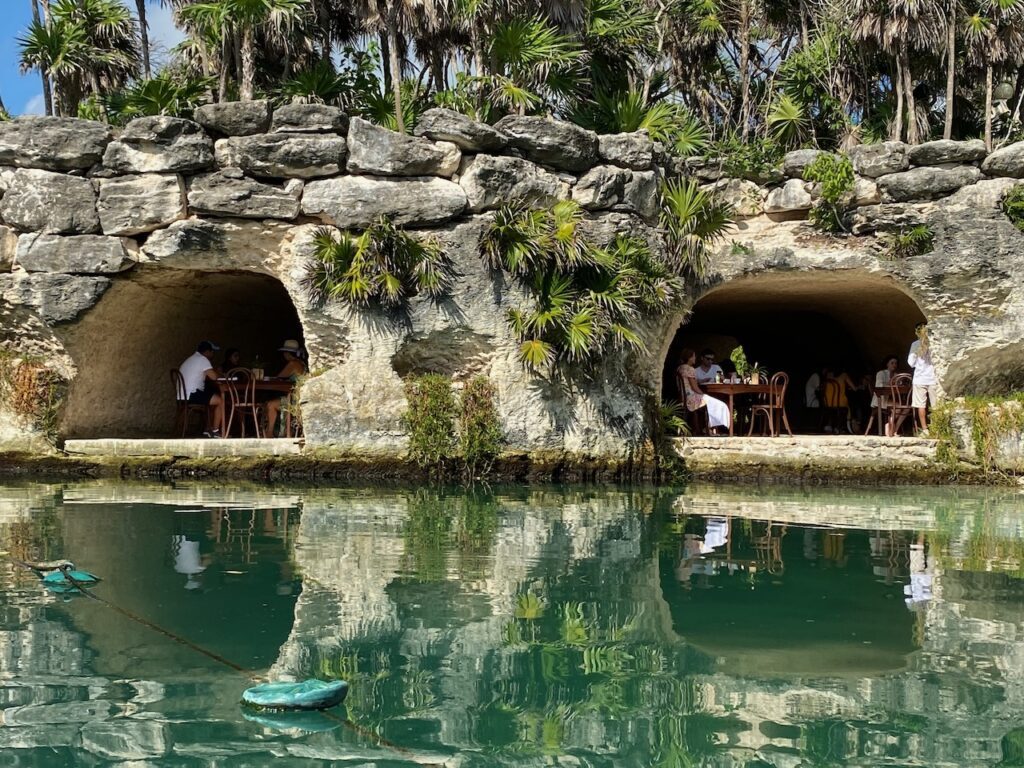 Now the newest all-inclusive luxury resort just opened on the Riviera Maya, Hotel Xcaret Arte (pronounced "esh-ka-ret"). An hour's drive south of Cancun International Airport, the Xcaret development is unique because it not only includes resorts, but also six eco-friendly theme parks, Xcaret by Mexico! featuring its fabulous nightly stage show, Xel-Ha, Xplor, Xplor Fuego, Xenses and Xenotes and Xoximilco. Miguel Quintana, who owns the land, built his house here and developed the theme parks, and opening his first all-inclusive resort here, the 900-room Hotel Xcaret Mexico designed for families.
With the opening in July, 2021 of the new Hotel Xcaret Arte, a 900-room sister property, there's now an adults-only resort (age 16 and above) offering an elevated experience to that of Hotel Xcaret Mexico. While the property is large, there are 20 pools, three of them rooftop infinity pools, and a winding natural river with lots of areas where couples can find solace on soft sandy alcoves amid the white limestone. Many of the first floor rooms are swim up rooms, while some along the natural river have jump off balcony platforms and pool ladders.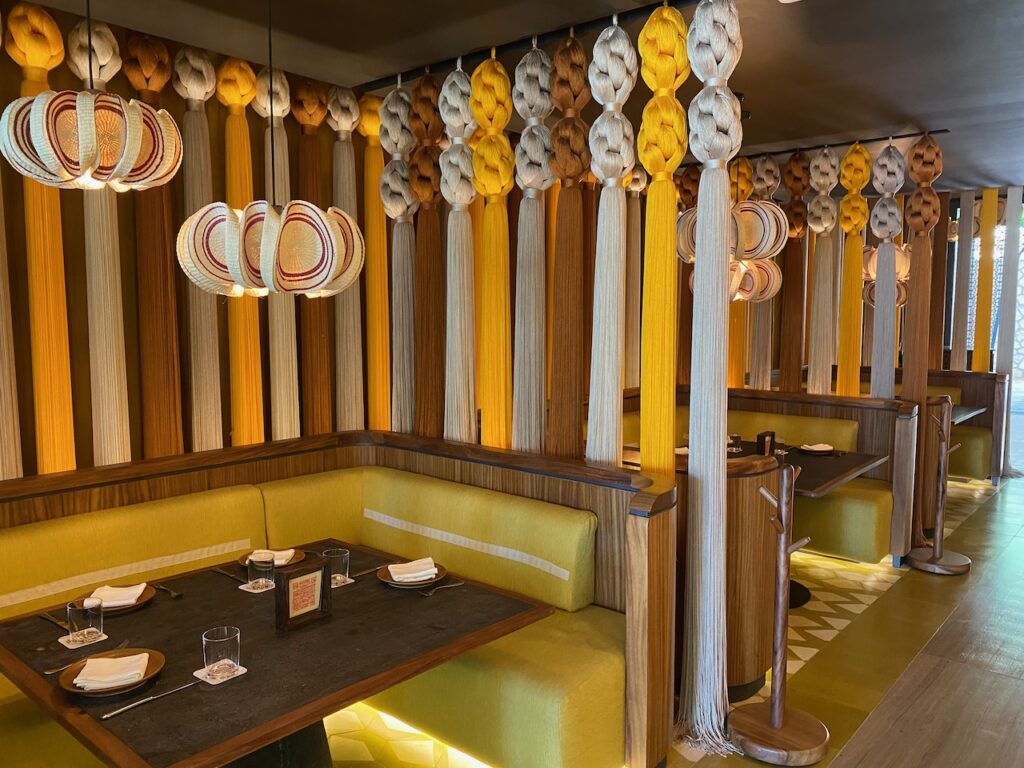 Accommodations are in six, five-story buildings, each with its own pool areas and unique theme. The hotel lives up to its name with design details and quality of workmanship that are stunning and noteworthy throughout, as is the jungle landscaping. The jacuzzi bathtub provided all the power you'd want for an in-room hydro-therapy session. The rain shower was perfect and the robes light but plush and comfortable for the climate. The honey-infused Muluk toiletries smell so fine you literally just want to drink the shampoo. The beds and bedding are luxurious, though my one complaint was the very thick pillows were comfortable for leaning against while reading but too thick to sleep comfortably on. (A softer pillow was in the closet – no problem.) The custom-designed furniture was creative and novel with attractively embroidered couch cushions and beautiful embroidered art on the wall–well designed, comfortable and tastefully done. Of course, there's a fridge with refreshments, a coffee machine, Mexican candies and snacks to savor with a cuppa.
Each room has a rope hammock on the balcony, and I never felt so relaxed as when I was lying in my hammock.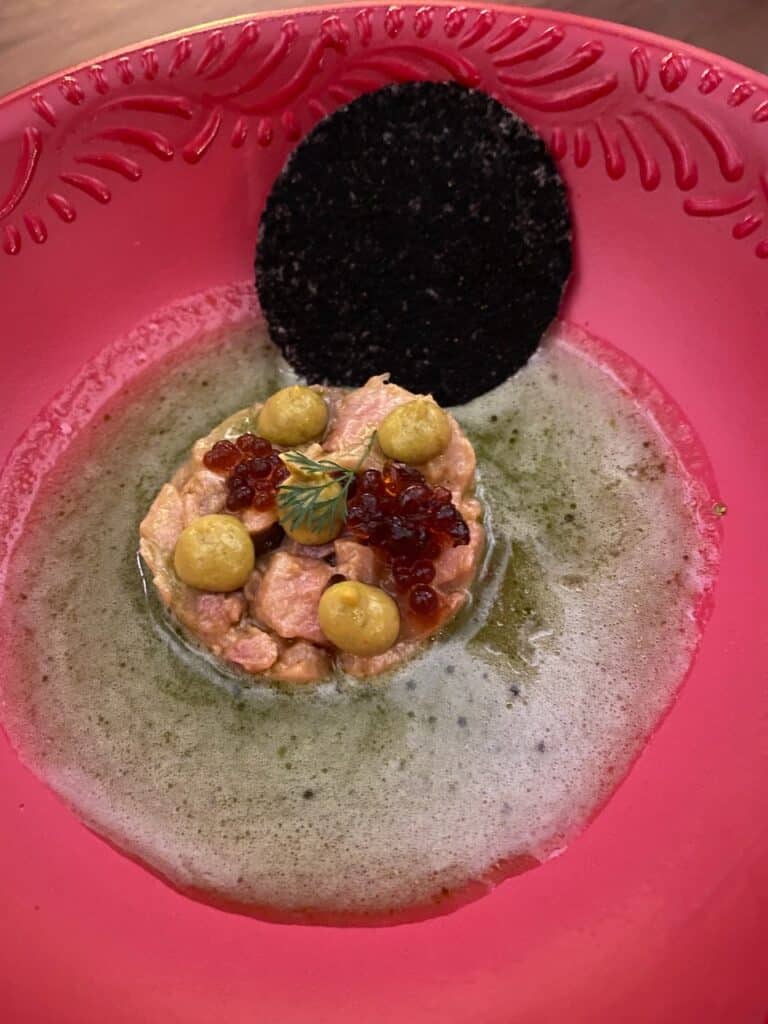 The one challenge in the room was the TV system, a new Apple-based touch-sensitive control that everyone seemed challenged using. Premium channels accessible include Netflix, Amazon Prime and Disney, and certainly there's useful information on the property and its restaurant and activities, but there needs to be a better way to help guests with the remote.
Throughout the public spaces the seating, tables, lampshades and wall art were all pleasing and noteworthy and in keeping with the theme of each building. It's wonderful to see to what extent the owners employed local craftspeople in creating this beautiful resort. The use of woods beautiful. Even the tile work and attention to detail in some of the public restrooms is beautiful.
One of the unique features of this all-inclusive is the included roundtrip airport transport and unlimited access to the six theme parks. Excursions to Tulum and Copa are also included. But there is so much wonderment on property, you can easily spend a week here with plenty to do and not leave the grounds; it was a joy to just wander about and come upon a limestone tunnel, walk across swinging bridges, find waterfalls and enjoy the jungle flora.
Also included are complimentary workshops on pottery, embroidery, weaving, dance, literature and watercolor painting (for those staying in Casa de los Artistas, which is the slightly more exclusive beach-front building). There's complimentary kayaking and paddleboarding. The one activity they seem to be missing is hands-on cooking classes, but it might very well be the case this is on the agenda once we are past the pandemic. (They do have plans to offer vegan cooking classes in future.)
And what about the beach? No seaweed here!  You can walk along the soft sandy beach into crystal-clear water and enjoy a refreshing swim and no seaweed in sight.  The beach alone may be worth picking this resort over a few other choices along this seaboard. (Hopefully more seating and umbrellas will be added shortly, as these were in short supply on the beach.)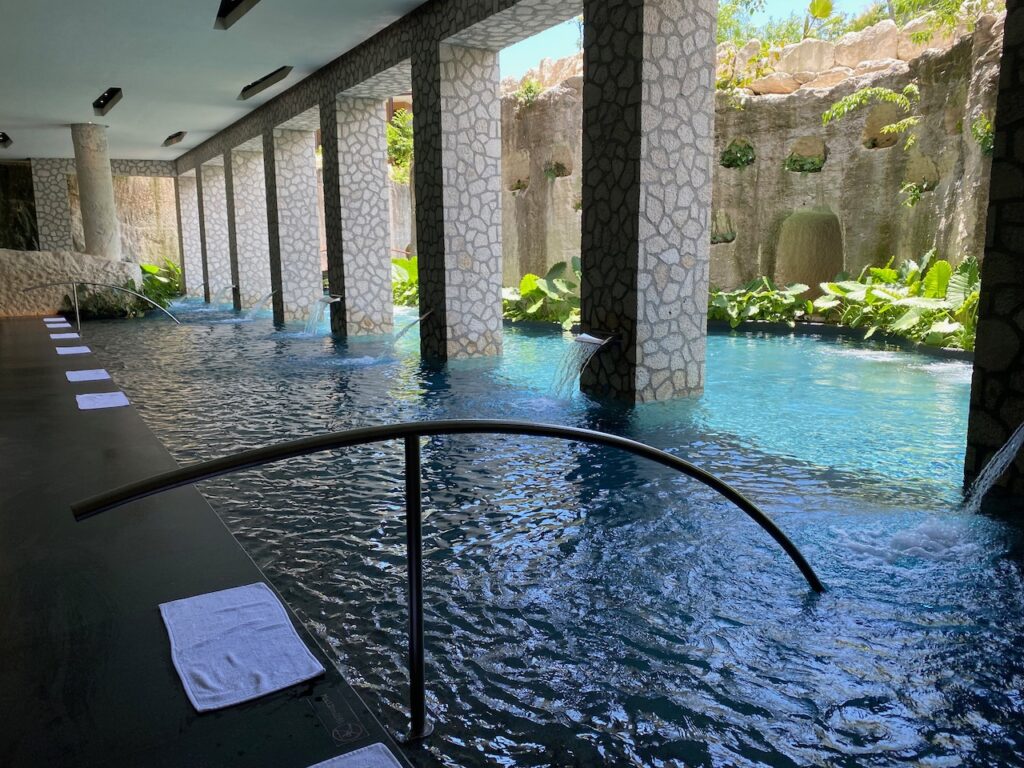 While Hotel Xcaret Arte and Xcaret Mexico are next to each other, they are separated by landscaped jungle, a large limestone pyramid on which there's a lovely chapel and a rock promontory that blocks the view of the beach around the bend.  The Hotel Xcaret Arte beach area is quite private and you don't see or hear the beach next door.
The Muluk Spa offers an elevated experience including the Mystic Sanctuary, where guests are guided in creating their own unique oil used in their treatment and based on their need. The spa is carved from white limestone and features a hydrotherapy circuit among limestone caverns. Even the custom designed lockers are perfect, with a separate shoe cubby to keep your shoes separate from your clothes. The rooftop here offers aerial yoga.
The large gym offers everything a fitness junkie could want; a smaller more exclusive gym is also located for those guests staying at Casa de los Artistas. And there's an outdoor fitness course through the jungle.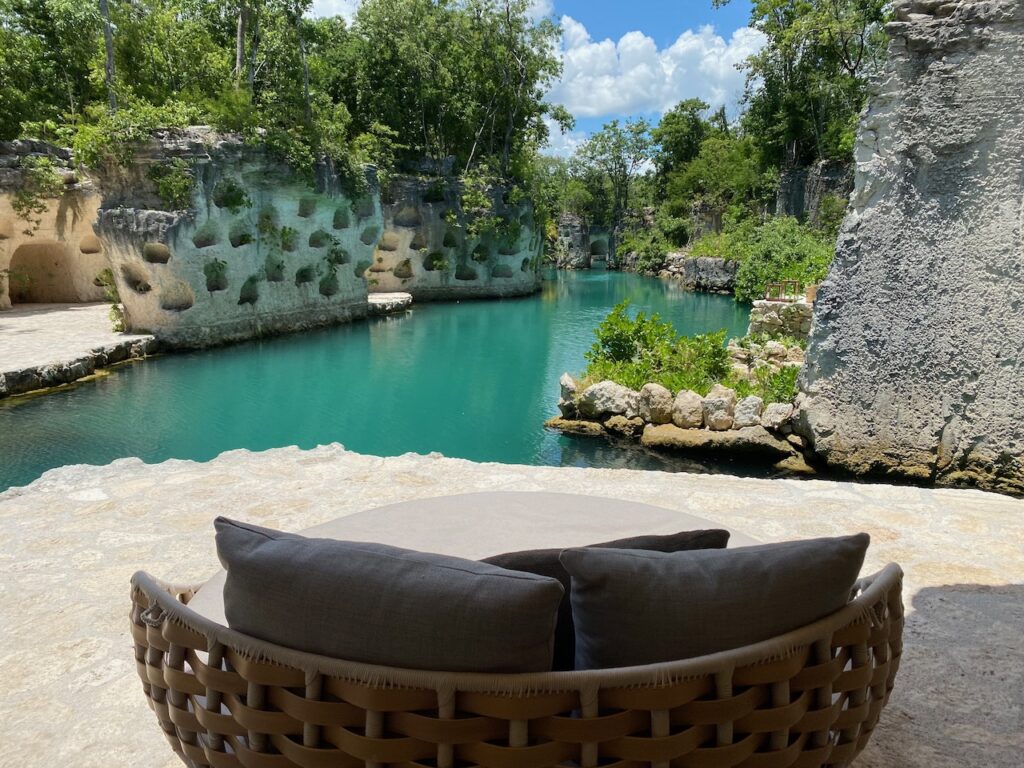 Foodies will delight in Hotel Xcaret Arte's delectable offerings in its nine restaurants, two helmed by Michelin star chefs. There's even a vegan venue built into the limestone caves.  Breakfast and lunches are mostly assisted buffet set-ups with excellent choices, and sit-down dinners include tasting menus offering delectable experiences with the friendly staff happy to explain each artistically-presented dish. There were so many great tastes to recommend here, from the Japanese- and ceviche-inspired seafood dishes, the Mexican version of Peking duck at Chino Poblano, the mole dishes, the short rib tacos and guacamole with crickets at the Cantina, the wonderful pizza and Mexican shrimp pasta with chiles at Cayuco, the Lebanese-inspired dishes at Kibi Kibi, including the fabulous rice pudding, a unique take on a Margarita and the corn ice cream with dark chocolate desert at Encanta which was a fitting end to a multi-course tasting menu from its Michelin star chef.
For a real splurge, make sure your stay includes a Sunday so you can experience the over-the-top Sunday brunch that's attracting guests to the property far and wide. Speaking of tacos, as if all the culinary offerings aren't enough, there's also a speakeasy on property and a great street taco stand nearby open till 4AM. My midnight green chorizo and cheese taco was just the right touch at midnight one perfect evening.
A word about the service!  Throughout our stay all the staff were warm and friendly.  Any guest's dietary requirements are communicated to the restaurants, and the staff didn't miss a beat. Service in the dining venues was on point.  Our instructors for watercolor painting and embroidery were patient and helpful. And while luxury in Mexico isn't unique to Hotel Xcaret Arte, it can certainly be found here, too.
While final touches are being added to the resort, a more exclusive new luxury resort is being completed nearby, La Casa de La Playa, which will feature just 63 suites, each with its own private plunge pool and a nearby new marina as well.  Once the marina is completed the offerings also will provide sailing to Cozumel and perhaps snorkeling trips to the nearby reef offshore.