Take a domestic city super easy to get to, endless attractions, rich history, unrivaled cuisine, a diverse culture, serious nightlife and spectacular places to stay.  Add to that a significant LGBTQ travel conference and you have a perfect formula for both education and enjoyment.
The recent Proud Conference in Brooklyn fulfilled  all of that and more.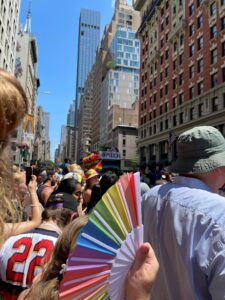 Before the conference I spent a few days at the Inter Continental Barclay in Mid Town Manhattan with a great location and a nice view.  Near by Grand Central Station, Central Park, Columbus Circle, lively Hell's Kitchen and Times Square did not disappoint.  The city is back and celebrations were found everywhere.
Walking is the perfect way to explore the nooks and crannies of this urban setting.  If not,  taxis are not expensive and the famous subway is still easy and quick.  The diversity of restaurants is amazing ,  but I recommend advance reservations just to make it easier.
After a few days Mid Town I moved to The Beekman, a Thompson Hotel in lower Manhattan.  It is historic from a century ago with unique touches.  I discovered a wonderful bagel place just around the corner.
The conference itself was based at the very eco friendly 1 Hotel Brooklyn.  What a fantastic opportunity for a unique commute!  Each morning I got up a bit early and walked to the conference over the famous Brooklyn Bridge.  Now with complete separation of vehicles, bikers and walkers, it was an exciting beginning of the day with dramatic skylines on both sides of the bridge.
The three day PROUD LGTBQ Conference brought together world wide suppliers and travel professionals to learn more of this market, what Is important here and how to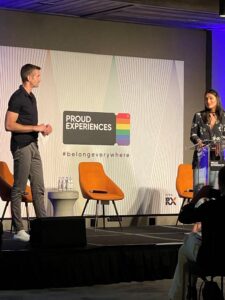 maximize efforts to expand it travel wise.  It was well organized and fulfilling.  The conference will be moving to Los Angeles next year.
My flights from LAX were on United Airlines in PS Business Class.  In-flight service was fine but not spectacular.  The highlight here was the very recent opening on the new Newark United Club near Gate C123.  At 30,000 square feet and spectacular views of Manhattan,  this club is a winner.  I hope they follow this model for other clubs in the future.
Education, training and travel is one of our principles at TravelStore and this week in New York City fulfilled all of that and more.
Contact us to do the trip there of your dreams. You too can fall in love with NewYork.