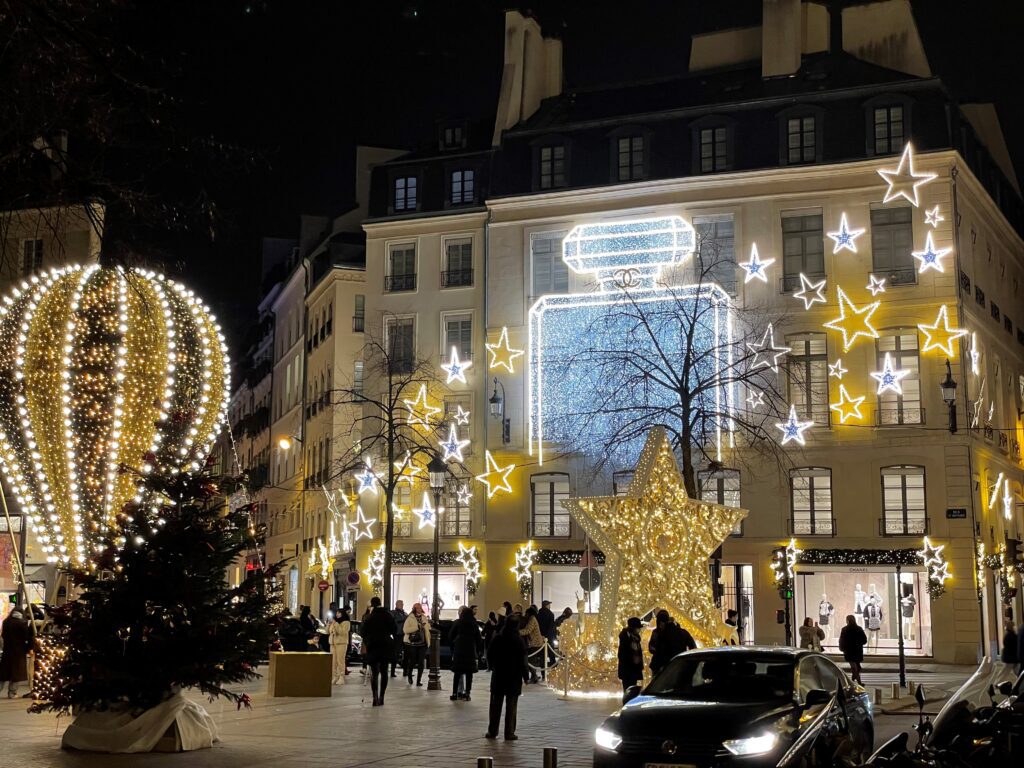 My favorite city will always be Paris, France.  I have visited over 100 countries and countless cities, but the biggest piece of my heart is here.  Staying a week in Paris this December did nothing to change that.  Going with someone reacting to his first trip there enhanced the feeling even more.  We did signature sights including Versailles, The Louvre, The Eiffel Tower Summit, private vintage car tour, top of Montmartre, walking around the healing Notre Dame, Isle Saint Louis, holiday lit Champs Elysees and The Marais. We also had a lovely evening of Premier dining on Bateaux Parisiens complete with champagne. That was among other activities.
Paris, even today is its rightful self with an independence of thought and execution.  Yes, there are the chain stores, but there are also many independent and unique shops, cafes and restaurants.  A shop just for ballet slippers, one for French chocolate in shapes of animals and objects de art, one devoted to vintage locks and countless galleries, art studios and antique stores.
The best way to discover Paris is to walk it.  You have the complete freedom to explore, start, stop with no traffic or parking issues.  Taxis are numerous and many times quicker and less expensive than waiting for on demand services. In the case of greater distance or just for the experience you can take the Metro.  At just 1.9 Euro for a single ride, it is still a bargain.
We got off to a rough start with a grossly rescheduled American Airlines flight to JFK which would have resulted in a misconnect.  Hours later, a solution was found on Air Tahiti Nui which got us there less than an hour later than planned.  It took persistence but it worked out
The city itself has adjusted to the new Covid realities.  The French AntiCovid app where the individual vaccination history is held was downloaded and then used by a local pharmacy.  They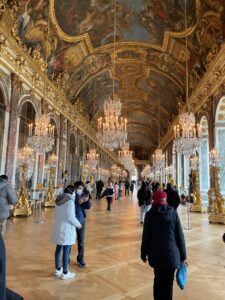 translated the US CDC card and passport to a readable QR Code.
In every case during the entire week, without exceptions,  we had to produce that QR code. That was then read and authenticated each time we entered an establishment.   It became second thought.
We also thought a bit more about strategies.  Our hotel was the historic Hilton Paris Opera next to the Saint Lazare Railway Station.  The hotel opened in 1889 for the World's Fair with stately public areas. The bedrooms themselves have been fully updated and are very comfortable.  The combination of history, a great central location, Executive Lounge access for breakfast and afternoon beverages & hors d'oeurves simplified our touring.
We also studied and made selective dinner reservations so that we knew where we would be dining and have no waiting upon arrival. The amazing food and reasonable wines at our chosen dining locations did not disappoint. This made traveling in the age of Covid more predictable.  We researched where we could find an open pharmacy on Christmas Day for our obligated Covid return test to the USA.
In the end Paris was still Paris with energy and determination.  Everyone was friendly and welcoming.  We came away with my renewed love and a new convert to this regal and forever glow of this magnificent city on the Seine.
Let us take you there to discover Paris and its secrets.