Discovering Malama in Maui
I would like to start off by apologizing to the state of Hawaii, I severely misjudged you. I am not the biggest tropical destinations gal, the heat and humidity always seem to put a damper on my trip, but Hawaii certainly showed me so many magical things I hardly thought about the weather (except when it started raining on the beach!).
My first non-family vacation since COVID hit was a little nerve-wracking to say the least. My flight to Maui was scheduled for just two days after the public transportation mask mandate had been lifted, and I was feeling quite apprehensive to jump on a plane with over 100 people with no masks for five hours. Luckily, for my sanity, almost everyone wore their masks for over half of the flight, which allowed me to stress less and ease into my Maui experience.
We arrived in the Kahului airport, and immediately it did not feel like I was in the U.S. anymore. We gathered our luggage, got our rental car, and made the drive out to Ka'anapali for our first couple of nights.
The Ka'anapali Beach Hotel prides themselves on being 'Hawai'i's Most Hawaiian Hotel', and you really feel that when you get there. You are greeted with a lei of kukui nuts, assisted with check-in, and then set off to find your room or explore the grounds. Throughout the resort there are daily Hawaiian cultural activities, live music, and lots of art to teach you about the history of Hawaii.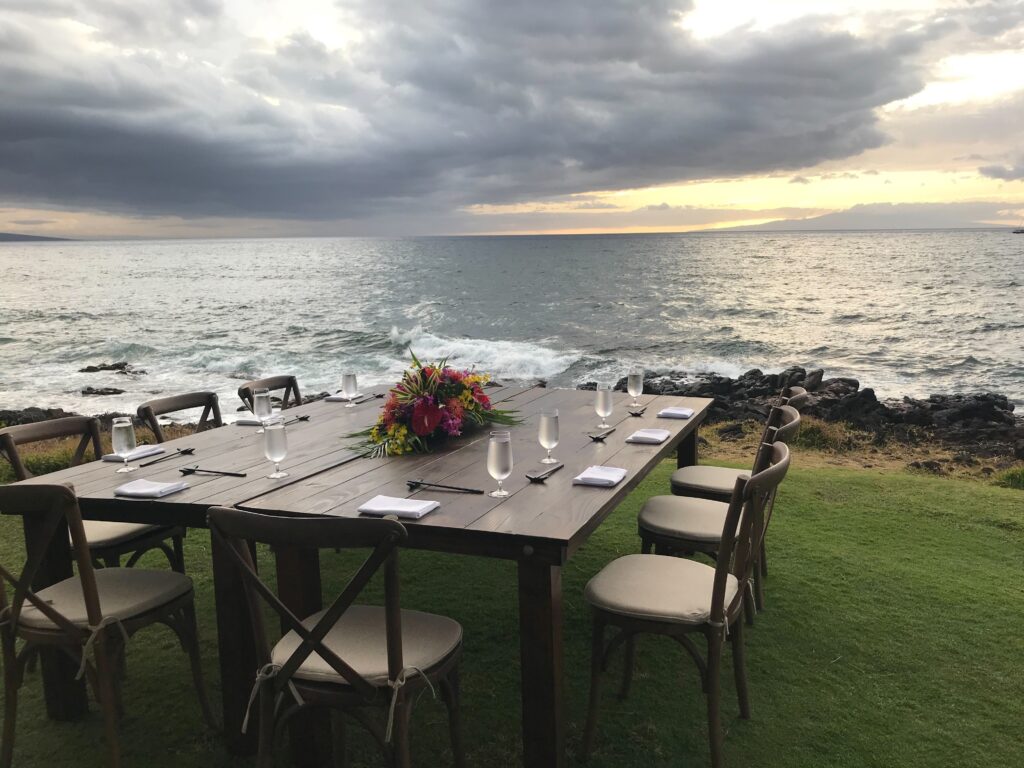 Each of the rooms is decorated with a certain aspect of Hawaii in mind; the ocean, the mountains, or the beaches, and they all have décor handmade by KBH staff. We had dinner at the brand-new restaurant Huihui, set right on the beach facing the ocean. There is not a bad seat here; you are able to view the ocean and the beautiful sunset no matter where you are seated. The food is incredibly delicious, and the chef really does an amazing job of integrating traditional Hawaiian cuisine with modern flavors and fresh local produce. A perfect end to our first day, we went to bed early (because of the time difference) and prepared ourselves for the day ahead.
In true travel-agent-trip style, this was a whirlwind visit. We visited 15 properties in three days, meeting so many people, eating lots of delicious food, and learning about the hotels and Hawaii alike. Each hotel has something different to offer depending on one's interests. Cliff diving and the best ube mochi pancakes you have ever had: Sheraton Maui Resort. Live flamingoes, water park, and private adults-only lounge with curated cocktails and mini spa treatments: The Westin Maui Resort. Condo-style room with a full kitchen, tennis courts, two-minute walk from the mall with lots of shopping and dining options: Aston at The Whaler. Private bungalows and an amazing luau: Royal Lahaina Resort.
I could go on and on listing things that make every property in Ka'anapali unique, but this would end up being a book.
After our time in Ka'anapali, we moved south to Wailea, where we stayed at the Wailea Beach Resort for the remainder of the trip. We had a lovely champagne toast and after inspecting the resort, were sent off to the most magical dinner I have ever had. The hotel had set up a private table out on a grassy 'cliff' right next to the ocean for our group of 8, and we dined right at the ocean during sunset. The chef had prepared a 7-course meal for us with some really amazing dishes ranging from sushi to pasta, all with a Hawaiian flair. We were treated to live music from a guitar soloist who had a beautiful voice, and this experience created one of the most memorable nights from my whole time in Hawaii.
If you go to Hawaii to enjoy the pleasures of the beaches and mountains, I do encourage you to participate in a volunteer activity. We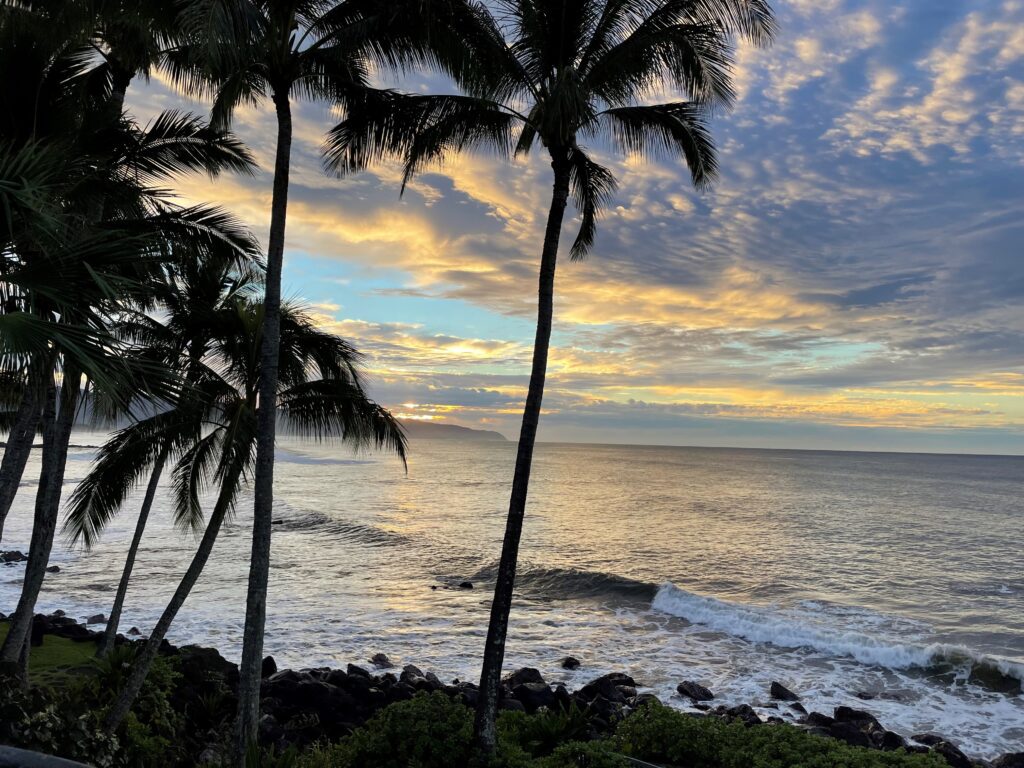 did our part and volunteered with Kipuka Olowalu at the Olowalu Cultural Reserve by clearing out invasive species of plants and trees near a riverbank, which will eventually become space for a classroom! We were then given a tour of the rest of the reserve including the taro fields, the worm bins, and the rows and rows of native and endangered trees and other plants. We were taught about the concept of 'Malama,' which means to take care of or give back.
I love this quote directly from the Malama Hawaii website: "What makes the Hawaiian Islands truly special is not only our stunning natural beauty or our vibrant culture – it's the deeply rooted relationship that connects them. That relationship between people and place grows stronger every time you malama. When you give back – to the land, the ocean, the wildlife, the forest, the fishpond, the community – you're part of a virtuous circle that enriches everything and everyone. Including your experience as a visitor."
I truly have to say that this volunteer and educational experience changed my outlook on life and encouraged me to be more conscious of my actions and how they could effect the people or the planet around me.
Before arriving in Maui, I figured this would be a one-and-done trip for me, that I wouldn't need to go back and wold just check it off my list, but I can confidently say I will be back. In Hawaiian, there is no true word for goodbye, instead you say, "A hui hou" which means "Until we meet again".
A hui hou, Maui, you now have a special place in my heart.