French Polynesia and Windstar Cruise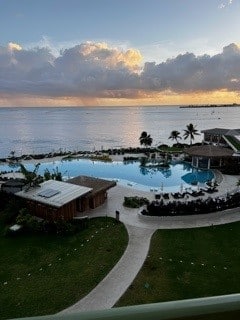 We flew on United Airlines from DFW to Papeete through San Francisco. The flight was not bad as the long haul flight from SFO to PPT is on a Dreamliner.   I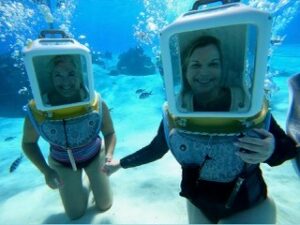 highly recommend not to buy the economy seats (lowest price seats) because you have to pay for all luggage and the seats are not upgradable even if available.  We did pay at the airport to upgrade to larger seats in the back cabin but if I was to do it again I would choose at least premium economy.
On arrival in Papeete we took a cab to the Hilton Tahiti where we stayed for two nights.  This hotel has recently been renovated and I loved it.  It's a good choice when staying in Papeete. Our room looked right over the pool and ocean…and the morning that we were set to get on our Windstar cruise, we could see the ship coming in which was very exciting.
On June 23rd, we took a cab to the port to board our cruise ship, Wind Spirit.   With COVID still a thing, everybody was nervous about being tested before boarding the ship. Windstar had testing set up in a tent, we passed the test and were able to board.  Windstar follows the health protocols of whatever country they are in; because the mask mandate was just lifted that week in Tahiti, passengers did not have to wear masks but all employees did.  By the end of our cruise there were a few people that tested positive, and Windstar handled it well by offering them to quarantine in their room or get off the ship.  Windstar helped them with everything.
The staff was wonderful….treating me like a queen from the moment we got onboard.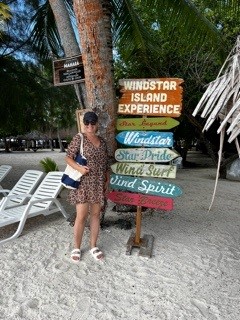 There were only 102 people sailing on this cruise, out of the possible 148 they could have.  The crowd on board seemed to be between 20 and 60 years old. One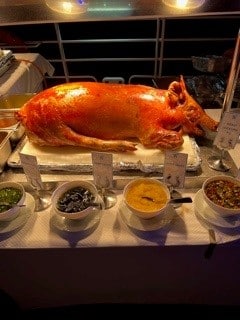 thing about Windstar, there are no elevators so you have to be able to walk up and down stairs.  On this ship the cabins are small (188 square feet with port holes) but they are efficient.   There are only two decks with cabins, and all seemed to be about the same unless you had a suite.
The feel of the ship is more like yachting and everybody gets to know each other on board.  Windstar held a deck party one night with a roasted pig and beautiful food spread, along with dancing, which was a lot of fun.  There is one main dining room on deck three for dinner, or you can make a reservation for Candles which is outdoors on deck 4, where they also serve breakfast each morning. You can also order room service any time and there is a coffee bar to get cappuccinos and such.
Regarding entertainment, there is just one singer named Bob who is responsible for all the onboard entertainment.  This is one area that Windstar could improve and he worked hard.  There is no casino so really you have to make your own entertainment; a lot of people went to bed early.
Regarding the cruise and our itinerary, it was excellent.  We went to Moorea, Bora Bora, Raitea and Huahine.   The ship offered a variety of excursions each day, plenty of diving and snorkeling.  Everybody gets their own snorkeling gear to keep in their cabin during the cruise, and there is a marina off the back of the ship for floating and a large water trampoline.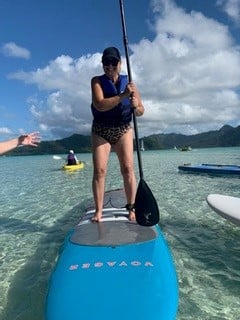 On the day we were in Moorea I went for a site visit to the Hilton Moorea.  I was hoping it was going to be more like the Hilton Tahiti but it wasn't and I was a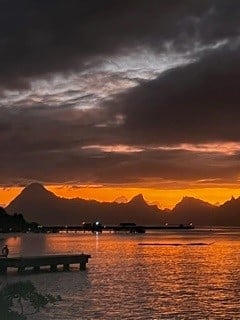 bit disappointed in it.  The pool is okay and they do have overwater bungalows, which is a plus.  They are sold out until November so I didn't even get to view a room and we didn't stay to enjoy the property; it was somewhat disappointing.
In Bora Bora I had the opposite experience when we went to the St. Regis Bora Bora, which was amazing.  It is one of our preferred properties with exclusive amenities for our clients. The property is very large and beautiful.  You can ride bikes or go on a golf cart wherever you need to go.  It is on a beautiful beach and the spa is wonderful.  I was able to see some overwater bungalows here and they were great.  I do send lots of my clients here and the resort always bends over backwards to try and upgrade them.  The spa here is terrific.  The beach is beautiful and I at least had the opportunity to sit on the beach awhile and enjoy lunch in the restaurant near the beach. All in a day's work!
Windstar also offered a beach day one day on a private motu and which was lots of fun for everybody. On another night they had another private barbeque with local entertainment which was thoroughly enjoyable.
Windstar has really improved since the last time I sailed with them and I would be happy to go again or tell you more about it.