Nine Days in Ecuador: A Client Review
We love it when clients send us their travel stories, and we're happy to share this Ecuador vacation review from Andrea H.
In June 2021, we embarked on an adventure of a lifetime. Florence set us up with an amazing itinerary, full of family-friendly excursions that realistically and safely fit our thrill-seeking drive.
We are so fortunate to have spent nine days in Ecuador. The first stop was a majestic cloud forest. We stayed at the Mashpi Lodge, which is nestled in the surrounding forest. It felt as though nature had swallowed us up. We had a knowledgeable guide who led our morning and afternoon hikes as well as a night walk. We encountered many creatures (such as a giant snail, millipedes, a weasel, hummingbirds, frogs, a tarantula, and butterflies) on our hikes, walked in streams, splashed in waterfalls, and experienced the forest on a "sky-bike" and "dragonfly." We were given snacks and reusable water bottles as well as sack bags to take along on our hikes. All meals at Mashpi were exquisite with kid-friendly options as well! The staff was very accommodating and would often greet us in passing to check in on how we were all doing. Leaving Mashpi was bittersweet because we had spent such a unique stay, but we were also excited for the next part of our trip in Ecuador.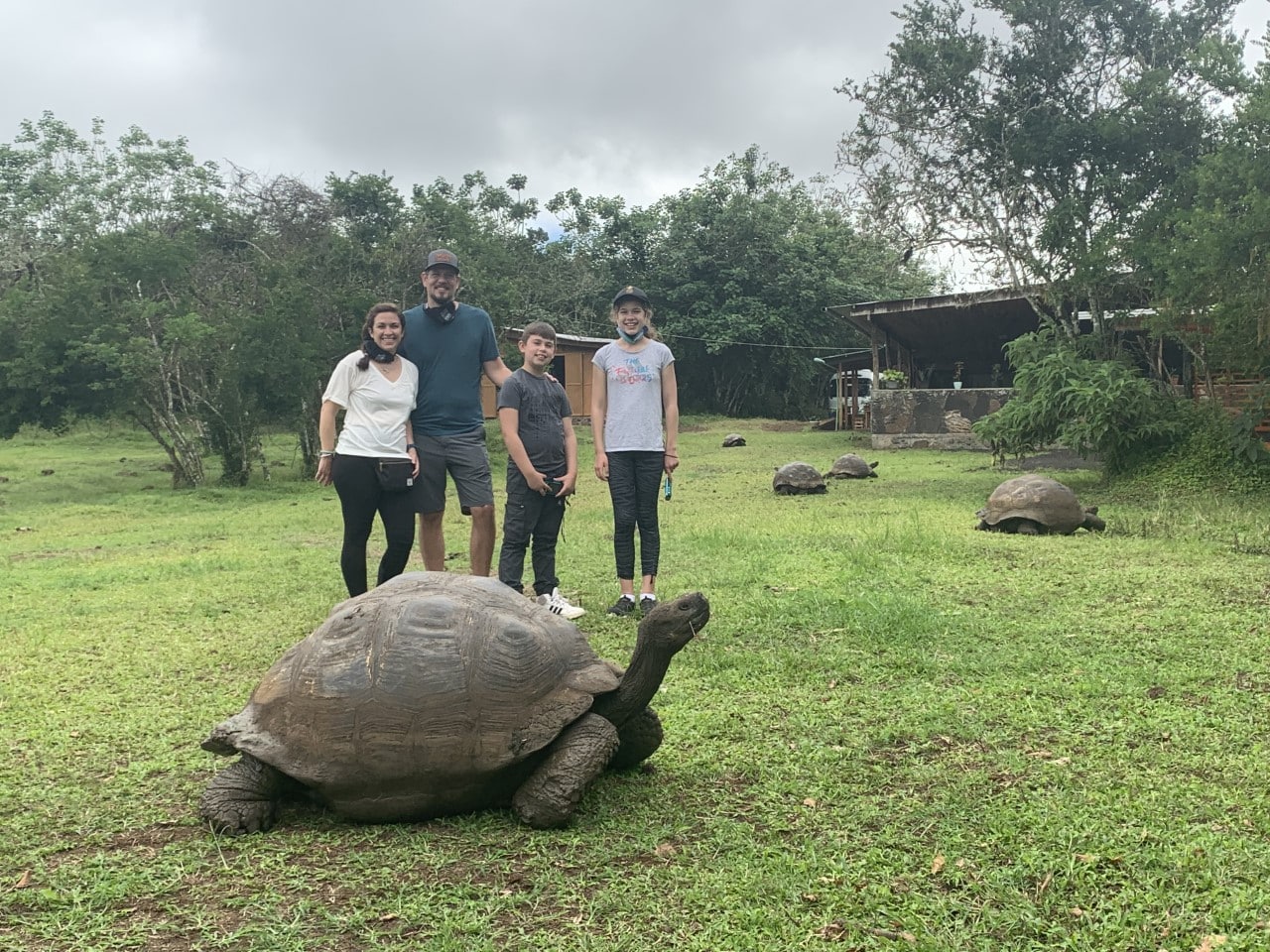 Our next stop was the middle of the world, where we got to engage in interactive activities such as balancing an egg and attempting to walk a straight line on the equator with our eyes closed. My daughter also did the splits right on the equator!
A guide took care of everything at the airport as we departed on our domestic flight to Baltra Airport. The first thing we saw before getting on a water taxi to our hotel in Santa Cruz, Galapagos, was a beautiful sea lion, soaking up the sun. Some baby marine iguanas were right next to it, so, of course, my son immediately wanted a picture! After checking in and having a quick lunch at the beautiful Finch Bay Hotel, we went to swim in the highly recommended Las Grietas, and my husband found some fish, including a four- to five-foot eel!
Our day excursions on Santa Cruz Island were led by a Galapagos local. He filled us with knowledge and made learning fun for the kids! We were within feet of blue-footed boobies, frigates, and land iguanas. We also snorkeled off a well-equipped yacht and swam with sharks and colorful fish of all sizes. Part of the excursion was time spent on the Las Bachas Beach, which was close to a lagoon where we spotted a flamingo.
But the stars of our vacation were the giant land tortoises. They were so impressive! We got to take pictures and share space with these living fossils! We ended our adventure by eating some fresh-off-the-tree bananas and walking through a lava tube. At one point, we had to army crawl to get through. The kids loved it!
Andrea H., client of Florence Brethome. Reach out to begin planning your trip to Ecuador!