Mexico Cruises
Mexican Riviera, Sea of Cortez & Riviera Maya

From sun-soaked beaches, dancers in colorful costumes accompanied by mariachi bands and delicious culinary fare, a cruise to Mexico always seems to be a festive occasion, especially with a Margarita or Corona in hand. The western coast of Mexico is a year-around destination for popular Mexican Riviera cruises, departing from Los Angeles or San Diego. Mayan Riviera cruises call on ports on Mexico's eastern seaboard can be found under Caribbean cruises. In addition, there some cruise lines operate natural history and whale watching cruises in the Sea of Cortez.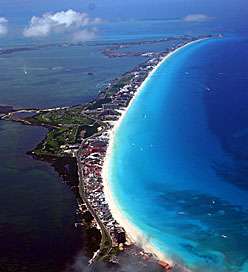 Mexican Riviera Cruises
Ports of call on a standard 7-day Mexican Riviera cruise include Cabo San Lucas, Mazatlan and Puerto Vallarta. Some itineraries may include Ixtapa/Zihuatanejo, or Acapulco on longer itineraries.  Each port offers a glimpse into daily life, and the art, architecture, cuisine and culture of Mexico.
Booking info
This cruise experience can be arranged, along with our exclusive amenities on select voyages, as part of a cruise vacation to Mexico arranged by TravelStore. Every cruise ship has its own personality and offers something different, whether you travel on a romantic getaway as a couple, as a family with children, or as part of a larger group. Our cruise planners can help arrange a satisfying cruise vacation experience. Experiences are valid when posted and are subject to change and availability. We will help guide you to your best options that most suite your needs.
Plan with our
Travel Experts
Our professional travel experts tailor exceptional luxury vacations to help you explore your world, your way. We've stayed at the best resorts, traveled on the best cruises, and have had the transformative experiences we'll recommend for you.
Tell us about your trip and start planning!
Our professional travel experts look forward to tailoring an exceptional travel experience for you.