Bergen
04/07/2020 12:00 AM
04/07/2020 12:00 AM
Optional Private Excursions available for purchase
Avoid the crowds and hustle and bustle associated with a group activity. For a memorable trip ashore, we invite you to consider a private shore excursion. Enjoy the undivided attention of your own driver/guide and the flexibility of experiencing the aspects of the local culture that most interest you. Below are just some samples of the private shore excursions we can arrange for you. Give us a call or email us. Let us personalize your experience!
Bergen Walking Tour - 3 hours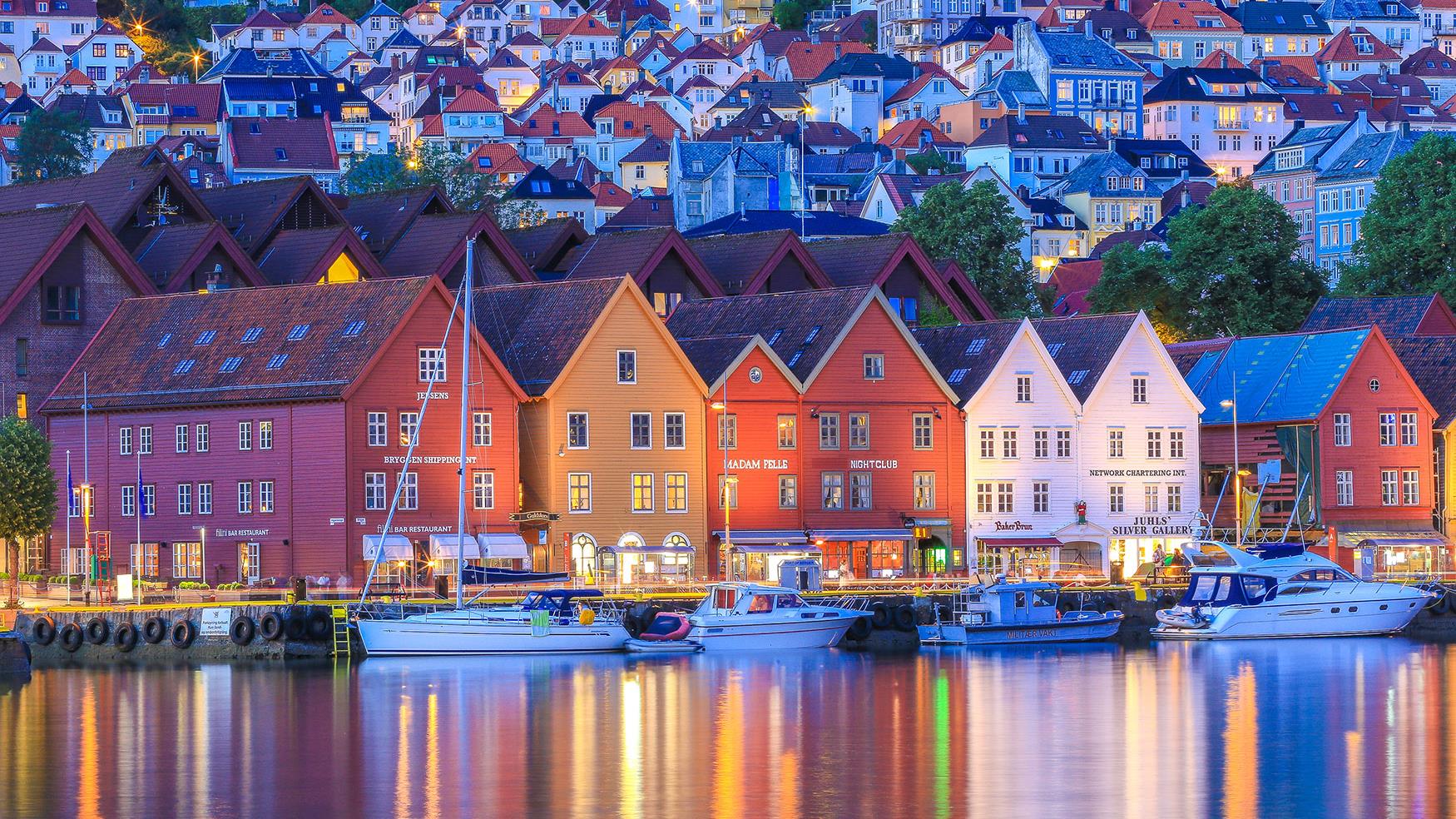 Bergen may perhaps be a relatively small city (population of 260,000) however it is overflowing with history (the first settlement here were over 900 years ago), culture, incredible nature, gourmet restaurants and cosy cafe's
Bryggen, the ancient Hanseatic Wharf, which is one of the best known European dwelling places from the Middle Ages, comprises a maze of characteristic wooden buildings with pointed gables facing the harbour.

This unique architectural gem is now listed by UNESCO as one of the world's most significant examples of the history and culture of a medieval settlement. Bryggen thrives today as a honeycomb of painter's and craftsmen's workshops, plus access to the interior of some of the buildings themselves where history has been preserved as it was originally.
The Fløibanen funicular in Bergen is one of Norway's best-known attractions. Fløibanen can be found in the heart of Bergen. Fløibanen is a funicular cable car that takes you 320 metres above sea level. In just a few minutes you find yourself on top of a mountain with a perfect view of the city and its surroundings. You have not seen Bergen before you have taken Fløibanen.
| | |
| --- | --- |
| Basis: | Private tour. |
| Duration: | 3 hours. |
| Start / End: | City center Hotel or address. |
| Vehicle: | 01st Class. |
| Guide: | English-speaking. Other languages on request. |
| Entrances: | Fløibanen funicular. |
| Meals: | None. |
| Difficulty: | Grade Easy. Walking required over uneven surfaces. |
| Notes: | Tour program may be reversed for logistic / planning purposes. |
Bergen and its outskirts tour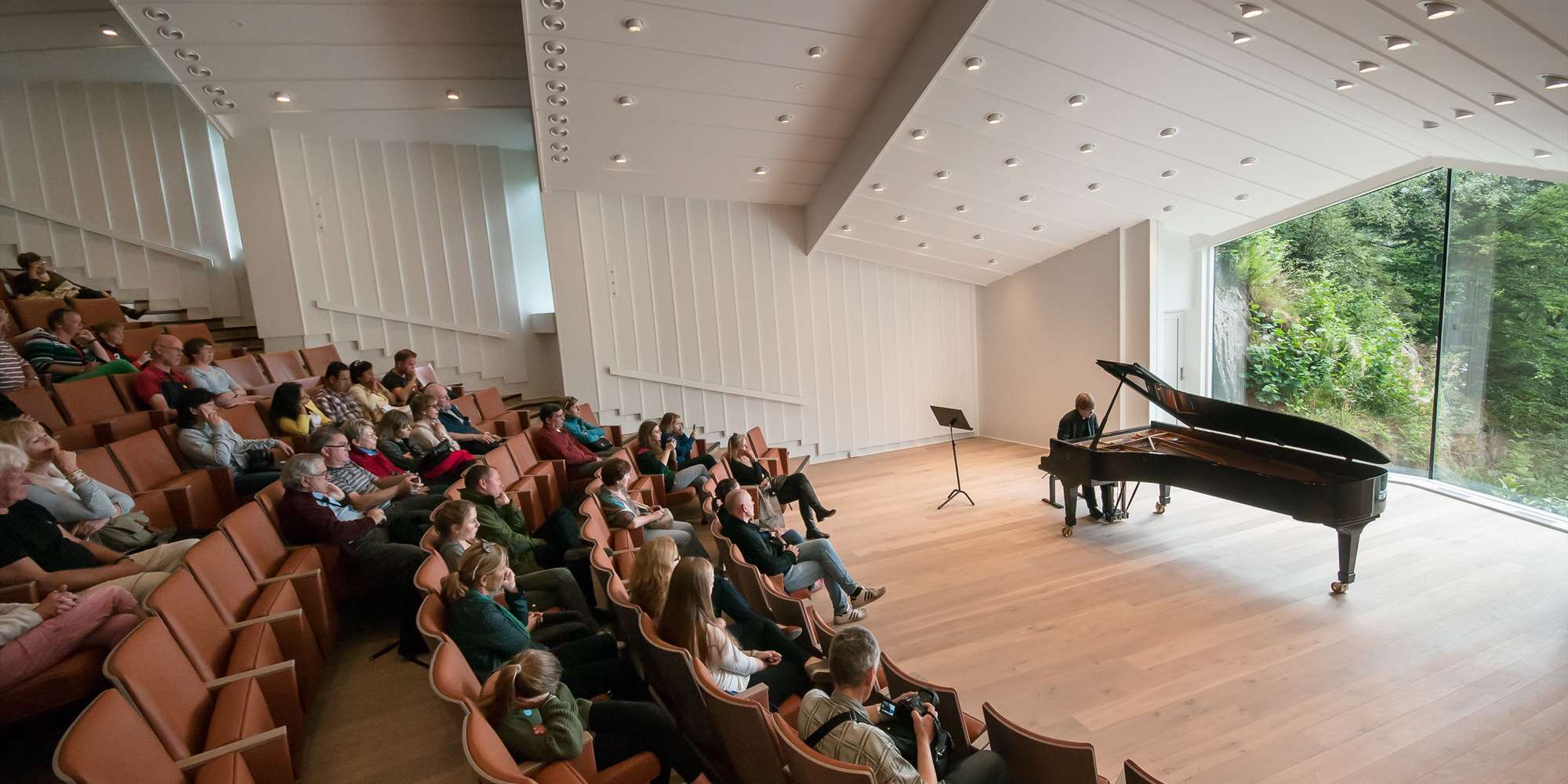 Experience the picturesque beauty and historical sights of Bergen during this leisurely 5 hour sightseeing excursion.
We drive out of the city centre to Troldhaugen, the home of the famous Norwegian composer Edvard Grieg. The home, an unassuming wooden house stands amongst the trees at the Hill of the Trolls (Troldhaugen).
Then it is a short drive to the Fantoft Stave Church, originally built in Fortun Sogn in 1150, it was relocated to Fantoft in 1883 where it was rebuilt after it was destroyed in a fire in 1992. In the Middle Ages there were approximately 800 stave churches throughout Norway, today only 30 are left standing.
On return back to the city centre of Bergen, explore by foot the famous Bryggen harbour front - the colorful old Hanseatic merchant buildings from the middle Ages. Destroyed by a large fire that wreaked havoc, the area was rebuilt in 1702. Now a protected area and listed on the Unesco World Heritage List, the narrow alleyways that run between the rows of houses made for an enchanting stroll that will take you back in time.

Your next stop is the Mt. Fløien Funicular station. The Fløibanen funicular takes you up to a height of 320 meters above sea level. It is a short journey up, on exit of the funicular a magnificent panorama over the city of Bergen, the surrounding mountains and sea awaits you. Return back to the harbor front district by funicular. Some free time has been set aside for you to peruse the Fish and Flower market at the Marbour front.
| | |
| --- | --- |
| Basis: | Private tour. |
| Duration: | 5 hours. |
| Start / End: | City center Hotel, address or Pier. |
| Vehicle: | 01st Class. |
| Guide: | English-speaking. Other languages on request. |
| Entrances: | Edvard Grieg Museum Troldhaugen, Fantoft Stave Church, Fløibanen funicular. |
| Meals: | None. |
| Difficulty: | Grade Easy. Walking required over uneven surfaces. |
| Notes: | Tour program may be reversed for logistic / planning purposes. |
Destination Guide